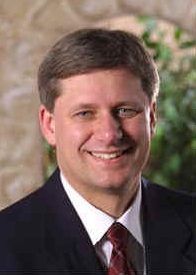 The controversy over David Emerson continues, nicely abetted by Prime Minister Harper appointing Michael Fortier of Montreal to the senate and immediately putting him in cabinet. This, from the man who would reform the way we do our governing, from a man who campaigned in favour of electing senators and who screamed like a stuck pig when Belinda Stronach left the Tories to take a cabinet post with the Liberals.
I'm straining my brain to remember who has the record for fastest and most breathtaking broken promises. It comes down, I think, to a race among Jean Chretien, who promised, in 1993, that the first three things he would do would be to cancel NAFTA, bring in proportional representation and cancel the GST; Preston Manning, who promised that if he became leader of the opposition he would not move into Stornoway House; Deborah Grey, who swore on all that's sacred that she wouldn't accept a government pension; Brian Mulroney, who came to power in 1984 and promised to clean up Canadian politics; and Stephen Harper who made these cabinet appointments.
Crossing the floor has an ancient history. Churchill did it twice. Gladstone did it. Joseph Chamberlain did. But at least these were matters of conscience, and to the best of my recollection, none of these men did it for immediate office.
Probably the worst examples in Canadian history were Hazen Argue who, after he lost a bid for the NDP leadership, jumped over to the Liberals gaining a senate seat in the bargain, and Jack Horner, who, in 1977, as a rock ribbed, anti-Quebec Tory, crossed the floor and was given a cabinet seat by Trudeau.
Most likely, the most important of floor crossings in BC was during the Dave Barrett government when Frank Calder, from the NDP, Hugh Curtis from the Conservatives, then Pat McGeer, Allan Williams and Garde Gardom from the Liberals, at varying times, crossed over to the Social Credit Party, led by Bill Bennett. All but Frank Calder, who, with his wife, didn't bother going back home to vote in 1979, and lost his seat by one vote, were subsequently re-elected under their new banners.
When it comes to creating voter cynicism, one man outranks all others. Brian Mulroney probably won in 1984 by nailing John Turner in the TV debate on the question of patronage appointments, then, upon election, appointed pals to office and, when asked if he would ever appoint a Liberal or NDPer, said "not while there is a living, breathing Tory available".
(Because of the news this week, permit me to digress. In various newspapers, over the past few years, it's been stated that Brian Mulroney took several hundred thousand dollars in a grocery bag from Karl-Heinz Schreiber, the Mr. Fix-it of the Airbus scandal. When the story appeared in the Globe and Mail about two years ago, it was in the weekend editorial on the second page by editor Ed Greenspon, who reported that Mulroney, far from denying this, begged him not to print the story and offered him a better one if he didn't. Now Mr. Schreiber has flatly denied Mr. Mulroney's statement that this shopping bag full of money was to help him open a pizza business. He says Mulroney was short of money and "…[Mulroney] was very simple and very stupid. Simple as that I gave him 300,000. Stupid in that he denied it…" This money, it's reported, came from a Swiss bank account.
This leads to a bigger question. In 1995, the RCMP wanted to examine Swiss bank accounts looking for Brian Mulroney. In order to get cooperation from the banks, they had to compose a letter setting forth the reasonable grounds for the request. This request became public and Mulroney sued the government for $50 million. The government caved in and paid over $2 million to Mulroney in settlement. Some, including me, screamed blue bloody murder over this, but the establishment's captive press did no investigating and let matters lie. Now the CBC, God bless them, through Fifth Estate, have uncovered the $300,000 story and, it is hoped will follow up on the Swiss Bank Account caper.)
I draw no equivalency amongst these acts - you decide. I simply say that, based on the foregoing, it's little wonder that people have no faith in politicians.
My conclusion is that the most breathtaking and audacious finger to the public belongs to Brian Mulroney, both from his appointments and the Airbus matter. The speed record, however, clearly goes to Stephen Harper whose "fuddle duddle" to the public came even before the swearing-in was complete.
The only question remaining for the current gross breaches of political ethics by Prime Minister Harper is what, if any, political forfeit he will pay.
Going on the record of these matters, the answer, I'm afraid, is probably none.
Former Socred Minister Rafe Mair writes a Monday column for The Tyee. His website is www.rafeonline.com.