Harper: Hard on Nature
Four alarming enviro policy shifts in the Tory platform.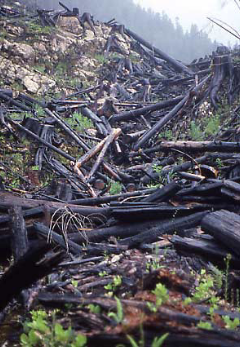 With the prospect of Prime Minister Stephen Harper looming large - perhaps with a Conservative majority- Canadians should be asking themselves what this would mean for our environment.
Lord knows, there were many failings of the Liberal regime on environmental issues. However, a close look at the Conservative platform relating to the environment is truly alarming.
Property rights
Harper has promised to enshrine property rights in the constitution. This might sound fairly innocuous, but this one act would have enormous implications for the effective enforcement of environmental regulations throughout the country.
First of all, the constitution is the "prime directive" of government. It overrides all other federal, provincial and municipal laws, and is not something to be tinkered with lightly.
The Conservative plan would put property rights on the same legal footing as human rights. The result could be demands for compensation whenever an environmental law prohibits a property owner from doing something (like putting a toxic site in the middle of a community), or requires them to do something extra (like building subdivisions to a higher density to prevent urban sprawl).
This has already come to pass in Oregon, where "Measure 37" voted property rights into the state constitution in 2004.
The Washington Post commented, "the property-rights law …is on the brink of wrecking Oregon's best-in-the-nation record of reining in sprawl, according to state officials and national planning experts." Put more bluntly, "Measure 37 blew up our land-use system," said Democrat Senator Charlie Ringo, from suburban Portland.
In Canada, such a measure would undermine the ability of all levels of government to encourage smart growth of sustainable cities - a major challenge of the 21st century. Since property rights would be in the constitution and protection of the environment is not, it could also effectively trump any environmental law in the country.
Nor is this intervention even needed. Our common-law system of justice was primarily designed to protect private property, and it does a superb job of doing just that. What Canada needs, instead, is a constitutional guarantee of a clean environment.
Climate change
Harper has said that he will "address the issue [of climate change]…with a made-in-Canada plan, emphasizing new technologies, developed in concert with the provinces and in coordination with other major industrial countries." He also told Radio Canada this month that the Kyoto protocol is "not the right approach" to combat climate change.
This coded message is music to the ears of oil executives everywhere, and is clearly the type of shameful retreat from mandatory emissions targets that has taken root south of the border.
The science behind climate change is clear and becoming more worrisome almost every day. Every additional delay will make future solutions more difficult.
Fiscal conservatives like Stephen Harper should understand the simple principle of living within our means. His apparent retreat on mandatory emission reductions would damn future generations of Canadians to deal with the environmental deficits we are recklessly racking up today, while wasting time looking for technological fixes to our oil addiction.
The management of resources
The Conservative platform states that they will allow stronger involvement of the provinces in the management of natural resources. This is also not necessarily great news, given the shoddy environmental records of many provincial governments.
Consider the plight of the critically endangered spotted owl in BC. There are only 23 of these birds left in the country - all in the province of British Columbia. The destruction of remaining old growth forests through industrial logging is the overwhelming reason for their decline.
The leading logger of remaining spotted owl habitat in BC? The British Columbia government, through their BC Timber Sales Program. Even companies such as International Forest Products have stopped logging owl habitat and, therefore, have a better record at protecting this imperiled species.
Enforcement and staffing
Lastly, consider the infamous environmental record of the Mike Harris government in Ontario. Canadians might well expect the type of widespread gutting of environmental staff and enforcement that Ontario became famous for in the 1990's should the Conservatives be given free rein. Laws to protect the environment mean nothing unless there is the political will, backed up by the necessary resources, to enforce them.
Disasters such as Walkerton happened not so much because environmental laws were changed, but because enforcement staff were cut, and responsibility for environmental quality was devolved away from central governments without the required increase in local resources.
The environment may well become the defining issue of the 21st century. We need a bold and progressive vision to build a future Canada that will be able to meet these national and global challenges.
When you cast your vote on January 23, ask yourself: is a Conservative majority government really up to this important task?
Mitchell Anderson is a freelance writer based in Vancouver. His blog can be found at http://mitchellanderson.blogspot.com/
comments powered by

Disqus