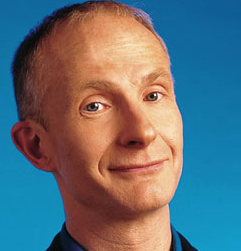 The thing about men is we're lucky in our asses. As we age, our faces wrinkle and cave. Our paunches widen. Our hairlines recede. But with very little care or attention, with no more effort than it takes to walk up and down the stairs a few times a day, we can, for the most part, maintain very nice asses.
I am a case in point. My ass is my best feature, by a long shot. I have no pecs, no quads, no bi- or tri-ceps. I have a one pack where my six-pack should be, and I slouch terribly, but my ass is a wonder to behold. Whenever I'm feeling down or dispirited -- quite often, these days -- I just twist on my axis as best I can and have good long gander at those yeasty loaves, those firm peaches, those burnished hillocks, that marmolean splendour. "Bernini thou shouldst be living at this hour," I say. I say, "Nice ass, Bill. Niiiiiiiiiiiiice ass." Not that I think I'm special, mind. Lots of guys are likewise endowed. That's the thing about men.
Picket parade
The thing about walking a picket line is that it's really, really, really dull. As one of the CBC's 5500 workers who have been forbidden entry to our workplaces, I'm spending 20 hours a week thus engaged-that's what the Union requires to qualify for strike pay, or "lockout pay" in this case -- and by the end of each day's quite short shift, I'm on the verge of boredom-driven insanity. Not that I mean to whine, for I know I am a privileged person, and of course I have the blessing of my ass to see me through the hard times. That acknowledged, it must be said that when you picket, time drags a ball and chain.
This has surprised me. At first I thought it might even be pleasant. The weather's been pretty good, there are colleagues to gossip with, and the neighborhood's many street pundits contribute to the merriment. There's been the guy who parades around like a drum major with the teddy bear mounted on a squeegee, and the woman with the news that the Boxing Day tsunami was a conspiracy of man rather than an act of God, and the fellow who said, "I know you people are having orgies with flies on anvils so please don't touch my flesh." Which actually is a pretty good summation of what happens at the CBC, at least when we're allowed in the building, although it would have been more accurate had he found a way to work in the phrases "same sex" and "left wing."
Anyway, there are compensations, but mostly it's proved to be one mindless circuit after another: one block south on Hamilton, one block east on Robson, one block north on Cambie, one block west on Georgia, repeat, reverse, nod at the security guards, repeat, reverse. The novelty wears thin, believe me.
Hot buns
After a while you even grow tired of such cause-enhancing guessing games as estimating the cost of those full page "open letters" to which our vice-presidents have been signatories and which express their concern for, among other laudatory things, the responsible use of public money. Or speculating how much it has cost to fly managers into Toronto from round about the country, and to maintain them there in a hotel in which I have often also stayed while on CBC business and which is a really expensive if dreadful hotel, so that they can scamper to the archives for 52 bucks an hour and root around for old recordings of shows that were produced and voiced by the people who are now locked out but who appear, to the casual listener, to be happily ensconced in their studios, laughing away merrily, popping corks on bottles of Veuve, and playing tunes by Great Big Sea.
After a while, you grow sick of thinking of this and of repeating to yourself the word "reprehensible." After a while, you begin to feel sorry for them, the managers, because you know them all of course, know they are decent people who are caught up in the mess just like you are; just like you, save for the huge discrepancy of pay cheque. Nonetheless, you hurt on their behalf, you want call them up and say, "Listen. About that National News anchoring situation. Have you thought of Rusty and Jerome?"
But of course you don't, you can't. And sometimes, in the interest of somewhat fair representation, does the mind, unengaged and sun-baked, allow entry to conspiratorial imaginings and scenarios in which the heroic role of the Union is less than well-defined? You bet it does. But 200 bucks a week buys a little loyalty, so one sets those thoughts aside, for now. For the nonce, one trudges. And the one thing that keeps one going, apart from the promise of lockout pay, is the certainty that this is great for one's ass, and for the asses of one's colleagues, of course. Now, in Week Two, this is the silver lining in a cloud shaped like two hot buns, fresh from the oven.
'Bang or whimper'
The thing about labour disputes is that, eventually, inevitably, they end, whether with a bang or a whimper. The post-invasion plan that Richard Stursberg and Jane Chalmers, our very own George and Condie, are now laying will be implemented or not. There will be a lot of talk of healing. We will hear the loathsome phrase "the CBC family" over and over again. Whatever. It will wind down.
So, I am taking this time away from my ass-enhancing block walking to set down these few words. I write them as a long-time programmer, but also as a citizen, and as a disappointed consumer of public broadcasting. I write them in the hope that our CBC management and our union executives return to bargaining and to fair dealing; that they work through not just the contentious issues such as contracting out, but that they also look at ways to best exploit our increasingly dynamite tushes. Quite how this would be implemented, I'm not sure. But it would be easy enough to begin. Who wouldn't turn on the national broadcaster at 10.00 to hear that weirdly mid-Atlantic voice intone, "From the Broadcast Centre, the National, with Peter Mansbridge, and his really pert little buttocks." (Camera pans Peter's unbelievably cute ass, then cuts away as he pivots, sits, and says something about Iraq.)
I offer this up for one reason only, and that is that I care. To both sides I say, take our beautiful asses. They are yours to use. Do not fuck them over any more. Just put them on the table. Because right now, they are seriously on the line.
Bill Richardson has worked on contract for the CBC since 1988.