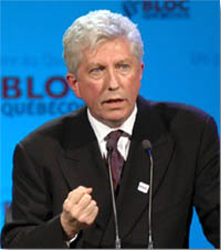 Last week I had Canada poised to break up while the federal government acts as if nothing is happening. What should we do?
The inclination will be to do nothing, sort of on the theory that it's bad luck to buy life insurance because you'll die. It's a lousy option however you look at it. It will seem to Quebeckers that the rest of Canada is indifferent and since that is in part true, it will make it easier for Duceppe and Co. to get a yes vote.
One option is to gird our loins for another referendum fight and do all we can to coax Quebeckers to vote "no". The trouble with that is that Quebec has come to expect sweeteners. It's like trying to patch up a serious marital quarrel without roses to back up the kisses.
Another alternative would be to offer - and I can't think of an appropriate synonym - some bribes.
This carries two problems. As Kipling said, once you pay him the danegeld, you never get rid of the Dane. Bribes beget demands.
Secondly, what's left to offer? Quebec is already treated by the federal as a "distinct society" notwithstanding the wishes of the people expressed in the Charlottetown Accord referendum. It has its precious veto over constitutional change, its own health, welfare and immigration programs and the tacit approval to deal as a nation with other nations. What's left except independence?
The last option may disturb you so I ask you to pour a stiff Scotch, settle back in your favourite chair and brace yourself.
Create a citizens' commission
We should embark upon an exercise like that we had in British Columbia with the Electoral Commission except we should examine everything - I mean everything from whether we want to continue as a constitutional monarchy to whether we should separate the executive branch from the legislative branch and become a republic. But here's the important part. We must start with this term of reference: "This commission shall, while making its deliberations and recommendations, take as a given that whatever reforms are proposed, Canada will be made up of ten provinces, all equal before the law, with special privileges towards none".
That may well strike you as a slap in the face to Quebec and in some ways it is. However to do otherwise, is to concede a special status of inferiority before the law exists for other provinces. For this is the crucial question - do we, by giving ever increasing special privileges to some, push other provinces and regions closer to independence movements of their own?
This becomes an ever more important question as world markets change so that regions become less and less dependent on a central government to care for them. Moreover, as we've seen with our softwood lumber and our wild salmon, we see a federal government that can't or won't act in our interests anyway. That being so, since we must to redefine and re-tool our federation anyway so why not do a proper job of it while we're at it?
What are you saying, Rafe? That we actually make plans for a Quebec secession even before it happens? And won't such a plan make it all the easier for Duceppe to plead his case?
I concede that this is a valid argument but equally valid, perhaps more valid, is that Quebeckers have for too long felt that they could go on plumping for separation knowing the Rest of Canada will knuckle under and throw more goodies.
It would be helpful, not harmful, in my view if Quebec knew that the stakes were mortal and that the option, in Bill Bennett's marvelous phrase, divorce with bedroom privileges, is not available.
Separatism here to stay
But the case for my point is stronger than that, for one must assume that Quebec separatism is not going away and that we must be prepared for the eventuality of new constitutional arrangements.
A Canada without Quebec is one economically and politically controlled by Ontario. We know that British Columbia and Alberta won't put up with that, so is there another way Canada can continue without la belle Province? Are there structural democratic reforms that can adequately offset, in part only because the majority must have its clout, the political domination of the new country by one province?
As always the devil is in the details. How is this to be set up? Who will be on this Citizens Assembly? Will it be strictly rep by pop meaning that recommendations will essentially be in Ontario's interest?
I think it useful to look at how the Americans did it in 1787 when, with equal representation from all states, large and small, they came up with what is unquestionably the best constitution ever made. If you have a chance, get a copy of Catherine Drinker Bowen's Miracle at Philadelphia - it makes constitution construction very exciting indeed.
Of course there will be much resistance to such an idea because many think that even thinking about Quebec separating is disloyal and, besides, it hasn't happened yet has it? And since overcoming inertia is always difficult, nothing will be done.
How sad, because unless I miss my guess what we could have done at leisure and free from the panic that sets in when crises are dealt with we will have the crisis and the panic.
I believe that the continuation of Canada is a long shot and we've wasted a lot of time. With vetoes over constitutional change in the hands of five regions and the federal government, we've had a constipated constitution. Instead of talking about governance and what changes we might make at our leisure we've placed the country no one meets and discusses because what's the use if all reforms are and will certainly be vetoed. My suggestions will be ignored because no one wants to face the inevitable. We will, not all that long from now, wish we had.
Rafe Mair's column for The Tyee runs on Mondays. He can be heard every weekday morning from 8:30-10:30 on 600AM. His website is www.rafeonline.com