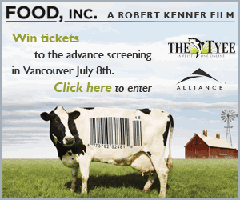 You're going to eat this one up!
About 'Food Inc.'
You are what you eat.
It's a simple expression that bears scary implications as you watch the acclaimed documentary, Food, Inc. (watch the trailer here).
Director Robert Kenner draws upon the searing reportage of authors Eric Schlosser (Fast Food Nation) and Michael Pollan (The Omnivore's Dilemma) to explore how modern developments in food production pose grave risks to our health and environment.
These writers aren't radicals or even vegetarians (Schlosser admits that his favourite meal is a hamburger and fries), but they are crusaders when it comes to exposing problems and naming offenders.
There are stories of heartbreak and outrage, but the film carefully channels these emotions towards opportunities for activism. Watching Food, Inc. gives you a strong appetite for better meals.
Discussion panel to bring local perspective
Winners get the bonus of hearing panel members James MacKinnon and Alisa Smith of 100-Mile Diet fame (read their Tyee series that started it all), Herb Barbolet, and Trish Kelly discuss the issues through a local lens.
How to enter
Send an e-mail with the subject line "Food Inc. contest" before the end of day Sunday July 5th, and you could win one of 25 pairs of tickets to the advance screening on Wednesday July 8th at Vancouver's Cinemark Tinseltown, 7 p.m.
Entrants will also be signed up for our free weekly e-newsletter. The Tyee never rents, sells or shares its information. For more info read our privacy policy.
Thanks to Alliance Films for providing the tickets.
Food Inc. officially opens in Vancouver on Friday July 10th.