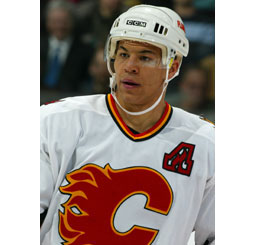 He didn't get his wish, but in many ways Jarome Iginla still is a winner.
The Calgary Flames hockey player went into the game seven Stanley Cup final with one goal in mind: bringing home Lord Stanley's Cup. Tampa Bay's 2-1 victory shattered those dreams. Despite the disappointment, the 6'1", 207-lbs forward still emerged from the National Hockey League playoffs with newfound superstar status - he's the one to watch in the future.
And, as a black athlete, Jarome Iginla has become an unexpected poster boy for not only Canadian hockey but also the predominantly white NHL.
This 26-year-old has been compared to legends like Wayne Gretzky, Gordie Howe and Bobby Hull. Some fans even elevate him to biblical proportions. "Iginla here is like the second coming of Christ, he's that big," says Calgarian Nick David. Even the pundits are full of praise. CBC's Don Cherry, the flamboyant commentator for Hockey Night in Canada, calls Iginla one of the best in the NHL. "He scores, he fights, he helps guys around him," he said mid-season. "I like Iginla."
'A good human being, to boot'
Jason Kay, editor of Toronto's The Hockey News magazine, praises Iginla as a great, physical power forward with "vast amounts of talent" and a charismatic off-ice presence. "He can pretty much do it all … he has emerged as a very strong leader and, to boot, he's a generally good human being."
"Iggy" has amassed a legion of fans across Canada. In hockey-crazed Calgary, he's a celebrity - respected, admired and applauded for his consistent, aggressive play that delivered their sports team out of the doldrums to become a playoff contender. "He's to Calgary like what John Elway was to Denver and like what Michael Jordan was to Chicago," says Calgarian Greg Mann.
Iginla has made remarkable accomplishments since his NHL debut with the Flames on Oct. 5, 1996. He played all 82 games in his rookie year, finishing with 21 goals and 29 assists. And he kept improving. He played his first NHL All-Star game in the 2001-02 season, the year he earned the Maurice Richard Trophy for leading the league in scoring with 52 goals. Iginla became the first black male athlete to win a gold medal at the 2002 Winter Olympics when he helped Team Canada win its first gold in hockey in 50 years. He scored three goals in that tourney, two in the decisive game against Team USA.
First black captain in history
In 2004, his eighth NHL season, Iginla became the first black player in NHL history to be captain. He also made his third All-Star appearance and earned a second Maurice Richard Trophy for his league-leading 41 goals. Despite such achievements, it wasn't until recently when Iginla started capturing attention beyond Canadian hockey fans. "I think a lot of it has to do with the fact that he plays in a small market, Calgary, for a team that hasn't been in the playoffs for seven consecutive years, so he hasn't really been in the limelight," Kay said.
No more. The secret's out after Iggy lead the Flames to its first playoff appearance in seven years, bringing him to the brink of a dream that began in 1977.
Iginla, the son of an American mother and a Nigerian father, started strapping on skates at age seven while growing up near Edmonton, Alberta. His grandfather drove him three hours each way to practice, while his mom worked two jobs to keep him playing. Back then, only two black players - Willie O'Ree and Mike Marson - had cracked the NHL ranks. By 1981 Grant Fuhr joined this list when he became goaltender with the Edmonton Oilers.
"When I was young, I was the only black player on my team," Iginla told The Washington Post recently. "I loved Grant Fuhr, and being a minority player, I also followed other black players. It was something that, because being the only black player on my team growing up, I dreamed just like everybody else to be in the NHL."
This past season, Iginla was one of 17 black players in the NHL, a North American league with more than 600 players. The seemingly low numbers are a reflection of Canadian demographics: two percent of Canada's population is black and, given that Canadians make up 60 percent of the NHL, the numbers are on par. In the U.S., with a larger African-American population, it's a different story - and one the NHL wants to change.
NHL wants to attract U.S. minorities
"In Canada when you're a kid, you play hockey and that's it. So there's a lot more minorities who play the game in Canada than in the U.S," says Bernadette Mansur, executive director of the NHL Foundation. The New York-based organization oversees the NHL Diversity program, which seeks a more multicultural face for hockey, particularly in the U.S. where basketball, baseball and football are more popular and it's hard to attract visible minorities to the expensive sport of hockey.
The NHL sees Iginla, an ambassador to the program, as a role model with clout. "Jerome can have significant impact in NHL hockey and NHL hockey players and that's not just from a diversity aspect but for all audiences," Mansur said. "He's just that type of player, type of personality, who's very giving with his time in terms of wanting to promote the game and expand it."
Much is made of Iginla's racial background in the American media, though such matters don't concern Canadians. Jo Ann Lawery, a Los Angeles columnist who follows black athletes, chalks it up to cultural differences between Canada and the U.S. "Jerome crosses all lines in Canada, but down here it's a big deal that Jerome is black," she said. "We think that blacks only play basketball, dance, sing - the typical stereotypes - but then here comes somebody like Jerome Iginla who's showing that black people actually do play hockey, and that's different. That's a good thing."
Those in Canada, a nation that promotes diversity and multiculturalism, don' t see race as an issue - even with Iginla as the new face of Canadian hockey. "In Canada, hockey is kind of like this sacred thing where it doesn't matter what race, color, or creed you are, people overlook that," David explains, adding that for Calgary's captain "it doesn't even get mentioned that he's half-black, just that Jarome Iginla is a great hockey player."

Burnaby journalist Doug Alexander writes for The Christian Science Monitor and other publications.