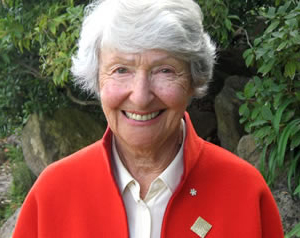 Whether they know it or not, almost every Vancouverite -- along with many others around the world -- has experienced the work of Cornelia Hahn Oberlander.
In collaboration with Arthur Erickson, Louis Kahn, Dan Riley, Sharp & Diamond, Hank White, KPMB and many other prominent architects and designers, the German-born, Harvard-trained, Vancouver-based Oberlander is responsible for the landscape architecture of Robson Square/Provincial Court, the Museum of Anthropology at the University of British Columbia, the Canadian Embassy in Berlin, the Chancery in Washington, D.C., the tree-filled atrium of architect Renzo Piano's New York Times building, and much more.
But the career that led to her 2015 Margolese National Design for Living Prize began long before these iconic landscapes. Her lifelong devotion to sustainability, pedestrian-friendliness, universal access and integration with nature dovetail with what we collectively recognize as the new imperatives for city-making.
Among her many honours and awards are the 2012 ASLA Medal, the highest award given by the American Society of Landscape Architects; the Sir Geoffrey Jellicoe Award in 2011 -- the premier award from the International Federation of Landscape Architects; the Order of Canada and the Architecture Canada 2011 Prix du XXe si&egravecle.
Still going strong at age 94, Oberlander recently spoke with Tyee correspondent Adele Weder and on March 7 lectured to a capacity crowd at the Vancouver Playhouse on her life, work, and how to save the planet. Her talk was followed by a symposium moderated by Moura Quayle, director of the Liu Institute for Global Issues, with The 100-Mile Diet author and "rewilding" advocate J.B. MacKinnon and Swedish landscape architect Magnus Sch&oumln.
As Oberlander said in launching the discussion: "Looking backwards is useful, but right now we are looking for a new meaning for future generations of city builders and designers, and this is why we have arranged a symposium where new ideas with friends will flourish."
The following comments by Oberlander are fused from the earlier interview and symposium, and are edited for clarity.
On why landscape architecture matters more than ever:
We have reached the end of the Holocene period, namely the end of the last ice age, and we are entering a new phase called the "Anthropocene," which translates roughly as the "human age" for which we have to find design solutions. That means interacting with all the other species around us. Today we need to design landscapes that can withstand drought, rising water levels, floods and storms, in addition to being accessible to the citizens. This means as landscape architects we must design with newly acquired knowledge to develop bold concepts of bringing nature into the city.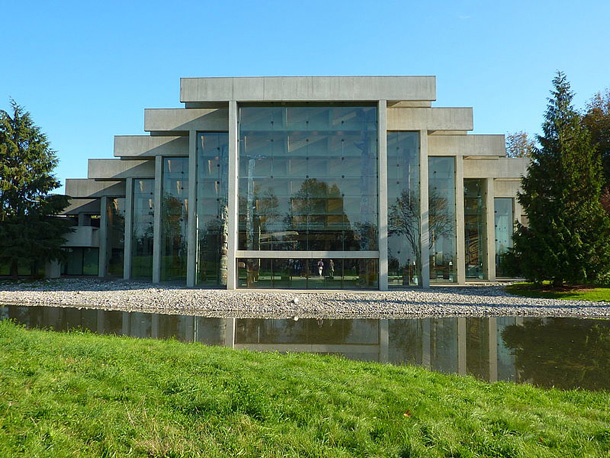 On her "seven milestones" in developing her ethos of landscape architecture:
Charles Elliot's 1910 definition of landscape architecture as a fine art that promotes health and comfort; admission to Harvard's Graduate School of Design in 1943; Rachel Carson's 1963 book Silent Spring; the first Earth Day in 1970; the 1987 Brundtland Report; the 2016 Sustainable Development Goals; and the current densification of cities.
On growing up steeped in the ethos of nature and sustainability:
I grew up in a big garden; my mother was a horticulturalist. I had a garden bed when I was four years old and I planted peas and corn. So I knew the joy of growing. And when we came to America, my mother had a truck farm during the war, in New Hampshire, which I worked on. From there, I went to Smith College and Harvard. So I'm one of the few landscape architects who knows how to get things into the ground.
On why, unlike her former housemate, the feminist icon Betty Friedan, she didn't feel disadvantaged as one of few aspiring female professionals in the 1940s:
Betty Friedan was in my house at Smith College, where I did my undergraduate degree, and every night the girls would gather in her room and chatter. Her room was opposite my own room, so one night at 2 a.m., I opened the door to Betty Friedan's room, walked in and said: "If you are worried about working or not working, just get a profession and go to work." Then I slammed the door and left. So I told her sister that at my college reunion, and she laughed heartily.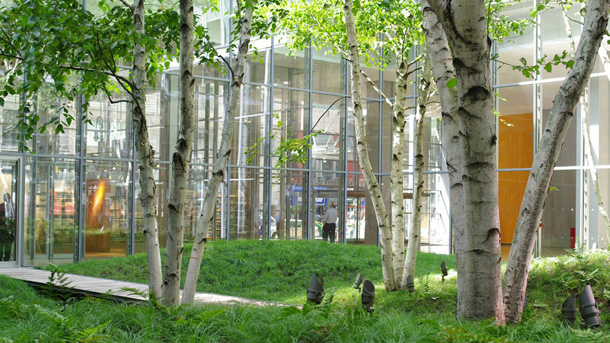 On being one of the few women at Harvard's Graduate School of Design:
Oh, I loved that! That's where I met Peter! [Her late husband Peter Oberlander, a renowned urban planner.] I never looked for special treatment or affirmative action. I hated that; I was just a person. I just brought my research and wares to the table, and then when the meetings were finished, I just pulled out and did my work. I always said to young women: find a niche or a specialty. Then you will succeed in this profession. You cannot practice the whole gamut.
On how her early work in social housing in Philadelphia and children's playgrounds became case studies in the importance of landscape design in fostering creativity, responsibility and a sense of inclusion for oft-ignored demographic groups:
In my first playground, for my 1951 public housing project for [architect] Lou Kahn, I had, for everybody, a vegetable garden and a fruit tree. In my public housing in Maclean Park, I put in a playground for all the children, with everything they need. And on Skeena Terrace, on the Lougheed Highway, I have vegetable gardens. They had the freedom to decide what they wanted there. Then Central Mortgage and Housing [the federal housing Crown corporation] scrapped all their stuff, and I don't know what it looks like today. My Expo 67 playground is being featured right now in a video exhibition at the Kunsthalle in Zurich.
On how landscape architecture can enhance mental and physical health:
I have designed a beautiful garden in the burn unit at the Vancouver General Hospital. I once came up there and saw a young woman was sitting out there in the rain, in the burn unit garden. I asked her, "Isn't it cold for you out here?" She said "No, the rain is good for my face; it will help heal my wounds. And at night, I take a sprig of rosemary to my bed, and then I sleep well." That's what horticultural therapy does in a hospital. For all our five senses, landscape architecture is important: smelling, seeing, hearing, touching, feeling. To hear the rustle of the leaves is beautiful, and if you deny them this, people will shrivel.
On her role in creating Robson Square's famous "stramps," the zigzagging, smooth, universally accessible path to the roof, a unique design usually attributed to Arthur Erickson:
The stramps came about like this: Alberto [Zennaro] was designing the stairs. I took one look at his drawing, and said: "How is somebody going to get up there in a wheelchair? It should be something like a goat path." So I drew him the goat path. And that's how it came about. Then the next morning we had designed the stramps.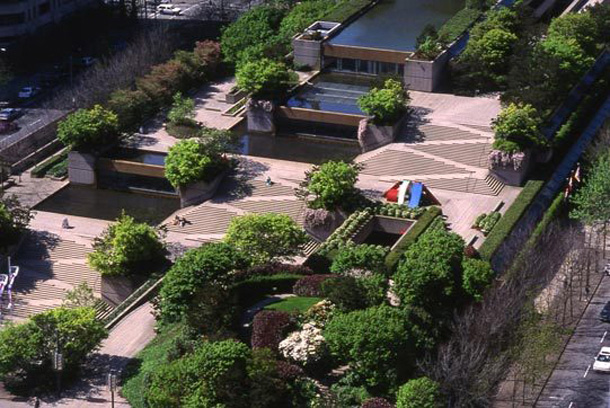 On how she was instrumental in establishing the fabulous natural log seating on Vancouver beaches:
In 1964, I was driving along with my three small children when I saw a fire on the beach and I stopped the car and looked. They were burning all the logs that had drifted in! Can you imagine? So I dropped the kids off where they were going to play, and then I stopped at the [Vancouver] parks board, and I told them not to burn the tree trunks, that they could be used for people to sit on the beach. And look how nicely they're already arranged for the summer.
On why most "green roofs" are failures:
In order to know how to do a green roof, you have to know the technical requirements: the waterproofing membrane, special matting, the cups for drainage and the proper planting material on top, and you have to do it very carefully. In some green roofs, the grass grows so tall that you can't see the flowers. On our VanDusen Gardens roof, the grass doesn't grow taller than about four inches, so you mow it only once a year and can see the nodding onions. [Architect Peter] Busby was the big boss on it, and together we won the International Green Roof highest award for it. And my green roof on the [Vancouver Public] Library is planted in a certain way, so that there is not one leak, not one plant dead except because of non-maintenance. It is currently inaccessible, but studies are in progress to convert the library roof into an accessible roof garden. We are hoping that this might take place within two years.
On why designers should stick their necks out and take stands on controversial issues:
A few years ago, I asked the Canadian Society of Landscape Architects to take a stand on pipelines, but they didn't want to be politically involved because then their members wouldn't get the jobs. So I told them, you've got to take a stand. They finally did, later. But this is what I've done all along. I take a stand on political matters -- on pipelines, on the road to Tuktoyaktuk, on clearcut logging.
On why landscape architecture, despite championing everything we belatedly see as important for cities, still gets short shrift:
It's because people don't understand how important landscape architecture is. Since I started practicing here, I can see that there is a growing commitment to have landscape architects involved in all development. For years, the Museum of Anthropology's reflecting pool wasn't completed, but it is now; it's an inlet into the sea, so it's like a park -- people come there for recreation. However, the funding for good landscape architecture and good plant material is so minimal that people don't see it. If the landscape is part of nature, and if the landscape is to fit a building into nature, they don't see it. The first thing that gets cut is the budget for landscape, and yet today, especially with the population pressures, you need every bit of nature. But when you drive down Seymour Street with all those highrises, where do you see nature? Nowhere!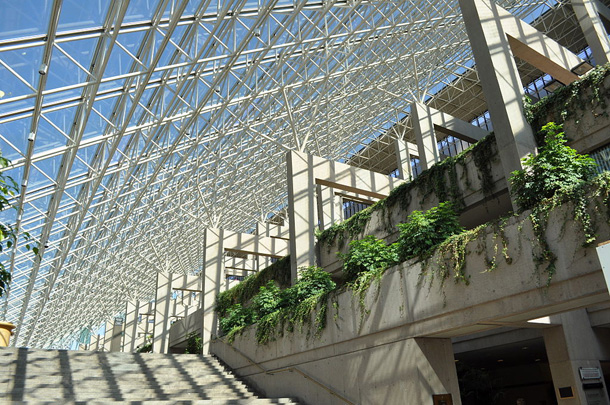 In the symposium, author J.B. MacKinnon called for a policy of more public education in ecology and landscape architect Magnus Sch&oumln described the transformation of a de-industrialized Stockholm waterfront into a low-rise live-work community called Port City. On the policy proposal Oberlander would make for Vancouver, if she was given just one opportunity:
I wish that in Vancouver we could develop something like Stockholm's Port City. How it's going to be done, though, I haven't got a clue. We would need to find a piece of land somewhere where we could develop something like it. Greedily, I have looked at the British Properties [in West Vancouver], or perhaps land in Burnaby, or the False Creek Flats. With no highrises, people working, going to school, playing and living all in the same neighbourhood -- this is the lifestyle of the future.
On why at age 94, she continues to practice, speak and advocate:
It's my passion. I'm still working on major projects in collaboration with well-known architects. In New York, for instance, at the New York Times building atrium, we have a problem with maintenance. We have to work on replacing the birch trees. I have never deviated from my dictum to bring nature into the city, and make people enjoy nature. And the passion is what drives me to keep going -- just to make the world a little greener.

This article is part of a Tyee Presents initiative. Tyee Presents is the special sponsored content section within The Tyee where we highlight contests, events and other initiatives that are either put on by us or by our select partners. The Tyee does not and cannot vouch for or endorse products advertised on The Tyee. We choose our partners carefully and consciously, to fit with The Tyee's reputation as B.C.'s Home for News, Culture and Solutions. Learn more about Tyee Presents here.