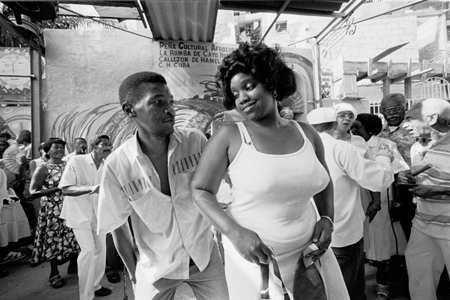 Cuba is a place out of time. It remains a Communist country even though Communism has fallen almost completely by the wayside. It's a country where charming Spanish colonial architecture collides with imposing Soviet-style modernism, viewed from late '50s American automobiles playing an African-tinged Latin soundtrack.
And while it's frustrated by the United States' economic embargo, the breakup of its Cold War benefactor, and Fidel Castro's inflexible attachment to power, it's also a country of great joy.

Without money, people have only each other, and the joy they find in their shared experience has its greatest expression in music. This is constantly evident in the streets of Havana: a couple dancing alone in their apartment on a Tuesday afternoon, an amateur band rehearsing in an abandoned building's foyer, a pianist's elegant arpeggios drifting out of an elementary-school dance class, the crush of rumba fans at the Sunday afternoon jams on Callejon de Hamel. Cuba's dilapidated capital manages against the odds (and perhaps because of them) to be a place of constant and astonishing beauty.
It's a kind of beauty that lends itself to the unintrusive, black and white photography of Tom Abrahamsson and Chris Cameron, who between them have visited Havana seven times since 1999.
Chris Cameron first went to Cuba after watching a touring group of older Cuban musicians pile onto a couch like schoolchildren in order to have their picture taken. "I want to go to a place where people are like that," he thought.
And Cubans are like that. One of the questions these photographs pose, as we consider the inevitable prospect of Cuba being overrun by bland American entrepreneurship, is whether that spirit will be diminished when the colonial buildings are restored as chic boutique hotels and the old Bel-Airs are replaced by the latest Chevrolets.
Is Cuba really out of time?
Tom Abrahamsson and Chris Cameron's Havana photos are on exhibit in the lobby of the HSBC Building lobby at 885 West Georgia Street until February 28, 2004