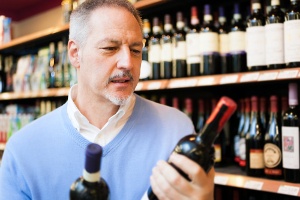 "I've seen the future, I can't afford it." -- ABC, "How to Be a Millionaire," 1985
The future is indeed unaffordable for wine, beer and spirits drinkers in British Columbia, because what are already the highest prices in North America are doomed to rise even more while B.C. wines get squeezed off the shelves.
Why? Government policy of course.
The BC Liberals are creating a brave new world of increasingly pricey alcoholic beverages under the guise of "convenience."
But B.C. liquor prices are already far too expensive -- take the example of just one bottle of wine that costs double here what you can buy it for in California.
In San Francisco in August in a nondescript corner store on Haight Street, I bought a bottle of excellent Beringer Knights Valley Cabernet Sauvignon for US$17.99. In Canadian dollars that's $24.06.
In BC Liquor Stores, the regular price is $42.90 -- plus 10 cent deposit, 10 per cent PST and five per cent GST adding $6.44 for a final price of $49.44!
The B.C. price is $25.38 more -- over twice the San Francisco price -- for the same wine.
And while that Beringer wine costs more in Quebec than San Francisco, at $37.25 including taxes -- it's still $12.19 cheaper than in B.C. And in Ontario it's $39.95 or $9.49 cheaper.
And it's not just because Beringer make their wine in California. Across the country there's Allendale Wine Shoppe in New Jersey, where you get a bottle of the exact same wine for US$18.90 plus taxes of US$1.32 for a total of just US$20.22 -- or CDN$27.04.
To add insult to injury, the BC Liquor Stores website notes that it has sold Beringer Knights Valley Cabernet Sauvignon since 1989, when the price was CDN$21.70.
That means the San Francisco wine price in August 2015 was only CDN$2.36 a bottle more than in B.C. a stunning 26 years ago in 1989.
Small winery squeeze?
The Beringer price isn't necessarily the model for all B.C. wine pricing over the past two and a half decades -- but it isn't unique either.
And as bad as that is, things will soon get far worse.
That's because B.C. is starting to sell wine in supermarkets and in every jurisdiction in the world, once that starts, those stores dominate the market and crush smaller competitors.
The only ones to benefit will be supermarket owners -- not cold beer and wine stores, not independent wine outlets, not government liquor stores, not corner groceries and most of all, definitely not consumers -- who will pay more and have less choices.
In Australia, a new report says just two supermarket chains account for 70 per cent of all wine sales.
New Zealand grocery giants similarly went from no share of the wine market in the 1980s to nearly 70 per cent in a very short period of time, according to one B.C. lawyer.
And despite B.C.'s stated intention to only allow provincial wines to be sold in supermarkets, California, Chile and the European Union have all said the rules violate international trade agreements -- in other words, the world's wines, not just those from B.C., will no doubt end up in supermarkets.
That will mean small B.C. wineries with higher production costs than giant corporate brands like Yellow Tail or Gallo will get squeezed out of both sales and shelf space.
"Go down a grocery aisle to the ketchup section. What do you see there? Heinz, dominating the shelves," said Kim Pullan of Church and State winery in August. "I see the same thing happening to B.C. wine."
The bad, ugly and 'on sale'
Consumers might potentially benefit from free enterprise competition driving prices down but not here -- because the BC Liberals aren't opening the market up -- they're instead managing it to help bigger businesses take more market share without competing on price.
And the government will maintain it's huge revenue stream from overtaxing alcohol.
It's a bleak situation for those who drink wine, beer and spirits and those brave souls who produce it here in B.C.
But not according to Premier Christy Clark's deputy chief of staff, Michele Cadario.
"You can bet that this government will fight very strongly for this industry and we would never do anything that would unnecessarily jeopardize it," Cadario told a gathering of winery and liquor store owners in Penticton in October without a hint of irony.
"For the premier and this government, the B.C. wine industry is hugely important," Cadario told an event organized by the BC Alliance for Smart Liquor Retail Choices. "We know how jobs are tied to this and we know how passionately the wine industry really feel."
It is tempting to see how the government really feels about B.C. wineries by filing a freedom-of-information request for all Cadario's communications on the subject -- but that would be a waste of time -- because Cadario has been cited by the Information and Privacy Commissioner for deleting virtually all her emails.
The government does have its defenders. The BC Wine Institute says the move to place only B.C. wines in grocery shelves is "dramatically changing the business outlook for the better" and claims it will not negatively impact public or private stores.
That's highly unlikely. Both the Alliance and the BC Government and Service Employees Union called in late September for a six-month moratorium on issuing new supermarket wine licenses -- to no avail.
The only tiny bit of good news? If you really still want that Beringer, it's on sale for $4 off in B.C. till Jan. 2 -- for "just" $38.90 plus tax.