What do you do when you're six weeks from the biggest election of your life, your party is mired in scandal and shedding candidates almost daily, while you're trailing behind a bearded socialist and the son of the man you hate most in Canadian political history?
If you're Stephen Harper, you clean house, hire the most-successful Conservative strategist in the world, and pledge to ban the niqab, restrict refugee claims and set up a tipline for Canadians to report "barbaric cultural practices."
And now, with two weeks until election day, you're back in striking distance of another majority government and no one is talking about $90,000 cheques from your office to a sitting senator you appointed.
Lynton Crosby, Stephen Harper's lead campaign strategist is credited with pulling the Conservative campaign out of the weeds. One charming name to describe their path to victory? The "dead cat strategy." Boris Johnson -- a once client of Crosby and current mayor of London, England -- attributed the phrase to an unnamed "great campaigner" and described it thusly:
"There is one thing that is absolutely certain about throwing a dead cat on the dining room table -- and I don't mean that people will be outraged, alarmed, disgusted. That is true, but irrelevant. The key point, says my Australian friend, is that everyone will shout, 'Jeez, mate, there's a dead cat on the table!' In other words, they will be talking about the dead cat -- the thing you want them to talk about -- and they will not be talking about the issue that has been causing you so much grief."
Dead cats have worked for Johnson (banning the niqab), New Zealand Prime Minister John Key (opponent smears), UK Prime Minister David Cameron (separatist coalition accusation) and former Australian Prime Minister Tony Abbott ("Operation Sovereign Borders"). For their part, Stephen Harper and his Conservatives are leaving nothing to chance, compensating for a long stretch of subpar polling by tossing several dead cats on the table over the last two weeks.
Dead cat #1: the niqab
Like Johnson before him, Stephen Harper has pledged to force Muslim women to remove their niqab during citizenship ceremonies. For the federal NDP, a law like this is anathema and Thomas Mulcair was quick to oppose it. But in Quebec, where the law was first proposed as part of Pauline Marois' Quebec Charter of Values, it has propelled the Conservatives back into the race.
And according to social scientist and NYT bestseller Jonathan Haidt, the reasons for this all come back to morality.
Haidt's thesis -- and the focus of his most recent book The Righteous Mind: Why Good People are Divided by Politics and Religion -- is that human morality is based on five foundations.
1. Care/harm 2. Fairness/cheating 3. Loyalty/betrayal (best described as "one for all, and all for one") 4. Authority/subversion 5. Sanctity/degradation
Progressives value the moral foundations of one and two above all, and generally disregard the other three. Conservatives value all five equally. In a study of 1,100 Canadians, here's how that looks: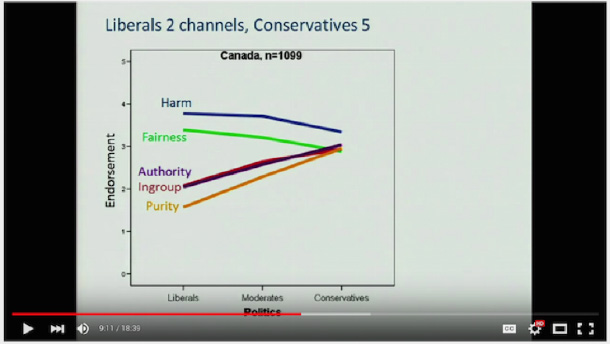 If we believe Haidt, true-blue Conservatives find the niqab morally offensive -- and self-described progressives do not -- because it is an affront to their deeply held values of the sanctity of citizenship, respecting the authority of Canadian laws and traditions and fairness (ie: no one should get special treatment above me). If that sounds familiar, it should. These are the same values that drive people to fight against the right of Sikh police officers to wear the turban, or for the right to wear a colander on their head in their drivers' licence photo.
When Johnson fought against the right of London Muslims to wear religious garments at school, he described his opposition as "against my principles and it's against the principles of liberty that London should stand for." Whether or not you consider that a valid argument or a blatant attempt to disguise racial intolerance as patriotism is potentially an indicator of where you fall on the political spectrum.
Dead cat #2: refugees
Less than 24 hours after three-year-old Alan Kurdi's lifeless body washed up a Turkish beach, his photo and story were everywhere. The son of Syrian refugees, he, his brother and his mother drowned trying to reach Greece in hopes of eventually coming to Canada. Across all political spectrums, Canadians were outraged by the failure of the Harper Conservatives to open borders for Syrian refugees. But weeks later, repeated (but completely unproven) mention of terrorist refugees has pushed Alan's story out of the news and the Canadian consciousness.
How this could happen is another example of where the left and right are morally divided. The left sees Alan, and all Syrian refugees, as victims of the terrible war waged by Syrian President Bashar Al-Assad. We are compassionate to their plight, and want to open our doors without judgement. The right, frightened by 15 years of stories of Muslim religious extremism, is fearful and guarded.
Haidt calls this kind of social disgust "contamination." In this case, ISIS is a dangerous virus. The longer it is kept away from Canada and contained (ie: our soldiers fight ISIS in Syria and Iraq), the safer our country remains. When we open our doors indiscriminately to refugees, we risk ISIS soldiers sneaking in and "infecting" us. It triggers Conservative fears of being subverted or betrayed and having their country or their lives degraded. Don't be fooled into thinking this means that Conservatives don't want to help refugees. They do, but in a way that keeps them safe and their lives unchanged.
Harper seems aware of this, tailoring his party's response on the issue specifically to address those concerns, saying "we intend to [help refugees] in a responsible way, a responsible and affordable way for Canadians."
Donald Trump is more blunt on his feelings about refugees, saying "They could be ISIS. They are all men and they are all strong."
Dead cat #3: barbaric cultural practices
Now, if niqabs and terrorist refugees weren't scary enough, Harper's team dropped its biggest dead cat to date on the table on Friday, promising an RCMP tipline for Canadians to report "barbaric cultural practices" like forced child marriage and genital mutilation.
It is the kind of announcement that is dually beneficial for the party. It sends the left into a frenzy in this case, prompting a media-friendly Twitter storm where Conservatives were called out for #BarbaricCulturalPractices. At the same time, it reinforces to the right that the Conservative party shares their moral outrage for such practices, and that they're the only ones who will truly stand up for what is good and just.
To their credit, the NDP and Liberals have tried to push back against this seething hate. Mulcair has called it "a dangerous game" and a "weapon of mass distraction." Trudeau says the Conservatives are "stoking anxiety and fomenting fear." Naheed Nenshi, Mayor of Calgary, said "this is disgusting and it is time for us to say stop" only to be told that "people like him are politicizing it" (another dog whistle phrase) by Conservative defence minister and prime minister-in-waiting Jason Kenney.
In the final debate on Friday, Justin Trudeau tried throwing his own dead cat -- abortion -- on the table. The NDP opted against tossing a tabby of its own and countered with announcing their opposition to the Trans-Pacific Partnership instead. It was a sensible policy-driven pledge whose significance is currently drowned out by so much mewling and howling.
But with two weeks to go it is hard to imagine that our national table could hold many more departed felines. Particularly when there are still several large elephants in the room, too.