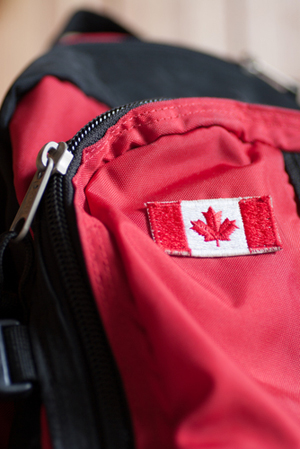 Remember when everyone seemed to love Canada? Travellers who displayed a maple leaf emblem on their shirts or backpacks could count on a friendly welcome in most countries in the world.
Now, not so much.
We are perceived as ugly Canadians for reasons that include environmental foot dragging at home and complicity in death and destruction overseas.
Stare, for example, into the mirror submitted in October to the Inter-American Commission on Human Rights. A scathing document accuses Canada of failing to hold the many mining firms with head offices here accountable for the deaths and human rights abuses associated with their mines in Latin America.
''Canada has a very strong presence in the globalized mining industry with almost 1,500 projects in the region, and we're aware of a great deal of conflict,'' said Shin Imai, a lawyer with the Justice and Corporate Accountability Project (JCAP), commenting on a submission from the Canadian Network on Corporate Accountability. ''Our preliminary count shows that at least 50 people have been killed and some 300 wounded in connection with mining conflicts involving Canadian companies in recent years, for which there has been little to no accountability.''
Toxic and deadly
Another mirror reflects an oil sands boosting ''climate dinosaur'' that is part of a destructive ''Axis of Carbon.''
A further blight on the nation's image are Canadian companies that bought garments produced in a Bangladeshi factory building, the Rana Plaza, which collapsed last year, killing more than 1,100 workers. Many more Canadian firms have enriched themselves on the backs of Bangladeshi workers at other factories and are thus complicit in the pervasive lax safety regulation and hostility to worker rights that led to the Rana Plaza disaster. Yet all, with the sole exception of Loblaw Companies Ltd., defied calls that they help the survivors of the collapse.
It gets even uglier. None, except for Loblaw, will commit to a new factory safety accord to help prevent future deaths in Bangladesh's notoriously unsafe garment plants.
And still uglier. In September, a group of more than 50 Canadian labour, religious and union groups called on the Canadian government to pressure Canadian garment retailers to contribute to the trust fund established to benefit Rana Plaza survivors, and to make its own donations to the fund. To date, the government has done neither, and the modest goals set for the trust fund have fallen short so far by nearly $20 million.
America's twin?
Our prime minister would have Canadians believe we project a beautifully heroic image, as we now collude with the United States in its campaigns in Iraq and Syria. The theocrats of ISIS are no doubt loathsome. But the world watches Canada, the former peace keeper, again flying off to support another U.S.-led war that seems doomed to reproduce the failures of the last round of imperial adventures in Afghanistan, Iraq, Syria and Libya, strewing the desert sands with dead civilians and effectively strengthening fanatic death cults happy to have us make new martyrs and new recruits for them.
Canada could stop shilling for the fossil fuel industry and get serious about climate change. Canada could withdraw from our overly compliant response to American military initiatives and return to its principled peace keeping identity. Canada could begin to police Canadian firms doing business overseas more rigorously.
Maybe then the Maple Leaf would be seen once more as badge of honour, not a pirate flag.