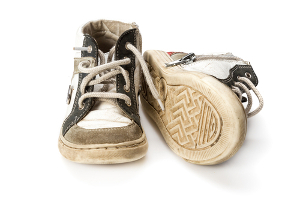 [Editor's note: Vancouver teacher Anna Chudnovsky read the following speech at the launch of 2014 Child Poverty Report Card, which took place at the B.C. teachers' union headquarters on Monday. The report, released annually by First Call: Child and Youth Advocacy Coalition, found B.C. has the fifth highest child poverty rate in the country, with approximately one-in-five B.C. kids living in poverty. Read more about the report here.]
My name is Anna Chudnovsky. I'm a teacher in an inner city school in Vancouver.
I don't have a lot of numbers to share with you; instead, I have a story of a real student and of his family. A story that I hope will tell you a little bit about what it's like to be a student living in poverty. I'm telling you this story not because it's sad, but because I believe that being poor makes it hard to learn. And when it's too hard to learn, lifting yourself out of the poverty you're born into is incredibly hard.
There's a boy in my class. He is aboriginal, eight years old, has a younger brother and a sister, and his mother is pregnant and due to give birth any day now. The family has just moved here from Smithers because his mum is trying to start fresh, give her children some opportunities that she herself didn't have. The family lives in B.C. housing.
This boy is smart. He is capable. He is kind and friendly. He helps others, he tries his best at school. But his life is too hard. The task he has in front of him is too grand, too monstrous to overcome. You see, he's poor. And when you're poor, as poor as he is, succeeding at school is such a very difficult challenge.
We have a "walking school bus" that picks kids up at home from the housing complexes in the neighbourhood and brings them to school. It helps get kids to school on time, builds a bit of community and takes a bit of the stress of the before-school-rush off the parents' shoulders. The walking bus picked up this child last week and when the support worker got to the door, the mum, nine months pregnant in a new city trying to build her new life, confided in the worker that she had no groceries. She had only one single jar of olives in the fridge. She started to cry. She was worried she wouldn't have time to get groceries before the baby came.
She's panicked that she won't be ready. Her son, my student, my kind, smart, lovely student, tried to comfort his mum as she stood there crying in the doorway. And then he came to school to try to learn. We're working on adding with regrouping. His family is in utter crisis and he's trying to carry the one.
Trying to learn
This same boy, earlier in the year when the weather was just getting cold, was wearing flip flops to school. I asked him if he had another pair of shoes, and he said no. I took him to the clothes room at our school to pick out another pair. Yes, we have a clothes room. He chose a pair and he looked proud. When he ran off to go join his friends at the playground he called back to me: "I'll bring back the shoes at the end of the day." You see, he thought I'd given him the shoes for his time at school only. He felt so unentitled to shoes that he thought he had to give them back. That lack of self-worth is devastating. It prevents you from opening your mind to learning. It makes focusing on adding, or writing persuasive paragraphs, or learning about the water cycle, nearly impossible.
This boy's brother fell in the school playground last week. He tripped on a curb and got a concussion. Our secretary tried to call home but the line was out of order. She walked to the home, got the mum, brought her back to school and told her about her youngest son and advised her to take him to the hospital to get it checked out. But you see, the mum didn't have bus fare for herself and her three kids. She was desperately ashamed to admit it, but she didn't know how she could possibly manage the trip.
So this is a family living in poverty. This is a boy who is trying to learn how to carry the one while his life is in upheaval. New city, new community, new school, new sibling, new stress. No shoes, no money, no support for a mother trying her best to provide for her kids. To give them a good start. And this kid, this sweet, smart, thoughtful little boy, just trying to learn.
I could tell you other stories, of a refugee family making a new home for themselves with a child who has nightmares every night of his father being shot in front of him; or of a student who was physically pulled away from the only parent she's ever known; or a child living with her disabled grandmother and having to, at 10 years old, do all the cooking, cleaning, shopping and house maintenance because this grandmother is the only one in the family who is able to nurture and love her. I could tell you about a girl and her brother who chase mice back and forth from one bedroom to the other as a game. I could tell you about a boy whose dad carefully butters one single piece of bread for him to take for lunch each day. There's more of them, too.
They're all just trying to learn. And it's too hard. Because learning is about taking risks, and trying your best and sometimes making mistakes. And when you're poor, when you're so poor that you're worried and anxious and insecure, learning to carry the one is impossible.