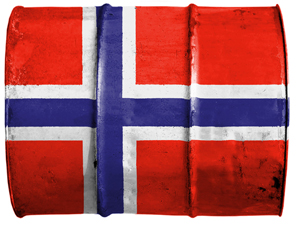 As many British Columbians and Canadians brace for another fight with their government over the perennial push for pipelines out of Alberta, it might be an opportune time to reflect on Norway, which enjoys almost universal public buy-in for its oil industry and has saved almost $900 billion in petroleum revenue. What did our Nordic cousins do so differently?
1. Norway built pipelines -- to Norway
Back in the early 1970s, Norwegians insisted that North Sea petroleum be processed in Norway through a pipeline controlled by their state-owned oil company Statoil. This was not just an economic advantage, but an expression of resource sovereignty. The outraged negotiators for Phillips Petroleum, who were counting on controlling the lucrative offshore pipeline themselves, called the Norwegian demand "immoral."
Building pipelines from offshore rigs to refineries on the Norwegian mainland was not merely difficult; it was considered technically impossible. Bringing petroleum ashore in the United Kingdom or continental Europe was shorter, shallower and did not require divers to descend to the bottom of the Norwegian Trench, a depth of 360 metres. But by sticking to their guns and demanding to move up the value chain, Norwegians ensured they controlled their own resource and kept the jobs and money in their own country.
The Harper government, allegedly representing Canadians, is instead insisting exactly the opposite: the only way to secure jobs in Canada is to export unprocessed and dangerous diluted bitumen off the B.C. coast or through the Keystone XL pipeline. Economist Robyn Allan has pored through Enbridge's business case and concluded that even without a bitumen spill, the project will cost the Canadian economy dearly by raising domestic energy prices, not through taxes but by increasing profits to petroleum companies.
Which worldview is right? Let's let the market decide. Forty years after both countries scaled up their petroleum sectors, Norway has about $900 billion in the bank, full employment and no national debt. Canada? We have about $600 billion in debt with billions in investments starting to flee the increasingly uncertain future of the oilsands. Harper is famously a fan of Margaret Thatcher, yet the U.K. came out $658 billion behind Norway on retained North Sea oil wealth under the reign of the Iron Lady.
2. Norway invested in social programs
What does universal daycare have to do with petroleum policy? Plenty. Norway taxes oil companies to the limits of tolerance and companies are lining up to do business there. Why? Unlike the volatile situation in Canada, oil investors know the Norwegian public supports their industry because they benefit so richly from it.
In 2012, the Norwegian government earned $46.29 per barrel of oil equivalent. In that same year, Canada and the provinces earned less than one-fifth that much. The federal government has eliminated more than 20,000 public service jobs since 2010, with more cuts planned. Alberta, which has a comparable population and petroleum production to Norway, is almost $8 billion in debt. Last year, the Fort McMurray School district voted on a proposal to shorten their work week because they couldn't afford school bus drivers five days a week. Companies investing billions in the oilsands are seeing their landlocked operations hang in the balance due to lack of public buy-in.
Meanwhile, Norway is ranked number one on both the Human Development Index and the Democracy Index, and is the second best country in the world to be a mother. (Canada ranks 11th, 12th and 18th respectively.) Norwegians enjoy free university tuition, universal daycare and 30 per cent more spending per capita on healthcare -- all of which is largely funded through public oil revenues.
British Columbians are expected to support pipelines through our province with virtually no benefits and enormous externalized costs and risks. You would think people in business would appreciate that there is no such thing as a free lunch. This will prove to be a very expensive and time-consuming mistake.
3. Norway respected First Nations
While the Sami People of the northern Norway are still subjected to considerable discrimination, they are far ahead of the deplorable situation on First Nations reserves here in Canada. The Sami have their own parliament and enjoy the same legal language rights as Norwegian speakers.
In fact, all ethnic Norwegians could be considered an unconquered First Nation, having lived in present day Norway since the end of the last ice age. Vikings, who had the same military technology and resistance to the same diseases as the rest of Europe, went on a pagan-raiding campaign throughout Christendom for 200 years. That ancient memory of land and place remains, and may be the leading reason why their country was so successful at negotiating a hard bargain with the world's most powerful industrial sector in the 1970s.
The same is true in Canada, where First Nations with their ancient cultural connection to the land are leading the resistance to pipeline proposals. Instead of respecting First Nation rights and title, Canadian governments and resource companies are finding out the hard way that indigenous culture cannot be easily bought or extinguished.
Moving forward, First Nations may lead the way in recalibrating Canada's resource economy. Certainly non-native Canada has a wretched record of extracting value from the enormous natural bounty of this country. As First Nations move toward treaty settlement and assume control over local resource use, we will hopefully see more economic benefits stay in local communities -- driven by the same cultural imperatives that allowed Norway to stand up to the oil industry 40 years ago.
Canada could be so much more prosperous and equitable than the country it has become. Rather than doubling down on the same failed policies of the Harper government, we should look to our Nordic cousins for some much needed national inspiration.