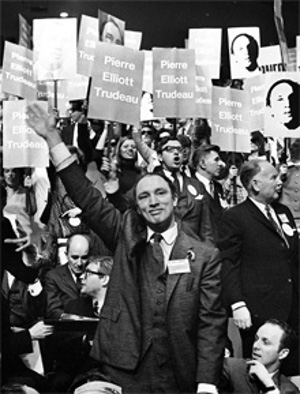 "Trudeau had a minority government at the time... to say his government was detested in the West would be no overstatement." -- Ex-B.C. premier Dave Barrett on Pierre Trudeau in 1973, Barrett (1995)
Coming out of their weekend Montreal convention, federal Liberals are already sure Justin Trudeau-mania will carry them into government in the 2015 election.
And those who underestimated Trudeau to date are either out of politics, like Bob Rae, or managing strip bars, like ex-Conservative senator Patrick Brazeau, whom Justin beat in boxing.
Currently holding just two British Columbian seats -- Joyce Murray in Vancouver Quadra and Hedy Fry in Vancouver Centre -- polls show there's reason for optimism.
But while emotions run high, statistics don't lie -- and in B.C. the original 1968 Pierre Trudeau-mania faded astonishingly fast after that first giddy election.
So I'd say federal Liberals in B.C. who are preparing for cabinet seats, staff jobs or patronage appointments -- minus the Senate, of course -- should read some political history before packing for Ottawa.
Gripping the Grits
What's particularly important to remember is that for all Justin Trudeau's shiny appeal, he does not hold a candle to his father Pierre's accomplishments prior to entering politics.
Pierre Trudeau was a brilliant Quebec law professor, co-founder of the influential Cite Libre magazine, a noted intellectual, and Liberal justice minister under Prime Minister Lester Pearson before leading the country himself. Like or loathe him, the senior Trudeau was impressive.
But despite that, only once in five federal elections did Trudeau take a majority of British Columbian seats -- in his 1968 Trudeaumania campaign, where the Liberals won 16 seats and 41.8 per cent of the vote, their high water mark in the last 46 years.
The New Democrats under the revered Tommy Douglas managed to take seven seats and 32.6 per cent of the ballots that year and the Progressive Conservatives were shut out but managed 18.9 per cent of the vote.
Pierre Trudeau's alienation of the west didn't take long. By the 1972 election, Trudeau lost three-quarters of his B.C. MPs, winning just four seats and 28.9 per cent of the vote while the NDP under new leader David Lewis took 11 at 35 per cent and the PCs jumped back to eight with 33 per cent.
That resulted in a two-year minority government, though the Liberals regained a majority in 1974, but only eight seats in B.C. to the PCs 13 and the NDP's lowly two.
The 1979 election that pushed a disliked Pierre Trudeau out of 24 Sussex Drive and a young Joe Clark into the prime minister's seat saw the Liberals in B.C. reduced to one lonely seat and 23 per cent of the vote, while the Conservatives rocketed to 19 B.C. MPs with 44.3 per cent and the NDP under new leader Ed Broadbent took eight seats and 31.9 per cent.
Just nine months later, Trudeau roared back to power with a majority government 1980 election win after defeating Clark's hapless Tories in a dramatic vote in Parliament on Dec. 13, 1979, one I witnessed from the press gallery as a young Canadian University Press bureau chief.
But despite the Liberals' amazing comeback, in B.C. they were completely shut out, not winning a single seat at 22.2 per cent of the vote -- Pierre Trudeau's worst-ever result in the province in five elections.
And thus, Trudeaumania came to a whimpering close in B.C.
The BC Liberal factor
Clearly it would be a mistake to overly focus on federal election results in B.C. from 1968 to 1980 simply because the same Liberal Party is now lead by a second generation Trudeau.
There are a great many very changed elements to consider and a completely different political context in 2015.
For example, one factor is that the BC Liberal Party -- distinct and separate from the federal party of the same name -- is in fact a coalition of federal Liberals and federal Conservatives.
In the Pierre Trudeau years, the BC Liberals were minor third-party players, especially after key MLAs like Garde Gardom, Pat McGeer and Allan Williams all quit to become Social Credit MLAs and cabinet ministers under premier Bill Bennett in 1975, as the right coalesced to defeat Dave Barrett's NDP government.
In today's BC Liberal coalition, Premier Christy Clark is a diehard federal Liberal who once worked in Ottawa in a political staff job, while cabinet ministers like Rich Coleman and Bill Bennett are clearly seen as Conservative, even if they don't carry membership cards.
Most of Clark's key election campaign strategists -- Don Guy, Don Millar, Mike McDonald, Brad Zubyk, and brother Bruce Clark, for example -- are all federal Liberal supporters.
And while ex-premier Gordon Campbell forbade ministers and political staff from taking sides in federal campaigns, it remains to be seen if Clark will issue the same stern orders, particularly if Justin Trudeau appears to be poised for significant success.
But unless the BC Liberals are very popular in 2015, the federal party may suffer from a voter backlash, despite protestation they are different and separate entities. History shows that British Columbians like to balance federal and provincial governments, particularly whacking the federal NDP when B.C. New Democrats have been in power.
Other factors
Every federal election features issues that arise which can dominate a campaign and favour or frustrate a party. In the 1974 election, Pierre Trudeau made fun of Progressive Conservative leader Robert Stanfield's plan to introduce a 90-day wage and price freeze to battle runaway inflation. "Zap, you're frozen!" Trudeau famously said to the media as he went on to recapture a majority.
And of course the next year Trudeau introduced -- wait for it -- wage and price controls!  
Plus, Justin Trudeau has significant ties to British Columbia, from his mother Margaret and late grandfather (former federal Liberal cabinet minister James Sinclair) coming from here, to obtaining his Bachelor of Education degree at the University of British Columbia and teaching here for awhile.
Needless to say, 2015 is not 1968 or 1980, and the factors in next year's contest will be very different than in those five federal elections.
Liberals would be thrilled to see Justin repeat his father's 1968 performance by taking two-thirds of B.C.'s seats -- and they wouldn't worry about also repeating Pierre's subsequent alienation of the province. But it would be foolish to ignore the real voting results in B.C. under Trudeau the Senior -- a superior politician to his son -- who still only once managed to convince most British Columbians he could be trusted to govern Canada.