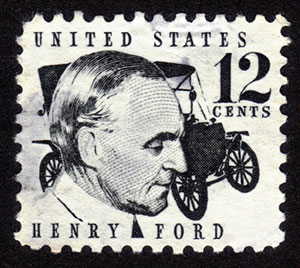 One hundred years ago, on January 12, 1914, Henry Ford revolutionized industrial production and industrial relations by offering a wage of five dollars a day -- almost double the going wage at that time -- for a workday of eight hours, down from nine.
Ford was virulently anti-Semitic, anti-union and paternalistic, but he realized higher wages would reduce the turnover of workers, boost productivity and also ultimately increase demand for autos. And it was remarkably successful. Turnover plummeted, his company's profits doubled in two years, and with surging productivity and production, the price of a Model T Ford was cut in half in a decade -- from about $500 in 1914 down to $240 in 1925. At $5 per day, an autoworker had to work 100 days to earn enough to buy a Model T Ford in 1914 and less than 50 days to afford one in 1925.
Ford later said, "The payment of five dollars a day for an eight-hour day was one of the finest cost-cutting moves we ever made." It also ushered in an era of mass production, mass consumption, expansion of the middle class and of American capitalism. Henry Ford's innovations were so instrumental that this stage of capitalism is called "Fordism" by political economists.
Where are we a century later?
Today an autoworker paid the starting two-tier rate of $16-an-hour wage on Ford's production lines in the U.S. would have to work 110 days just to afford the least expensive car in their line-up, the $14,100 Fiesta. And that's for a vehicle no longer even produced in the U.S. Purchasing a mid-range vehicle would eat up close to 200 days wages at $16 an hour.
Yes, it's true the two-tier $16-an-hour wage only applies to a smaller share of the auto workforce (and was never accepted by Canadian autoworkers), vehicles are more sophisticated now and we've moved beyond Fordism in our economic system. But despite a century of technological progress, it's clear why so many American and Canadian families feel the basics necessary for a middle class living standard are slipping further out of their reach.
For decades we've been told we need to increase productivity and competitiveness, we must work harder and smarter, be more flexible, cut taxes, reduce regulations, cut government spending, expand investor protection and "free trade" agreements and provide more incentives for business and entrepreneurialism. This array of policies focuses on the supply-side of the economic equation and so was called "supply-side economics" when first promoted in early 1980s by Reagan, Thatcher and their kin -- and are still subscribed to by their progeny, including Stephen Harper.
After years of sacrifice and being told there is no alternative to the monotheism of supply-side economics, how have these policies fared?
Not too well at all.
It's evident they didn't lead to shared prosperity, with stagnant real wages and inequality at the worst rates since the 1930s. But what's really incriminating is that these policies also failed to boost productivity. Capital has become so coagulated at the top that it hasn't even trickled down to the wheels of production, let alone the workers below.
Problem is weak demand, not laziness
Despite all the required conditions and policies being in place by 2000, business sector labour productivity in Canada averaged just 0.8 per cent per year from 2000 to 2012, about half its rate during the 1981-2000 period and far slower than rates in the 1960s and 1970s. As a result real GDP growth grew at a 1.9 per cent average, a full percentage point below the 2.9 per cent average from 1981 to 2000.
Was this because Canadians weren't working hard enough? Many would have us believe that, still pushing austerity and squeezing wages to "increase competitiveness."
Instead, as two articles in the latest issue of the International Productivity Monitor conclude, the real reason we've had stagnant productivity in recent years is because of weak demand, not weaknesses on our supply-side.
Someshwar Rao (former head of Industry Canada's Productivity and Competitiveness Analysis Directorate) and Jiang Li report in their lead article "93 per cent of the fall in average labour productivity growth between 1981-2000 and 2000-2012 can be attributed to the drop in real GDP growth between the two periods." Weaker demand reduces labour productivity growth through fewer economies of scale and scope, weaker investment and slower human capital formation.
"Our empirical findings strongly suggest that a slowdown in domestic and external demand and economic activity sets in motion a vicious cycle of a slowdown in labour productivity, real GDP and real incomes. On the other hand, an increase in domestic and external demand and the ensuing economic activity would create a virtuous circle of an increase in the growth rate of labour productivity, real GDP and real incomes."
In the same issue, Peter Spiro comes to similar conclusions. "If highly educated individuals are relegated to driving cabs or selling shirts, their investment in education will be wasted. If more output cannot be sold, it will not make sense for companies to invest in more and better equipment to increase output."
Measures that restrict demand, such as cuts in government spending, low wage and income growth and a high dollar, don't just slow growth in the short term, but also reduce our longer-term productivity and economic growth.
Destructive boomerang
The Harper government may trumpet its incessant spending cuts, but its drive to reduce federal public spending to the smallest share of the economy in 70 years is doing more harm than good. Similarly, federal and provincial or private sector measures to freeze and squeeze wages aren't helping either.
Policies that were supposed to spur productivity by boosting corporate profits and high incomes have actually had the opposite effect and stunted productivity and economic growth as well as workers wages and public services.
What these responses to the crisis (and seeming acceptance of the prospect of longer-term economic stagnation) reveal is the failure of neo-liberal economic policies in expanding economic growth and productivity even in a conventional Keynesian framework.
Why our governments have persisted with them shouldn't be much of a puzzle. Capitalism is primarily driven by capital and its relations of power and control, and not necessarily about expanding GDP, production, incomes or employment. Those who have capital may forego the prospect of increased income if it means preserving their capital and relative power. They are more likely to support policies that fuel capital-driven booms and busts and provide short-term bursts of speculative profit instead of longer-term more sustainable growth as long as their own capital is ultimately preserved and expanded -- if necessary through government bail-outs.
Today's 'vested interests'
We can't expect to return to a semi-mythical Fordist "Golden Age of Capitalism", which in any case largely benefited a relatively privileged middle class in Western nations at the expense of many others.
The post-war expansion represented a period when the "vested interests" (as Keynes termed that era's One Per Cent) calculated it was probably better to share some of the wealth with higher wage gains and expansion of public services than risk losing all through communism. Without that imminent threat, we had expansion of the powers of private capital, shrinking of the social welfare state, stagnant wages and increasing concentration of capital and power among a few.
Simple Keynesian stimulus isn't going to redress these imbalances or solve more fundamental problems with our economic system, including those of sustainability and equitably serving diverse needs. What is needed are measures that not only boost the economy, but also establish greater economic and political equality.
Real wages must be increased, and no longer suppressed through wage freezes, expansion of a precarious and temporary labour force and attacks on unions. Collective bargaining rights need to be strengthened, minimum wages increased and measures put in place to control excessive compensation at the top.
Public spending should be increased, not just on infrastructure, but also in areas that increase the "social wage" and expand public services and push back against increasing corporate control. These include improved public pensions, social security, education, health care, affordable housing and public transit. A national early learning and childcare program modeled on Quebec's program could not only pay for itself, but also generate tens of thousands of jobs and allow more parents to engage productivity in the labour force. Meeting the challenge of climate change will require billions in investments, but will pay off in both jobs and economic activity in the short term and in a more efficient and sustainable economy over the longer-term.
We need to make our tax system more fair, not only to raise revenues to pay for public services but also to increase equality and reduce activities that contribute to economic instability.
These may all seem ambitious given our current political situation, but if we don't change direction soon, we'll steer our economy deeper into the ditch. Henry Ford would consider Stephen Harper a very bad driver indeed.