"Teach a parrot to say 'supply and demand,' and you have an excellent economist." -- Numerous attributions
"Typically when it comes to energy exports, it has been the seller that sets the prices." --Premier Christy Clark quoted by Justine Hunter in the Dec. 10 edition of The Globe and Mail. 
We could all get a good chuckle out of Premier Clark's failure to understand economics 101 if the consequences weren't so severe for B.C. She has staked her credibility on delivering liquefied natural gas (LNG) for B.C. on sufficient terms so as to pay-off all of B.C.'s government debt, including the debt of BC Hydro, BC Ferries and the Port Mann Bridge. All of that is to be done in less than 30 years! 
British Columbians need to be concerned that Premier Clark may be so desperate to deliver on LNG that she will cave on royalties and taxation while offering companies discounted hydroelectric power from a yet to be built Site C dam. Instead of paying off B.C.'s debt, the province could find itself like Western Australia, going deeper and deeper in debt over LNG. Western Australia lost its AAA credit rating this year even though 84 per cent of Australia's LNG exports originate in Western Australia. 
Reports from consultants Ernst & Young and Grant Thornton commissioned by the B.C. government before the May 2013 election projected provincial revenues based on the assumption that BC would produce 82 million tons per year of LNG (MTA) over a 20-year operation period. That would be about 25 per cent of the total world supply of LNG in 2017, according to estimates from the International Gas Union.
Other than Premier Clark and her cabinet, it is hard to find credible analysts who believe B.C. will become a dominant world LNG player, surpassing such producers as Qatar, Malaysia, Australia, Nigeria, and Indonesia. B.C. will probably have some LNG production by 2020 but it is not likely to produce 25 per cent of global supply.
Shrugging at 15,500 jobs gone
Just as a parrot can pose as an economist, Clark answers most questions by parroting one line: LNG will solve all problems. In a year end interview with CBC's Rick Cluff on Dec. 10, Clark dismissed the loss of 15,500 jobs over the past year saying the numbers aren't good this month but in other months they have been.
She went on to say economic growth is sluggish and B.C. is not unique in that. Her answer to sluggish growth is for B.C. to develop a new LNG industry. That sidesteps the fact that for over a year B.C. has ranked in the bottom three provinces for job growth and in November B.C. claimed the tenth position, dead last, amongst the provinces. Forecasters have lowered their estimates for B.C.'s GDP growth in 2013, but we won't see preliminary estimates for actual 2013 provincial GDP until April 2014. 
A key document in Clark's jobs plan is titled "Labour Market Outlook 2010-2020." It says: "Demand for workers in B.C. is expected to grow by an annual average rate of 1.4 percent over the ten-year period." B.C. had 2.3 million jobs in Nov. 2013; annual growth of 1.4 per cent would yield 32,000 new jobs per year. That puts the loss of 15,500 jobs between Nov. 2012 and Nov. 2013 in perspective; B.C. is about 37,000 jobs behind where it should have been if growth had not stagnated. It also puts the job claims for LNG in perspective.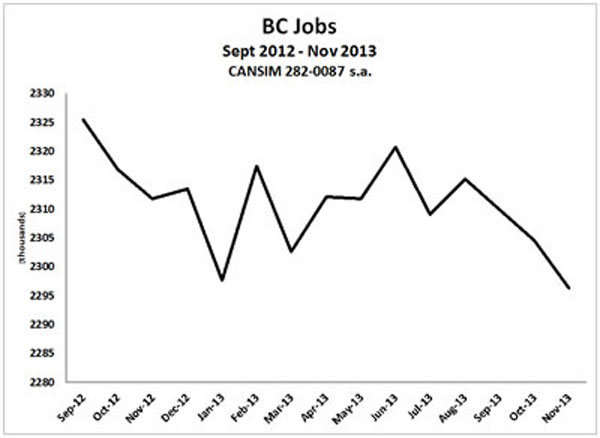 The BC Jobs Plan website says: "The BC Jobs Plan commits to bring at least one LNG pipeline and terminal online by 2015 and have three in operation by 2020, assuming all environmental and permitting applications are granted." It goes on to say:
"The BC Jobs Plan target of three LNG facilities by 2020 is on track. Independent studies show that if five LNG facilities were operating in B.C. by that year it could mean:
"Over $98 billion in new capital investment
"75,000 permanent new jobs
"More than 39,000 average annual jobs over a nine-year construction period
"Potential new government revenues in excess of $100 billion over the next 30 years."
The 39,000 annual jobs over a nine-year construction period is about equal to the gap in how many jobs B.C. had in November 2013 compared to what it should have had if growth had not stagnated.
Construction at least three years off
The promise of "at least one LNG pipeline and terminal online by 2015" will not happen; however, construction of one, perhaps two, natural gas pipelines to feed LNG trains could start in 2015 with completion in 2019.
It takes between five and nine years to build a LNG train; a pipeline isn't going to be built too many years before it is needed. 
So far two environmental approvals have been granted. The Kitimat LNG Terminal Project began its pre-approval on Sept. 14, 2004. On June 6, 2006 it received provincial approval with a note that federal approval was also required. The Pacific Trails Pipeline Project, a new 470 km, 36" natural gas pipeline between Summit Lake and Kitimat, began its pre-approval on Nov. 23, 2005. On June 27, 2008 it received its provincial approval with a note that it also requires federal approval. 
Another two pipeline proponents have submitted detailed documents to B.C.'s Environmental Assessment Office and they have held public hearings on their pre-application information. The Spectra Energy and BG Group Natural Gas Transportation System, operating as 0948090 B.C. Ltd., submitted its pre-application documents on Nov. 9, 2012. Its project, called Westcoast Connector Gas Transmission Project, would run an 851 km pipeline into the Prince Rupert area.
A public notice for a second pipeline began by saying: "Prince Rupert Gas Transmission Ltd. (Proponent), a wholly owned subsidiary of TransCanada PipeLines Limited, is proposing the Prince Rupert Gas Transmission Project (proposed Project), an approximately 900 km natural gas pipeline from near the District of Hudson's Hope to the proposed Pacific NorthWest LNG liquefied natural gas export facility on Lelu Island, within the District of Port Edward." Prince Rupert Gas Transmission Ltd. submitted its pre-application documents June 6, 2013. 
Hurry up and wait
No one is going to spend a billion dollars or more on a pipeline until customers are lined up to pay for shipping gas. It will be interesting to see if the formal environmental reviews on the pipelines get underway before any final investment decisions are made to build LNG trains. If all goes well for the projects, thousands of construction jobs could be created starting in 2015, but no gas will be shipped until 2019 or 2020. Those dates are important for those hoping the gas play will give B.C. job growth a needed kick start. 
Until contracts are signed between potential LNG producers and their customers and between potential LNG producers and pipeline companies, nothing is certain. The price in purchase agreements will be a function of both supply and demand, as well as of the system of taxation and royalties B.C. sets. In the meantime job growth has stalled in B.C. and saying wait for LNG doesn't work for the thousands fleeing B.C. for jobs in Alberta.