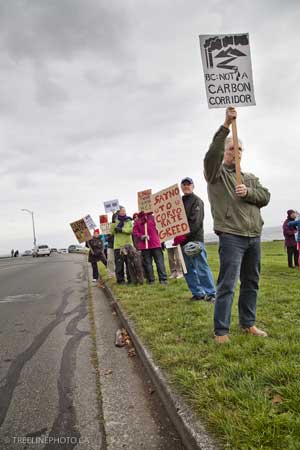 [Editor's note: In July 2012, the B.C. government announced five conditions which must be met before it would consider the approval of heavy oil pipeline projects in the province. For The Tyee, independent economist Robyn Allan has so far looked at the first two conditions in the context of the proposed Northern Gateway pipeline, available here and here. In those examinations, Allan argued that the province has far from proven its commitment to meeting its own conditions over the years. Today, she breaks down the third condition, that B.C. develop "world-leading practices for land oil spill prevention, response and recovery systems" and hold companies like Enbridge and Kinder Morgan accountable to them.]
Terrestrial oil spills are fundamentally a provincial responsibility. Whereas Ottawa is responsible for federal lands, species at risk, migratory fish and birds and their habitats, the rest falls under the purview of the province. The province's land-based spill preparedness and response principles in its five conditions for heavy oil pipelines represent "a starting point for discussion with industry and Canada towards building a world leading terrestrial spill management system for B.C."
However, more than four years earlier the province was aware it was playing Russian roulette with B.C.'s land-based resources. The Ministry of Environment commissioned an independent study in 2008 that found funding for spill preparedness and response was sorely lacking, and that provincial legislation was weak. There was no long-term liability for the restoration of resources damaged or destroyed by the release of hazardous materials. Recommendations to address the inadequate regime were made, but the government took no apparent action.
Following its five conditions, another discussion paper was released cataloguing how B.C. trailed the terrestrial spill preparedness and response regimes in neighbouring jurisdictions like Alaska, Washington and California. These are regions where diluted bitumen transport is not the threat it is in B.C., and yet these states have industry-funded -- not taxpayer-funded -- annual spill prevention, compliance and management budgets which are four to 10 times greater than B.C.'s $2.4 million.
B.C.'s Environmental Emergency Program only has 16 staff, albeit hard working and dedicated, since they respond to an average of 14 minor emergencies a day with an average of at least one of those incidents classified as more serious. B.C.'s staff pales in comparison to that of neighbours north and south. Strapped resources mean prevention and preparedness take a back seat to response, which inevitably increases spill risk.
In addition to greater operating budgets and more staff, industry is required to fund a potential gap in government spill response resources up front. Alaska and California each have $50 million in their response accounts, and Washington has $9 million. B.C. has no spill response fund. Taxpayers pay through general revenues if corporate resources are insufficient for a major spill.
A March 2013 update to the 2008 land-based spill preparedness report documents how B.C. continues to drift further behind. Meanwhile, the threat to the province's land and rivers grows. Less than 10,000 barrels a day of diluted bitumen were transported along Kinder Morgan's Trans Mountain pipeline in 2004. It's now about 60,000 barrels a day, shipped through central and southern B.C.. Most of it makes its way to the company's Westridge terminal in Burnaby to be loaded onto tankers destined for foreign ports.
Symposiums are held, working groups established, and promises made. Still nothing is done. We do not have an adequate system, let alone one that could be remotely compared to "world-leading." There isn't even a definition of what "world-leading" means.
Why the province first said 'no'
Until spill preparedness and response standards are established that deal with the present danger, B.C. should place a moratorium on the transport of heavy oil. By the province's own admission, there are no guarantees that our current system will deliver an adequate response or that taxpayers won't be on the hook when a major spill occurs.
In its five conditions paper, the province also recognized "there are some projects for which the environmental and social risks outweigh the economic benefits." At the time, the government believed there was insufficient information for it to "determine whether or not this statement applies to the Northern Gateway project."
A year later the government had sufficient information. In May, B.C. recommended the National Energy Board Joint Review Panel reject Enbridge's project for a number of compelling reasons -- all of which pointed to the environmental and social risks outweighing the economic benefits. The case was made against the risk of this project, and also against the systemic, or corporate, risk of this company.
At the hearings the province stressed Northern Gateway is not a "typical pipeline," that the behaviour of diluted bitumen in water is "incompletely understood," that "the terrain the pipeline would cross is not only remote, it is in many places extremely difficult to access," and the impact of spills into pristine river environments would be profound.
The province told the Panel one of its principal concerns is the "potential for spills from the pipeline itself, and the ability of Northern Gateway to effectively respond to a spill."
In short, the province was arguing that not only is the terrestrial spill risk along a northern route unacceptable, but Enbridge is the wrong company to address it. The province cited Enbridge's inability to estimate the likelihood and severity of pipeline leaks, its inability to adequately identify and assess geotechnical hazards, and its tendency to downplay the risk.
The province also raised unique challenges posed by diluted bitumen when it sinks in fresh water. Enbridge consistently denied this at the hearings, despite its own spill experience with the Kalamazoo River in Michigan.
Enbridge did not include the results of the Kalamazoo spill in its statistics or analysis of spill risk. Enbridge aggressively resisted filing as evidence the U.S. National Transportation Safety Board (NTSB) report on how the company handled the spill at the hearings.
The report examined the reasons for the Kalamazoo spill and Enbridge's response. Had Enbridge been successful in keeping the report off the record, the Panel would not be permitted to consider its findings. There would have been no third party, independent review of Enbridge's "culture of deviance" from procedural standards. It was the NTSB that characterized the company's response to the biggest terrestrial oil spill disaster in U.S. history as "Keystone Kops."
The province relied heavily on the NTSB report in its Panel arguments. "Enbridge does not follow procedures or learn from mistakes," it argued. The policy that should have been followed to avoid damage to the Kalamazoo River was put in place following a similar, not quite as catastrophic, Enbridge pipeline spill in 1991.
Enbridge just doesn't get it
B.C.'s conditions are for a regulatory regime that needs to be established to reduce the present risk of heavy oil shipped through the province. They are also a standard put forward against which to measure future proposals. Northern Gateway failed to make the grade.
Yet despite the province's argument made at the hearings, it seems the pipeline is still in the running. In July, a B.C.-Alberta working group was announced in order to open new markets and expand export opportunities. The group's action plan is expected by year-end. Its terms of reference clearly include Northern Gateway.
After a highly-publicized recent meeting between Premier Clark and Alberta Premier Alison Redford, Redford told reporters, "Premier Clark is (now) in a position where she can be much more positive with respect to any project -- not just Gateway but any project -- that allows for us to get our product to market."
Yet Enbridge has made no clear advancements on meeting the province's conditions. This is a company that just doesn't get it.
Even if the province did show it was actually concerned with implementing a world-leading terrestrial spill regime, it would never be enough to mitigate the spill risks of a heavy oil pipeline through northern B.C. And if Enbridge couldn't make the grade while trying to convince British Columbians and First Nations to grant them a social license, they'll never do it once it's given.