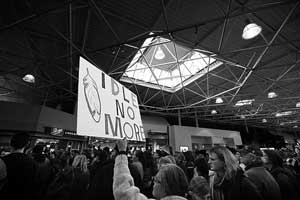 So now Stephen Harper needs the Indians.
It seems everybody does these days -- for all the wrong reasons.
According to sources who have seen Harper consultant Doug Eyford's confidential report, the prime minister's bureaucrats have not done him any favours in moving the Northern Gateway file forward. Eyford told the PM that genuine engagement with First Nations is the only path left. For a variety of reasons, selling the pipeline to First Nations leaders is now an unofficial panic situation.
Despite that, Natural Resources Minister Joe Oliver didn't seem to rise to the occasion in his recent meeting with the president of the Union of British Columbia Indian Chiefs. This is how Stewart Phillip characterized his meeting with the minister on the CBC: "It was a rather strange meeting. We sat there and talked past each other."
As things now stand, the odds are against a deal with West Coast bands on the pipeline that is supposed to carry Alberta bitumen through British Columbia and out to Asian markets.
From industry and government's perspective, time is of the essence. They want a delivery system for Alberta raw oil before other countries with energy for sale put a long-term lock on the markets that are up for grabs, particularly China.
By contrast, First Nations leaders will not be hustled into a quick or unsatisfactory deal. Northern Gateway is a sore spot for them. They feel as though they have been ignored, marginalized, and to a degree, vilified. There was even a pitiful attempt to buy them off -- with a 10 per cent equity position in Northern Gateway. If it were only a matter of numbers, a deal-winning arrangement would be a stake at least three times as large. But it's not just dollars. It is a matter of reasonable fears by First Nations leaders about protection of the land and water in the wake of the Harper government's gutting of environmental regulations in its anti-democratic and notorious omnibus legislation.
It is also a matter of trust: the Harper government doesn't enjoy much of that in the native community these days. Normally that wouldn't bother a government that deals with opposition by taking out a baseball bat and going headhunting.
But this time bullying or bulldozing can't bring the First Nations into line. They have the Constitution and scores of court decisions in their favour. This time around, it is the Harper government that will have to compromise -- if the First Nations decide to give it the chance.
The truth is, they may not bother.
Overdrawn trust account
Stephen Harper's bank account of trust is badly overdrawn. Native leaders will not soon forget how the Conservatives blithely walked away from the work-in-progress that was the Kelowna Accord.
Although former prime minister Paul Martin wasn't around long enough to implement his program that aimed at ending native poverty in a decade, his plan enjoyed wide support, and created something even more seductive -- a sense of optimism.
Then opposition leader Stephen Harper claimed that he supported the plan to end aboriginal poverty and the principles of the Kelowna Accord, though he differed on how that should be accomplished.
In a letter to Dwight Dorey of the Congress of Aboriginal Peoples dated Jan. 10, 2006, this is one of the things that Harper said: "The Conservative Party of Canada is committed to holding another meeting with First Ministers and National Aboriginal Leaders within the next two or three years to measure the progress of the Kelowna commitments."
Put that in the category of Harper's promises not to mess with Income Trusts or the Guaranteed Income Supplement.
Canada's First Nations leaders have had their bags packed for that meeting for going on seven years, but the invitation is still apparently in the mail.
In the same letter, Stephen Harper said this: "The provinces and territories, with federal assistance in certain instances, must take the lead in addressing the incidence of ill-health and poverty among off-reserve aboriginal people. They must allow off-reserve aboriginals full access to provincial and territorial programs."
That statement covers more than one million people.
And there was this: "The fundamental obligation of a Conservative federal government would be to improve the living conditions and educational and economic opportunity of all Aboriginal Canadians, including off-reserve, urban and non-status Indians and M&eacutetis."
But when Federal Court Judge Michael Phelan ruled in 2013 that M&eacutetis and non-status Indians were in fact "Indians" under section 91/24 of the Constitution, the prime minister did not adopt the advice he once gave with such alacrity to the provinces and the territories to discharge their responsibilities. He decided instead to appeal the decision and dispute the ruling that 600,000 "new" Aboriginal Peoples came under federal jurisdiction.
It is the same story on reserves after seven years of Harper -- the water is still poor, the housing third world, and the health outcomes a national scandal. The best Harper could manage during the Idle No More protests aimed at holding Ottawa to its responsibilities was to mock Chief Theresa Spence.
The last blow to the PM's credibility on the aboriginal street may well be the government's much vaunted native education legislation -- a plan Assembly of First Nations Chief Shawn Atleo has already panned because it was conceived, as most of this government's legislation is -- unilaterally.
How support might be earned
It is not, in the end, that Stephen Harper has done nothing for Canada's First Nations. There has been good work on human rights, for example, and real progress on the thorny issue of matrimonial reserve property. There has also been some progress on First Nations' governance. But there has been no consistent record of striking the new relationship once promised, which looked so promising in the lustre surrounding the government's apology to Canada's Aboriginal Peoples for the cultural atrocities of residential schools.
There are things the federal government could do to help win First Nations' support for pipeline plans. One of them is to make the bands in B.C. true stakeholders by recognizing the order of wealth transfer that must take place.
Brian Crowley and Ken Coates of the Macdonald-Laurier Institute came up with some excellent ideas -- developing an advanced, evidence-based pipeline and shipping system with input from First Nations and environmental groups; designating the corridor land for pipelines as reserves under the Indian Act, thereby creating another revenue stream for First Nations who could collect taxes; and creating an endowment to cover the cost of oil spills and their clean-up -- though no one believes after Exxon Valdez in Alaska or Deepwater Horizon in the Gulf of Mexico that any fund could ever hold enough money.
Even under those circumstances, Northern Gateway is still a very tough sell, and not just to First Nations leaders. The majority of people in British Columbia oppose the project. They know that one major spill could wipe out the B.C. coast, because every salmon, halibut, sea lion, grey whale and sea bird goes past the mouth of the Douglas Channel where hundreds of tankers would be navigating.
But the Conservatives' push needs to start somewhere, and it would probably be a good thing if Stephen Harper opts to meet with Canada's Aboriginal Peoples in some place other than court. There will never be progress on this file as long as Aboriginal Affairs and Northern Development Canada owns the dubious record of having the biggest legal bills in the federal government.
Trust is earned, not litigated.