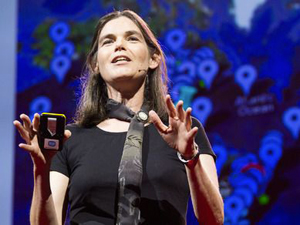 [Editor's note: Massive open online courses, otherwise known as MOOCs, have been hailed as the "Ivy league for the masses." Some of the most influential institutions around the world are on the MOOC bandwagon; offering recorded lectures and course materials, online and free of charge. That means, they claim, that anyone with an Internet connection can have access to a college education, regardless of income or geography.
The MOOC rise in popularity has been followed by a host of education technology spin-offs offering platforms on which to offer these online courses.
Since the University of British Columbia began offering MOOCs late last year, it has hosted several lectures and panel discussions with professor/entrepreneurs in the field who argue that this technology is a great equalizer.
Jon Beasley-Murray, an associate professor in UBC's French, Hispanic and Italian Studies department, begs to differ. He offered critical responses to MOOCs and their proponents on his blog, which are repurposed here with permission.]
Eric Mazur is a Harvard physicist who has made a name for himself in the world of "flexible learning" for his tweaks to the university lecture format to create what is sometimes called a "flipped classroom."
His visit was much hyped by the university, and drew a large crowd. As he himself tells us, it was his fourth lecture in as many countries and as many days. Mazur is a big shot.
Essentially, his pedagogical tweaks involve the use of technology to incorporate student feedback and discussion. His technique is for the lecturer to introduce a concept, then pose a question. After responses to the question have been gathered, students discuss their answers among themselves before answering the question again; the lecturer goes over the correct answer and moves on.
The point is that ideally students will have taught each other during the discussion phase, as will be demonstrated by their improved responses the second time they answer the same question. Not a bad idea per se, but hardly earth-shattering.
Here comes the pitch
In short, Mazur argues for the inclusion of brief bouts of so-called formative assessment in what is otherwise a rather traditional teaching model. Mazur calls this "peer instruction." He has a book on the topic. These days, more importantly, he also has a website he'd like to sell you. And so the product pitch is on.
Because otherwise there was little of any substance to his presentation. Mazur spent the first third of his uninterrupted two-hour spiel with some fairly jokey and anecdotal critique of the lecture format as a vehicle for student learning. The second third was devoted to selling us on the peer instruction technique. And the final third was a pitch for the product itself.
Mazur's thoughts on pedagogical theory were astonishingly superficial and, frankly, uninformed. Early on in the lecture, in response to a question, someone in the audience mentioned Paulo Freire's "banking model." For this indeed was precisely what Mazur was saying, that (in Freire's words) in the conventional system:
Instead of communicating, the teacher issues communiques and makes deposits which the students patiently receive, memorize, and repeat. This is the "banking" concept of education, in which the scope of action allowed to students extends only as far as receiving, filing and storing the deposits.
But Mazur had patently never heard of Freire. Nor, it seems, was he aware of any other aspect of educational theory from the past 50 years.
It is not that one cannot criticize Freire (not least for a somewhat simplistic view of how banking works). But such criticism and dialogue with the past is impossible from Mazur's position of total ignorance. An entire body of knowledge is being forgotten or suppressed. And this is rather convenient for the bevy of people who are trying to sell us their latest tweaks and gadgets.
For the point is that Freire was against the banking model in part because he was against banks: his argument is a radical critique of a hierarchical social structure and its economic underpinnings. His is a "pedagogy of the oppressed" because he believes that the current educational system perpetuates inequality, and he wants to do something about it.
Mazur's aims are precisely the opposite: he wants to benefit from social stratification (leveraging his Harvard credentials) to make financial profit. A few weeks ago he sold his technology start-up to the corporate giant Pearson for somewhere between $5- and $10-million in hard cash (though he retains a position as consultant). For a company that's less than two years old, that's a quick buck indeed.
It is insulting on many levels to sit through a presentation such as Mazur's: insulting to anyone who has spent any time reading and thinking about education; and insulting to be treated only as potential customers for a hard sell.
Online education sold as a saviour
The tragedy and the scandal is that universities such as my own allow this to happen. Driven by a desire to do what Harvard (and Stanford and the like) do, they lay down the red carpet, one week to Mazur's shallow shill, the previous week to the founder of Coursera, Daphne Koller.
Koller spoke at UBC at the end of May. After her presentation, three UBC professors who have taught or are currently teaching a Coursera MOOC contributed to a panel discussion.
In many ways, neither the talk nor the discussion were particularly illuminating. Koller gave a talk that, I understand, she has been giving for some time. It's the basic schtick for Coursera: "The Online Revolution: Learning without Limits." It begins with the mathematical sublime, stunning us with the sheer numbers who register or show initial interest in Coursera offerings. And it transitions smoothly through the prestige of the universities who have signed up so far ("30 of the top 60 universities worldwide," represented by their logos) to the pathos of individual cases.
For the first of three "vignettes" that she provides, we dwell on Raúl Coaguila, a Peruvian who won a Fulbright, we are told, thanks to his Coursera expertise. Because the fact is, Koller informs us, there is "not very much computer education to be had in Peru." Only Coursera could give him this opportunity, dedicated as the company is to "people whose lives have been transformed by education that they would never otherwise have had."
As soon as I heard this, I wanted to call bullshit. Because I've been to Lima (and Cuzco and Trujillo and Huamanga...) and pretty much all you see are endless adverts for computer courses at the multitude of local colleges and universities. Try for instance, the Universidad Peruana de Ciencias Aplicadas or the Universidad Nacional de Ingeniería. Or even the venerable Universidad Nacional Mayor de San Marcos, which has been teaching computing for more than 70 years. Heck, this October you could take part in the V Congreso Internacional de Computación y Telecomunicación hosted at the Universidad Inca Garcilaso de la Vega.
What, did Koller think they live in mud huts down there?
In fact, if this is the same Raúl Coaguila whose user page you can find on the Coursera site (and it's likely: 24 year old male from Lima, Peru, with a strong interest in computing), then in fact he did his BA in software engineering at (precisely) the aforesaid Universidad Peruana de Ciencias Aplicadas. Indeed, his LinkedIn profile suggests that he has been teaching there for the past three years.
Coursera's conceit
Now, none of this is to say that putting Coursera on his CV didn't help Raúl in his Fulbright application. Nor that he isn't a Coursera fan. On the contrary: he's clearly heavily involved in the site, listing 21 courses from "Machine Learning" to "Introduction to Guitar." (It's not clear how many -- if any -- of these he's completed.) And he's satisfied with his experience enough to encourage his followers on Twitter to vote for the company as "Best Education Startup" in the 2012 Crunchie Awards. Sadly for Raúl, they only came second, losing out to Codecademy. But he's also a fan of sky-diving (hardly a regular past-time of Lima's urban poor), and who knows if that influenced his Fulbright assessors just as much, if not more, than his application's mention of Coursera.
Let me stress that in no way do I want to suggest that Raúl Coaguila is an undeserving recipient of a Fulbright. I wish him well in his future studies (and hope he takes care with his sky-diving).
But I do object to the romanticized pathos invoked by Koller (here and increasingly as her talk goes on): the conceit that Coursera's object is to lift up the impoverished in Latin America, Africa, and the Third World more generally. Or the notion that North American universities' participation with her company is the best way to make up for lack of educational capacity in the global South. Beyond the immense condescension and ignorance that it betrays on her part, I bet she isn't spinning this line to her venture-capital investors. And I'd rather she didn't spin it to us.
The utopian vision, forgotten
In the end, it is the broader issues that Koller and Mazur represent that are of most concern.
The radical educational proposals of the 1960s and 1970s are being rediscovered, now that their promise is finally realizable thanks to technological innovation.
But their utopian thrust has been lost, their politics have been gutted, and everything has to be "monetized" as part of a massive round of enclosures in which for-profit start-ups and mega-corporations colonize the captive educational market.
They turn their backs on a whole field of educational theory and enquiry, in favour of the latest huckster with a fancy website. And they forget entirely what the university is supposed to be about, or what in the 1960s and 1970s we thought it could be about.
We have the means to make a previous generation's utopian dreams real. But we have forgotten their vision, and want only to buy and sell the means as though this were an end of its own.