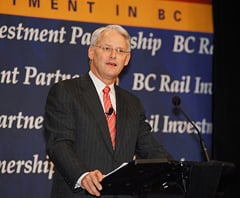 "Three things cannot be long hidden: the sun, the moon, and the truth." -- Buddha
An advocacy group asking tough questions about B.C. New Democrat leader Adrian Dix in a $1 million attack ad campaign is being very shy in providing clear answers about skeletons in its own closet.
And as the election nears, Concerned Citizens for BC may face increasing questions about the role of its leader, retired corporate executive Jim Shepard, in the controversial $1 billion privatization of B.C. Rail in 2003.
Shepard, whose group is airing radio ads making negative allegations about Dix's past in the NDP government of the1990s, was a director of B.C. Rail when the B.C. Liberal government broke its election pledge not to sell the Crown corporation.
And it's unclear who is running Shepard's current ad campaign.
What's up Wazuku?
The Tyee and 24 Hours Vancouver newspaper first exclusively revealed last month that CC4BC is spending $1 million on the multi-media campaign, according to the group's internal communications.
Wazuku staffer Kirsten Avison confirmed the consulting company was running the campaign for CC4BC leader Jim Shepard, the former Canfor and Finning CEO and former advisor to Premier Christy Clark.
But last week senior Wazuku partner Steve Kukucha emailed 24 Hours, claiming that CC4BC wasn't one of its projects.
"CC4BC is simply renting office space from Wazuku.  I've passed this on to Jim via email though.....I hope this clarifies things," Kukucha wrote me on Jan. 28.
Yet a day after that, Avison sent out an email (see sidebar) to CC4BC supporters written by Shepard -- obtained by 24 Hours and The Tyee -- stating that:
"In the days ahead, we will be airing some very direct, but factual ads that will bring the contrast between the NDP and free enterprise into even sharper focus."
Neither Kukucha, Avison nor Shepard responded to Tyee inquiries by deadline.
An email address provided by Kukucha for Shepard was incorrect.
Ad backer was BC Rail director
CC4BC's current radio ads claim Dix was responsible for problems in the 1990s, when he was chief of staff to then-premier Glen Clark.
But Shepard needs to answer questions about Wazuku's role in his $1 million ad campaign. Wazuku's other partners include Brad Zubyk, a former NDP staffer who switched sides and worked on Clark's leadership campaign.
Both Zubyk and Kukucha have been active in federal Liberal Party election campaigns.
And Shepard may not want to answer questions about his own political past, such as his leading role in the controversial $1 billion privatization of B.C. Rail in 2003.
Shepard was appointed to the board of directors of B.C. Rail in 2001 by the new B.C. Liberal government of then-premier Gordon Campbell, and was on the board through 2003.
Campbell promised in the 2001 election campaign that he would not privatize B.C. Rail, having lost the 1996 campaign in part by pledging to get rid of the Crown corporation that served northern B.C.
But shortly after the election, Campbell reversed himself again and the B.C. Rail board and government eventually approved the sale to CN Railways for $1 billion.
A month after the sale was announced police made an unprecedented raid on the B.C. Legislature, seizing documents from the offices of David Basi and Bob Virk, two then-B.C. government ministerial aides.
Basi and Virk were later charged with breach of trust and fraud for providing confidential government documents to lobbyists for OmniTRAX, the other and losing B.C. Rail bidder. Two other companies, CP Rail and Burlington Northern Santa Fe, had dropped out earlier, with both complaining the process was "unfair."
After years of B.C. Supreme Court pre-trial hearings, Basi and Virk made a surprise guilty plea after only two witnesses had testified -- and the province was shocked when the government admitted it was paying the entire $6 million in legal bills despite the pair admitting their guilt, a complete contradiction of government policy.
Independent B.C. Auditor General John Doyle is probing why the government approved that payment in a report that will raise new questions about the scandal.
And as he becomes an increasing public figure due to his massive pre-election advertising campaign, Shepard may be asked some pointed questions about his past as well.
Questions for Shepard
One of the only two witnesses to testify in the Basi-Virk trial was fellow B.C. Rail director Brian Kenning, who was appointed at the same time as Shepard in 2001 and who claimed in court that the board spent almost a year trying to convince Campbell to sell the company despite his election pledge not to.
Kenning also confirmed that he was paid a retainer of $15,000 a year and $1,500 to attend each B.C. Rail board meeting.
How much was Shepard paid as a B.C. Rail director?
B.C. Rail expenditures were severely questioned by defence lawyers in the trial and pre-trial hearings, with the court hearing that controversial consultant and past-B.C. Liberal election campaign co-chair Patrick Kinsella had been paid $297,000 in a 49-month contract for "business advice" that one B.C. Rail executive was unaware of for three of those years.
As a B.C. Rail director was Shepard aware of Kinsella's contract? Did they ever meet to discuss B.C. Rail business?
Meanwhile, Shepard is extolling the success of CC4BC, claiming that CC4BC has helped narrow the gap between the B.C. Liberals and the NDP (see sidebar):
"People thought we were wasting our time trying to return a free enterprise government. They don't doubt us anymore," he wrote. "Over 95 per cent of the money raised has gone directly into purchasing advertising so please continue to spread the word."
But if Shepard can spend a million dollars to ask questions he better provide answers about his own politics as well.
Disclosure: Writer of this opinion piece Bill Tieleman supported Adrian Dix's leadership nomination campaign.