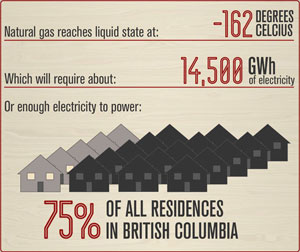 [Editor's note: See bottom of the story for large infographic developed by the David Suzuki Foundation to show the carbon impact of B.C.'s proposed LNG plan.]
The National Energy Board and B.C. government are both backing a major fossil fuel development plan that would have more than twice the greenhouse gas emissions impact as the Northern Gateway pipeline project. A proposal to extract and export liquefied natural gas (LNG) to Asia from B.C.'s unconventional natural gas reserves directly undermines the province's climate targets for 2020. This increase in emission exports will be so significant that British Columbia, once a champion of climate change policy, will become second only to Alberta in terms of export emissions.
That's a staggering reversal.
The government's climate change goal is to reduce emissions to roughly where they were in 1990 by the year 2020. This will not be possible under an LNG export scenario. Natural gas industry emissions would rise to 30 megatonnes (up from 16 now) and, all else being equal, B.C.'s energy emissions would increase from 60 to just under 90 megatonnes. The province will become one of Canada's major greenhouse gas producers and exporters. (All figures in this article and infographic, see below, were developed using the CanESS energy simulator from Whatif Technologies)
Adopting the policy of rapid LNG exports contradicts this government's previous climate initiatives and calls into question its sincerity with regard to implementing measures under the Western Climate Initiative, The Climate Registry http://www.theclimateregistry.org/, the International Carbon Action Partnership and the Pacific Coast Collaborative, as well as the province's own Climate Action Plan.
But the environmental impacts don't stop there. All of this new production to satisfy exports would be from shale gas. There would be a significant land-use footprint associated with meeting the LNG export target. Drilling new well pads, building access roads and installing new pipelines would affect and fragment an area nearly three times the size of Metro Vancouver. Shale gas extraction has raised additional concerns regarding the composition of chemicals that are pumped underground, impact on local air quality and triggering of small earthquakes.
Shale gas developments also consume enormous amounts of water. Although the amount of water differs by project, a conservative estimate would be 120 million litres per day for B.C.'s proposed export LNG projects -- or enough water for a city of 160,000 people.
What about the broader systemic impacts to our energy system? Producing natural gas is energy-intensive in both the extraction process and conversion to LNG. Meeting the LNG target would require the province's electricity production to increase by more than 30 per cent. New power projects would be required at a time when B.C.'s electricity system is in need of costly refurbishment. Is creating new power generation in B.C. to enable the export of fossil fuels a sound use of taxpayers' money?
One common claim, included in the government's LNG strategy, is that exporting natural gas to Asia will reduce global emissions by reducing coal dependence. That would make sense if natural gas were used to displace fuels like coal, but there's little evidence to suggest that it would. China's consumption of all fossil fuels is increasing and the supply of gas (110 Mt of GHG emissions annually) from B.C. would add to the country's growing carbon footprint. Japan is another target market. Its energy needs have changed following the loss of much of its nuclear capacity after the 2011 earthquake. Replacing nuclear power with natural gas will cause a net increase in emissions. So the argument that an increase in B.C.'s emissions will be offset by emission reductions abroad does not hold water.
Rapid development of LNG would shift B.C. from a climate leader to a petro-province. To get a sense of how profound this change is, let's consider how B.C.'s role as a fossil fuel producer and exporter would change.
By 2020, more than one-third of B.C.'s emissions would be associated with natural gas exports. This is a significant shift, as fossil fuel exports now account for 20 per cent of emissions.
How would B.C. compare as a fossil fuel exporter to the rest of Canada? We know that Alberta, Saskatchewan and Newfoundland are important producers and exporters of fossil fuels while B.C. has traditionally been a leader in clean-power production.
In the LNG export future, B.C. would become the second-most important fossil fuel-exporting province, next to Alberta. B.C.'s emissions from producing fossil fuel exports would be greater than emissions from the rest of Canada combined, growing 275 per cent between now and 2020. With such a stark reversal in B.C.'s emissions profile and industrial composition, the province would come to depend on fossil fuel exports and their associated GHG emissions to achieve its jobs and growth agenda.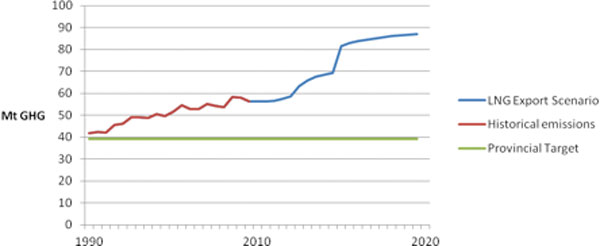 What's most concerning is the lack of political debate. The B.C. government has enthusiastically supported the industry while reducing its environmental commitment. The government has removed the 93 per cent clean energy standard for LNG facilities and has opened the door for those facilities to be powered entirely with "clean" natural gas, which would add another 12 per cent of GHG emissions to B.C.'s current inventory.
B.C. Energy and Mines Minister Rich Coleman has stated, "Our government is committed to ensuring British Columbia is well positioned to compete in the race to supply an increasing world demand for LNG." At the same time, the provincial NDP has also expressed support for the LNG agenda. Energy Critic John Horgan said, "A natural-gas proposal makes sense...because it's a product from British Columbia, so the royalties would stay here, the jobs would be created here. And gas vents; it doesn't stick." The political alignment and lack of debate on this issue is startling considering the significant environmental and social impacts.
While some form of environmentally responsible LNG development may be possible, there is no way to implement this government's current natural gas strategy and maintain British Columbia's long standing leadership on climate change. Current plans would undercut the necessity of transitioning to a green and renewable energy economy, and would relegate B.C. to an antiquated form of energy production and consumption. Are the B.C. government and official Opposition abandoning B.C.'s environmental goals and clean technology brand in an effort to transform the province into a major hydrocarbon and global warming pollution exporter? If so, they may want to explain to the 73 per cent of British Columbians that recently said they are concerned about global warming and believe B.C. should do more to promote solutions to climate change that their values are out of step with B.C.'s political elite.
See below for LNG infographic.