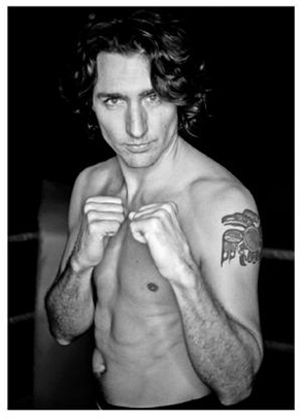 The last weekend in November was enlivened by a bogus scandal unearthed by Sun News about Justin Trudeau, and Trudeau's unwarranted apology.
If Trudeau wants to show us what he's really made of, he should not only withdraw his apology -- he should escalate his original attacks on "the Albertans."
Sun News uncovered a Nov. 2010 interview Trudeau did in Quebec, conducted in French, in which he said: "Canada isn't doing well right now because it's Albertans who control our community and socio-democratic agenda. It doesn't work... Certainly when we look at the great prime ministers of the 20th century, those that really stood the test of time, they were MPs from Quebec..."
The clip triggered a media firestorm, which is the technical term for "middle-aged bloviators ecstatic to have something stupid to write stupidly about."
For samples, see the Calgary Herald, the Vancouver Sun, Evan Solomon, and Andrew Coyne.
When not so occupied, such bloviators often warn us that Canadian voters have grown cynical about politicians who never speak honestly, who stick to their talking points no matter how stupid and crooked it makes them look. And they also deplore other journalists' fondness for pouncing on "gaffes" and "gotchas," when a politician steps on his own tongue and thereby loses everyone's respect.
It's the metonymy, stupid
In his apology, Justin Trudeau said he'd used "Albertans" as "shorthand" for the present Conservative government. The technical term for what he used is "metonymy," which means using a word or phrase for something that it's associated with -- like "Ottawa" for the federal government, or "the White House" for the U.S. administration.
In fact, Trudeau used it twice in his remark: "Canada isn't doing well" didn't mean "all Canadians," but those Canadians -- a majority -- who dislike the Conservative government.
Stephen Harper himself uses metonymy in every news release referring to "the Harper government." He wants to associate himself with the power and prestige of the government. He uses metonymy again when he says "Canada supports this or that," when poll after poll indicates that around two-thirds of Canadians don't support anything of the sort.
This is a routine rhetorical technique, and its Greek name tells us it's been a political gimmick since the days of Pericles. In his interview, Trudeau used it quite aptly. Rather than hyperventilate about his gross breach of manners, we might instead consider what he meant by "Albertans."
Albertans have a lot to answer for
Trudeau is right that "Albertans" control our "socio-democratic agenda." That agenda was framed in a provincial political culture that's been on the reactionary right (with transient exceptions) since Bible Bill Aberhart's Social Credit governments in the 1930s.
Aberhart's Socred heir was Ernest Manning, who ran the province from 1943 to 1968. Not until Peter Lougheed's relatively liberal Progressive Conservatives took over in 1971 did the province move toward the centre -- though the PCs have moved right again in their 42-year dynasty. (Evidently they haven't moved right enough, because the Wildrose Party is even farther out there.)
Meanwhile, Ernest Manning's son Preston was also building a career on the far right, culminating in the foundation of the Reform Party in 1987.
The politics of the hostile takeover
Manning's chief adviser in Reform's early days was a bright young man named Stephen Harper, who would eventually lead a hostile takeover of the Progressive Conservatives -- who had been fatally weakened by the defection of their right wing to Manning's Reform.
(For his efforts, Preston Manning is now an elder statesman, often seen on the op-ed page of The Globe and Mail, and a senior fellow of the Fraser Institute.)
Since well before they took power in 2006, Harper's Alberta-based right-wingers have indeed controlled the agenda and pushed it toward the far right. They have done to democratic government itself what they did to the old PCs: hollowed it out to make it just another political tool.
Cutting the GST defunded many programs and gave the Conservatives a pretext to cut spending. They've intimidated civil servants or driven them out of office, and they are muzzling scientists who make inconvenient findings. Let's not even talk about Afghanistan, or Harper's regret that we didn't go into Iraq with George W. Bush.
The base for all this is Alberta's political culture, which is doing its considerable best to impose its culture on the rest of us. A recent and typical poll shows the federal Conservatives in Alberta at 63 per cent; the rest of Canada is 66 per cent against them.
So while Trudeau's use of "Albertans" was metonymy, it was also pretty close to plain, blunt description. The architects of today's agenda are Albertans; Albertans in droves support them. Albertans frame the national debate in terms of resource extraction that benefits chiefly Albertans. Albertans enforce partisan talking points on their whole party, making it hard to get a word in edgewise.
Spin this, Conservatives
Instead of apologizing, Justin Trudeau should have said: "Yes, I said Albertans, and these are the Albertans I was talking about: Stephen Harper, Preston Manning, Jason Kenney, Rona Ambrose, Rob Anders and a host of others. Compared with them and their accomplices, Quebec is far more in tune with real Canadian values. Want to make something of it?"
Trudeau cheered everyone up when he punched out Conservative Senator Patrick Brazeau. He should have drawn a lesson from that victory: the only thing Conservatives understand is a punch in the mouth. Courtesy is wasted on them; they sure don't waste it on the rest of us.
If Trudeau actually says what he thinks, and carries through on it, the bloviators will be scandalized, and serves them right. For what they've done to help the Conservatives debase our political discourse, they deserve only his father's one-finger salute.