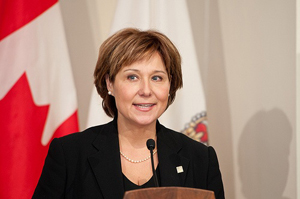 After much attention last week as to what Premier Christy Clark might or might not say about the government's position on Northern Gateway, she doesn't say anything at all. Instead her conditions for crude oil pipelines in our province were delivered by the Environment Minister Terry Lake and Aboriginal Relations and Reconciliation Minister Mary Polak.
It should have been a "no" to the transport of heavy oil through B.C.'s land and West Coast waters because it's not in the interest of B.C.'s, or Canada's, long term economic growth, environmental protection or energy security. Instead we are presented with a list of weak conditions that telegraph "yes-for-a-price."
Five requirements for heavy oil pipelines have been established including a recommendation that the National Energy Board Joint Review Panel (JRP) must first come to the conclusion that the project be approved. Well, duh... that's why the Liberal government signed the Equivalency Agreement in 2010 -- to agree to accept the NEB's findings.
The next two conditions relate to the establishment of "world-leading" pipeline, marine terminal, and marine waterborne oil spill response, prevention and recovery systems. Even a cursory reading of Enbridge's documents filed in May 2010, and its General Oil Spill Response Plan in March 2011, reveal the company plans to create world-leading systems -- even if their plans are vague, their understanding of the risks underestimated, and their corporate organizational ability to actually deliver on the promise highly questionable.
Noticeable by its absence from the government's discussion for heavy oil pipeline operating conditions is a statement that promises the immediate application of these conditions to the existing TransMountain pipeline. Premier Clark's government should address the obvious gap in oil pipeline standards immediately if we are to believe environmental protection -- and not re-election -- is her government's primary concern.
Maybe the premier is not aware, but Kinder Morgan is quietly increasing the amount of heavy oil it transports on its existing 300,000-barrel-per-day, aged pipeline, while conveniently avoiding any and all environmental assessment inland, at the marine terminal, or when the oil is waterborne in tankers.
Granted the oil tanker traffic in Burrard Inlet is about 75 tankers a year, but none of the environmental threat posed by this heavy oil, whether by land or in our marine waters, has ever undergone an environmental review.
The fourth condition refers to the "duty to consult and accommodate First Nations." If Premier Clark and her officials had been following the evidence put forward to the JRP at the hearings, then they would know First Nations have strongly criticized the federal government for not consulting adequately as required under constitutional responsibility. The B.C. government has skirted being asked any questions on these matters because it deliberately chose intervenor status so it could avoid being questioned on any matters, including those important to B.C. First Nations.
The final condition -- that "B.C. receives a fair share of the fiscal and economic benefits of a proposed heavy oil project that reflects the level, degree and nature of the risk borne by the province, the environment and the taxpayers" really gets me. At first the nice sounding rhetoric reads well, but pause for a minute. What it says is British Columbia should risk its long-term economic and environmental future for, at best, a zero-sum game.
First of all, it is impossible to compensate for all environmental damage when it occurs because so much is left out of financial estimates of what constitutes clean up and compensation. What the premier seems to be suggesting is the introduction of some groundbreaking revenue sharing to ensure that after we are harmed, at least some of the hurt will be paid for. That's like saying you can beat me as long as you promise to pay the hospital bills.
$17 billion on the table
The identification of economic benefits in the province's discussion paper makes it clear the B.C. government doesn't understand how the project's benefits are developed, and that vast government revenues have very little to do with resource development and everything to do with consumers and businesses paying more for petroleum products -- at the pumps and in their homes.
The revenue claims, developed by Calgary-based consulting firm Wright Mansell Research, are in my view significantly exaggerated and were developed utilizing a self-serving methodology. But even if these exaggerated projections are to be believed, the provincial government has just left $17 billion on the table.
The estimates the Clark government refers to in its heavy oil policy paper were filed as part of the Enbridge application in May 2010. The numbers are untrustworthy for several reasons. They were derived using unrealistic assumptions such as holding the Canadian dollar at 85 cents U.S. for 30 years while the price of oil almost doubles. They were arrived at with no sensitivity analysis, meaning no indication was provided as to how sensitive the results are to changes in variables such as prices, supply or exchange rates. They flow from one rosy long-term forecast of oil supply and the inappropriate use of an Input-Output model. An input-output model responds to changes in supply or demand, but in this case the authors plugged it with an additional price increase attributable to Northern Gateway of $2 to $3 per barrel on every barrel produced, every year for 30 years.
Not only are the estimates of government revenues developed in a fantasy world, Enbridge filed an equally unbelievable updated Wright Mansell analysis last week. This new, improved benefits case predicts not $81 billion in government revenues, but $98 billion in government revenues. This new prediction claims $54 billion identified for provincial and territorial governments.
It's hard to talk about leaving imaginary money on the table, but if the economic case prepared by Wright Mansell could be believed -- that's just what's happened. I hope someone in the provincial government asks the next obvious question with even a little resolve to get to the bottom of it. That is, how did the provincial share just go up by 20 per cent and nobody noticed?
I am sure the answer will have the word "bogus" in there somewhere.