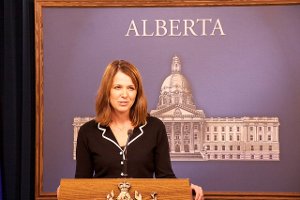 On Aug. 23, 1973, Jan Erik Olsson walked into a bank in Stockholm, and after a botched robbery attempt, held four people hostage inside the vault for five days. Olssen was finally arrested and the hostages were freed, but there was a more lasting legacy to this ordeal.
In what became widely known as Stockholm Syndrome, psychologists identified the puzzling affinity the captives developed towards their kidnapper. The hostages apparently feared the police more than their captor and one even phoned the Swedish Prime Minister from inside the bank to say she was very displeased with his attitude and demanded that that the robber be allowed to go free.
Which brings us the Alberta provincial election. The Wildrose Alliance seems poised to form the new provincial government, ending 40 years of majority rule by the provincial Conservatives. As usual, the province's relationship with the fossil fuel industry is a central issue in this campaign and the Wildrose Alliance is fielding a slate of candidates where 15 per cent are from the oil industry.
Not surprisingly, Wildrose wants to grant further concessions to the oil and gas sector in spite of repeated independent reports calling for increased resource rents -- and three successive budget deficits. In the midst of an oil boom, the richest province in confederation and the engine of what Prime Minister Harper calls a "global energy superpower" can't seem to balance the books. Yet the mood among Alberta voters seems to be that even more pain on the part of the people is needed.
Is Alberta suffering from Stockholm Syndrome?
Years in captivity
The migration towards ever greater concessions for the oil sector at expense of the public purse has been going on for a long time. The province stopped contributing any money to the iconic Alberta Heritage Fund in the 1980s. Draw downs from the Sustainability Fund -- a more easily accessible pot of past oil wealth -- will total 90 per cent from 2009 to 2014. What is left of Alberta's total retained oil savings will be cut almost in half during this period -- even as the government closes hospital beds and schools.
This seems an unimpressive record of fiscal management from a province that prides itself on having a sharp pencil.
It didn't have to be this way. A recent report from the Parkland Institute showed that if the royalty target of former premier Peter Lougheed of 35 per cent had been met, Alberta would have collected almost $200 billion in extra revenues between 1971 and 2010. The authors state "The Alberta government will forgo some $55 billion in potential revenue over the next three years as a result of overly generous royalty cuts and the government's failure to meet even the modest targets set by previous administrations."
Those who got away
Consider another province that took a totally different tack with the oil industry. Newfoundland Premier Danny Williams famously walked away from the negotiating table in 2006, correctly realizing that at the end of the age of oil, companies have a shrinking number of places to do business and develop new reserves.
After much bluster and economic doom saying, the oil industry signed a deal the following year that provided Newfoundland with significantly higher royalties and a 4.9 per cent equity stake in the Hebron offshore development.
"Step by step, we are becoming masters of our own house," said the premier at the time. "We firmly believe that having a meaningful and real ownership of our resources will help us to achieve long-term prosperity." Danny Williams retired in 2010 after years of governing with approval ratings north of 80 per cent -- almost unheard of in the history of Canadian politics.
Norway is another jurisdiction that has grappled with how to best manage an infusion of oil wealth. In order to avoid artificially inflating their currency from the economic malady of Dutch Disease, Norwegians set up a sovereign wealth fund in the early 1990s and hired a philosopher to help decide what to do with all the money.
This fund now has more than $570 billion -- 37 times more than the now moribund Alberta Heritage Fund. This massive pool of wealth is also legally isolated from general revenue so that present and future Norwegian governments do not become dependent on short term royalties to balance the books -- or politically beholden to the oil industry. Interest revenue from this pile of cash totals about $25 billion annually and climbing, supporting enviable social programs.
Alberta has chosen a very different path. For example, the Alberta Royalty Review Panel released a report in 2007 that concluded "Albertans do not receive their fair share from energy development and they have not, in fact, been receiving their fair share for some time." Former Alberta premier Ed Stelmach declined to accept all the recommendations and raised royalties five per cent less than was recommended by the panel.
After the 2008 Alberta election, Stelmach announced a five-year royalty break for industry worth $237 million per year. He also reneged on a commitment to ensure that at least seventy two percent of bitumen extracted by 2016 would be refined in the province and approved two new pipelines to ship unrefined product elsewhere for upgrading.
Privatization of politics
In spite of these concessions, the oil industry turned on Stelmach, who was forced to resign last year, and began pouring money into the even more right-wing Wildrose Alliance. In some ways this can be considered the privatization of politics.
Wildrose and the oil sector are so entwined they recently launched a joint campaign called Protect the Patch that opposes Stelmach's modest royalty increases and is running a slate of 13 candidates specifically from the oil and gas sector. While co-sponsored by Wildrose, the campaign seems to self-identify more with the oil sector than the people of Alberta, stating "Our industry has virtually no direct representation on the floor of the legislature in Edmonton... we're determined to change that."
Since 1986, companies operating in the Alberta oil sands have banked $260 billion in pre-tax profits yet the province seems to have little to show for it other than ongoing budget deficits, school closures and reduced hospital beds. And the Alberta electorate seems to believe if they give industry even more concessions -- as well as political representation -- the oil patch might finally like them.
Reminds me of a certain Swedish bank robbery from 1973....