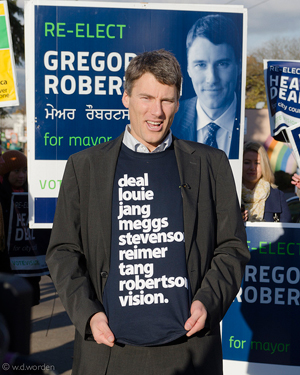 "You will expect me to discuss the late election. Well, as nearly as I can learn, we did not have enough votes on our side." -- U.S. President Herbert Hoover, 1874-1964
Every election provides lessons for parties and candidates -- sometimes very painful ones.
Saturday's Vancouver city election was particularly educational.
First lesson. Vancouver voters like centrist government that works.
Mayor Gregor Robertson and Vision Vancouver received an enormous vote of confidence in sweeping every seat they contested -- mayor, council, school and park board. It doesn't get better than 100 per cent success.
Robertson, who I support, continues a tradition of centre-left mayors, following Larry Campbell and Mike Harcourt.
The Non-Partisan Association's mayoralty candidate Suzanne Anton ignored that fact and ran a right-wing "common sense" campaign, which obviously wasn't sensible.
Second lesson. Your good name, and its rank in the alphabet, really matters.
The NPA won two seats, with George Affleck -- the very first name on the lengthy council ballot -- and Elizabeth Ball getting the nod.
No matter how illogical it appears, voters definitely favour those with last names near the top of the alphabet.
Third lesson. Name recognition counts.
Green Party of Vancouver council winner Adrianne Carr has a more familiar name to voters than some current councilors, thanks to running eight times, including as provincial Green Party leader and a federal deputy Green leader.
Conversely -- or perversely -- Coalition of Progressive Electors (COPE) members gave up their safest seat by refusing to nominate sitting councillor David Cadman.
Instead they narrowly put hard-left former councillor Tim Louis on their ticket along with promising but unknown newcomer R. J. Aquino and incumbent Ellen Woodsworth, who came in 92 votes behind Carr in 11th.
Louis and Aquino finished far back, in 17th and 20th, respectively.
Fourth lesson. Party name matters, and it doesn't.
Carr's Green teammates, Park Board incumbent Stuart McKinnon and school board candidate Louise Boutin, both fared poorly despite Carr's win.
McKinnon, who was the only Green allied with Vision and the COPE in 2008 but not 2011, dropped from sixth place then to 12th this time.
But Vision was the magic word that helped elect unknowns Tony Tang to council, Cherie Payne and Rob Wynen to school board, and Niki Sharma and Trevor Loke to park board.
However, COPE sadly discovered its name was nearly synonymous with defeat.
COPE incumbent councillor Ellen Woodsworth and school trustees Al Blakey and Jane Bouey all lost despite their alliance with Vision, and new COPE candidates were told by voters to keep their day jobs.
Only veteran COPE school trustee Allan Wong survived the purge of a party that has contested elections for over 40 years.
Fifth lesson. Attack ads work.
While the NPA was severely criticized by some for a nasty, U.S.-style election campaign, the reality was that it had no incumbents running for council under a weak mayoral candidate and with no burning civic issues.
Incumbency is a huge advantage in civic elections, so that meant negative advertising and a relentless focus on the Occupy Vancouver camp was the NPA's best hope at winning seats.
And while voters always say they hate this kind of politics, as usual it worked.
The NPA secured two councilors, three school board trustees and two park board commissioners and the party was in contention all night to possibly add two more councillors. In a tough fight against a popular incumbent, that's not bad.
Sixth lesson. Money talks and money doesn't matter.
Another contradiction that makes political strategists go crazy.
COPE complained that it didn't have sufficient funds to compete in a battle between Vision and the NPA that likely saw each party spend over $2 million -- a massive amount.
But COPE's $341,000 campaign combined with Vision Vancouver's extensive advertising, telephoning and 1,600-volunteer get out the vote tie-ins with COPE put their candidates' names in front of voters nonetheless.
Compare its budget and resources with those of the Green Party of Vancouver.
Carr's winning effort spent about $15,000 and the only evidence of her campaign were a few small newspaper ads and Adrianne Carr standing on Vancouver street corners with a lawn sign.
But Carr beat three COPE councillors nonetheless. Which brings up the...
Seventh lesson. Vote-splitting third parties and independents hurt major parties.
Neighbourhoods for a Sustainable Vancouver was like one of the city's ubiquitous pop-up stores -- here today, gone tomorrow.
Running candidates like former COPE stalwart Terry Martin and with surprising endorsements from people like former NDP and COPE candidate Mel Lehan, NSV threw a monkey wrench into the COPE machinery, not Vision their target.
NSV even issued a news release endorsing NPA candidate Bill McCreery, who actually lives in Richmond and couldn't vote for himself, along with Carr, the COPE trio and independent anti-gambling advocate Sandy Garossino.
While mayoralty candidate Randy Helten barely made a ripple in the electoral pool with his 4,007 votes, the NSV council candidates Martin, Marie Kerchum, Nicole Benson and Elizabeth Murphy took between 12,614 and 19,644 votes each. Garossino took 20,866 votes.
Ellen Woodsworth lost by 92 votes -- do the math. If even a minimal number of those voting for NSV candidates had instead supported COPE, the veteran party would still have a council seat.
Instead, what both COPE and the NPA have are evident in the...
Eighth lesson. No one likes a sore loser.
Tim Louis and Sean Bickerton, come on down!
Louis the Che Guevara fan showed notable party discipline throughout the campaign, biting his tongue because COPE had agreed to an electoral alliance with Vision Vancouver that meant neither party could criticize the other.
That discipline ended at about 8:01 p.m. Saturday, with Louis -- who I also supported -- soon lambasting both his own party and Vision for its perceived failings.
"It's very clear COPE was established many years ago to give voters an option of a party not in the pocket of developers," he told CBC Radio's Stephen Quinn Monday afternoon.
"I'm sad to say we've gone from bad to worse -- not one party controlled by developers but two," Louis said, referring to Vision Vancouver.
COPE, said Louis, has two choices: "We have to go back to our roots or go into a museum as an extinct party."
Louis predictably wants a purge of the current COPE executive so the members can "elect the right executive to be free of developers."
(Louis may not have grasped Guevara's advice that: "The desire to sacrifice an entire lifetime to the noblest of ideals serves no purpose if one works alone.")
Not to be outdone by Louis, Bickerton unloaded a broadside aimed at Anton, NPA campaign manager Norman Stowe and campaign chair Peter Armstrong.
"But the voters have spoken, decisively rejecting a mayoral campaign based on puerile, sophomoric, gotcha-style attacks and trivial wedge issues," Bickerton wrote on his personal blog after thanking supporters and campaign workers.
Bickerton ironically finished just behind Louis, leaving the two bickering candidates with less than a stellar electoral future.
The last lesson is one Bickerton and Louis could learn from, as could the NPA overall.
It's quite simple really. Doing a good job still always beats going negative.
Just ask the mayor.