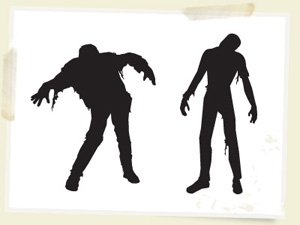 Ideology is a fancy word, much debated by philosophers. But, in the spirit of the Halloween season, it can be explained nicely with zombies.
What is the ideology of zombies? Easy: "Brains!" Or, more accurately: "Braaaaaains..."
In short, a zombie exists to eat brains, and his or her belief system and program of activity will be structured around the procurement, usually violent, of those brains.
Zombie corporations, zombie politicians, zombie newspaper pundits and zombie think tanks then set about trying to convince the rest of society of the merits of their ideology, doing their best to construct complex arguments that at their core, in fact, really boil down to the essence of it -- "Braaaaaains..."
And so it goes with the ideology of oil, now spilling over from the borders of Alberta where it has held sway for decades, and infecting Canadians from coast to coast.
Similarly, the ideology of oil is that because oil exists, it must be got, and it must be burned. Any critics must be deranged, damaged, discounted, discredited, and dismissed. Nothing must be allowed to stand in the way of "Oiiiiiil..."
What about 'ethical zombies'?
Oil ideology is increasingly on display in Canada these days. This past summer's recent meeting of provincial and federal energy ministers in Kananaskis started with a reasonable sounding discussion about needing a national energy strategy, but then ended in a hearty cry of "Oiiiiiil..." based on a rationale that would absolutely fry the planet.
Apparently, oil ideologues, like zombies, are here for a good time, not a long time.
Newspaper pundits outside of Alberta are also becoming infected like their wild rose colleagues. For example, Postmedia's Vancouver-based Barbara Yaffe, formerly concerned about climate change, has taken to writing pieces telling First Nations what's good for them (hint: "Oiiiiiil…"), and telling those not already infected that, in effect, resistance is futile, so you may as well happily join the zombie army.
And, in case we missed her condescension the first two times, now she is telling those not yet infected to "do their homework," as if she herself isn't just mindlessly repeating talking points from the Canadian Association of Petroleum Producers.
Those who remain stubbornly unconvinced about the merits of the zombie lifestyle face a barrage of spin to weaken their defences. Most discussed these days is the spin about 'ethical zombies' -- the type that still violently eat your brains, but who at least say please and thank you while doing so.
What's to be done? Are we all destined to become infected and to suffer on an inhospitable planet? This is generally the part when an ass-kicking zombie killer enters the scene, tearing off gangrene limbs and sinking kitchen implements into other zombie parts.
How to survive out there
Yet, the ass-kicking zombie killer always finds there's simply too many of them, and that something must be done about the infection itself. Existing zombies may not be salvageable, but more people must not be allowed to fall victim to the curse.
This is where we find ourselves in Canada today. The good news is that we have a choice -- we have incredible clean energy resources to power our economy and to create jobs, more than enough to keep our fossil fuels safely in the ground so that our children have some measure of climate security, without which things really do look grim.
While there are clear alternatives, our challenge right now is the zombies themselves. We are almost overrun. Oil ideology holds sway right now where it matters -- in many federal and provincial capitals, editorial boards, companies, and Bay Street.
While we must continue to work hard pushing alternatives to the infection, we really do need more volunteers to join in with the ass-kicking so that the alternatives aren't drowned out by oil ideologues.
So don't just read this piece and click through to your next bookmark. Plug in. Write a letter to the editor. Join or donate to an NGO fighting the good fight. Volunteer for a political party that actually cares about the future.
Heck, run for office yourself even. But don't fall asleep. That's when they come for you.
[See more Tyee stories like this in: Energy.]