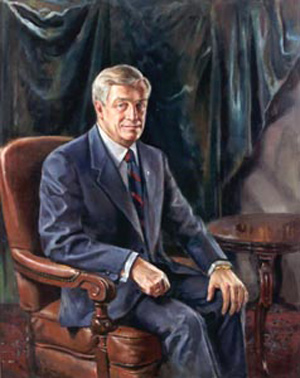 As soon as former premier Peter Lougheed notified the country that he thought the controversial Keystone XL pipeline was a bad deal for Alberta, the experts got all flustered and expressed their usual shock and dismay.
Yet Lougheed's declaration was elegantly simple.
"We should be refining the bitumen in Alberta and we should make it public policy in the province," he told the CBC.
He added that the resource belonged to Albertans and that the jobs should stay at home. (It also takes less energy and smaller pipelines to ship gasoline and diesel fuel than it does heavy bitumen.)
But the experts were horrified. How dare he? Deborah Yedlin, an oil patch cheerleader for the Calgary Herald, said that Lougheed was just mistaken. The province was now adding value to 60 per cent of its bitumen (it will be 50 per cent soon) and well, it just didn't have the labour to build more refineries and upgraders anyway.
The province's Tory leadership hopefuls chimed in and said that oil market (Big Oil) should decide where bitumen is upgraded and not Albertans. Unlike Lougheed, they forgot that the people own the resource and have the power to determine the pace, scale and value of its development.
Others, such as Margaret Wente at The Globe and Mail, simply ignored Lougheed's admonition altogether. She cheerfully christened the $7-billion pipeline a glorious job and security maker for Americans. She also mocked the environmental opposition forgetting that every major green battle invariably highlights some powerfully bad economic thinking.
Value added logic
Yet Lougheed is boldly right and here's why. For starters the former premier (1971-1985) has a much more prescient record on the tar sands than do the so-called experts. He was, after all, the visionary statesman who oversaw the development of the heavy oil project in the 1980s.
During those tumultuous years, he learned a lot about scale, pace, ownership, resource value and the volatility of oil markets. He even watched oil prices go from $3 a barrel to $75 and then crash again. He also learned that you only make money by adding value to raw resources and not by giving them away.
As a consequence Lougheed was the first and only politician to oppose the rapid development of the project over the last decade as an inflationary mistake, a political gamble and an environmental "mess." He also didn't think that Albertans were getting a fair return on their bitumen resources either.
Now Lougheed opposes the Keystone pipeline, which promises to bring nearly a million barrels of bitumen a day to the Texas refineries, for several economic reasons. To him the export of raw bitumen to the U.S. or China represents a lost opportunity as well as a profound failure of public policy.
Every time Canada exports 400,000 barrels of raw bitumen, economists calculate that the nation sends approximately 18,000 upgrading and refining jobs abroad and reduces Canada's GDP by 0.2 per cent.
The financial losses are great. Due to the startling price divide between heavy oil and synthetic crude every million barrels exported represents a daily $35-million loss. (In the 17th century Europeans valued felt hats more than beaver pelts; not surprisingly the modern petroleum market values diesel fuel more than tarry bitumen.)
Who's getting rich and where's the risk?
The profits of two major tar sands producers tells an interesting story. Suncor, which upgrades and processes most of its bitumen into useful synthetic oil, sold its product for $90 a barrel and made lots of money last year. In contrast Cenovus sold the raw stuff at $60 a barrel and its profits fell. Not surprisingly, Lougheed thinks that Alberta should logically maximize its benefits by behaving like Suncor and not like Cenovus.
But by saying "no" to Keystone XL and "yes" to local value-added upgrading overtime, Lougheed is also repeating another vital message. Having watched the tar sands experience a near-death experience in the 1980s and 2008 due to global price collapses, he knows how vulnerable the high-cost project is to global oil price shocks. (Or carbon price shocks for that matter.) His Keystone opposition is another warning to Albertans to "slow down" and behave like true conservatives. The statesman understands that haste makes waste and that rapid development exposes Alberta and the nation to catastrophic economic risk.
And that risk grows with every barrel of raw bitumen shipped to the United States. Contrary to TransCanada and government claims that the pipeline is all about U.S. energy security, reliable oil data tell a different story. In fact U.S. demand for oil as a transportation fuel is in a persistent, long-term decline. New fuel standards, the recession and new tight oil fields have all played a role. Moreover travel by plane and cars have peaked in the United States. The world's first petro state is flying less and driving shorter distances.
As a general rule, failing empires don't consume more energy: they burn less. A "no" to Keystone XL is one smart way of containing bitumen growth when Canada's only oil market is shrinking. (Alberta's politicians have been so rattled by environmental groups that they have never done a risk assessment on rapid growth. Like J. Bruce Ismay, the arrogant owner of the Titanic, the Tories just want to go faster in well-known economic icefields.)
A truly conservative tar sands policy
Lougheed's "no" is also part of a bigger vision too. Since 2004 the statesman has laid out a truly conservative policy for tar sands development. It is prudent, practical and environmentally sound. Had it been heeded, Alberta's politicians would not be behaving like frantic bitumen salesmen or battling greens around the world. Nor would Ottawa's panjandrums be railing about "ethical oil" like Saudi religious extremists.
Lougheed's prescription goes like this: behave like an owner. Get your fair share. Save for a rainy day. Slow down. Add value. And do one project at a time. (In contrast, Alberta's dysfunctional regulators insanely rubber stamped 100 projects since 1998.)
Every year the experts dismiss Lougheed's bitumen plan as old fashioned or out of touch. Many others simply ignore his seasoned political experience. Yet research on the accuracy of experts repeatedly shows that the so-called experts get the future wrong and really don't know what the fuck they are talking about. They simply have no breadth or depth.
Elder statesmen, however, have seen all kinds of forecasts fail. And in this case Lougheed knows best once again.