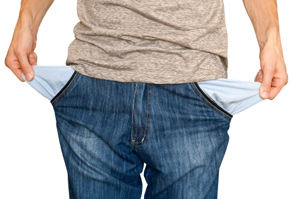 "I've been rich and I've been poor -- believe me, rich is better." -- Mae West
A major bank's ads say "you're richer than you think" but in fact, you're poorer! New statistics actually prove it.
If you believe you have been working harder but not getting ahead year after year, you're probably right.
That is, unless you are wealthy.
The sad reality is revealed in a new Conference Board of Canada study and other statistical information.
In the 33 years between 1976 and 2009 median income increased by just 5.5 per cent -- from $45,800 in 1976 to $48,300 in 2009. [Median income is a dividing line, with half the population making more than that and the other half less.]
But the gap between rich and poor skyrocketed during that same time.
The already huge income difference Canada's wealthiest 20 per cent held over the neediest 20 per cent almost doubled, from $92,300 to $177,500.
And the richest of all benefitted the most. The Canadian Centre for Policy Alternatives determined that the top one per cent got one-third of all income gains in Canada from 1997 to 2007.
All this spells increasing inequality in Canadian society -- too few people enjoying too much money while others barely get by.
Shawsome pension!
Let's put a face to these statistics.
If you have Shaw Cable you may have noticed the price has gone up steadily over the past few years for basic and additional services.
My cable bundle has jumped from $45.95 in 2004 to $64.95 today. That's a $19 increase, or 41 per cent, in seven years or almost six per cent each year.
But average wages have only gone up by about half that amount -- between 1.8 and 3.3 per cent annually. And many workers in the public sector have faced no wage increase the past few years.
So why have Shaw's prices increased at more than double the rate of workers' wage increases? Here's one likely reason.
Shaw Communications chief executive officer Jim Shaw recently retired at the age of just 53.
His pension is $16,000. A day. Every day of the year. That's almost $6 million annually.
Add in his brother Brad, the new CEO, and father J.R. Shaw and the total retirement bill comes to $147 million, according to the company's own books.
Kind of makes B.C. Ferries CEO David Hahn's $315,000-a-year pension after 10 years at the top look like peanuts -- but it isn't, because over 60 per cent of Canadians don't even have workplace pensions.
How's your pension doing?
That means -- unlike Hahn and the Shaws -- ordinary folks depend on the Canada Pension Plan, which pays a maximum of about $11,500 a year and an average of just $6,000, and any personal savings for their retirement.
But a third of working-age Canadians don't have a Registered Retirement Savings Plan or similar investments. And those with an RRSP will only get on average less than $300 a month when they finish working.
Yup, it's true. You're poorer than you think. Now go pay your cable bill and jump on a ferry -- but try not to think about whose pensions you're really investing in!