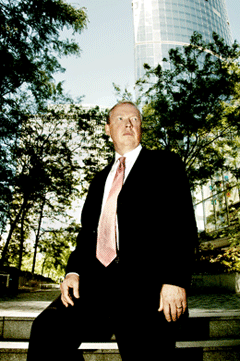 Every year Gallup publishes a poll on the popularity of 25 industries and every one, sure as rain, ranks the oil and gas industry at the bottom of the list.
While the computer industry, restaurants and farming generally get positive reviews, banking, real estate and the petroleum industry all languish in a swamp of negativity. Nobody, it seems, trusts Big Oil.
Yet Canadian and Alberta politicians still think that they can polish away all the dirt and toxic waste associated with the tar sands (the world's largest earth-moving project) with a growing mound of PR.
Almost all of this spin doctoring highlights the words "clean" or "responsible" and talks about a totally fictional country called "the foremost clean energy superpower." The only people who live in this wonderful petropolis appear to be Tory cabinet ministers and Big Oil lobbyists.
Just last month, for example, Geoff Dembicki, an intrepid Tyee contributor, reported that the Department of Foreign Affairs and International Trade was thinking about hiring a PR firm to help its "Pan European Oil Sands Team" lobby for Big Oil and develop "a serious public advocacy strategy" for bitumen.
But Jim Hoggan, a PR guy who runs an award winning communication firm in Vancouver and started DeSmogBlog, argues that's just another big, dumb idea. "I think the entire communications strategy is misguided. To think the real problem in the tar sands is PR is a mistake."
Scraping goo and spinning it
Now anyone with an ear or an eye has been exposed to relentless Big Oil propaganda on the tar sands as well as some wonky green stuff too. But Big Oil has tried the hardest and spent the most to convince ordinary people that nothing extraordinary is happening in the world's largest engineering project.
Consider the splashy campaign unveiled by the Canadian Association of Petroleum Producers (CAPP) last year.
One cheery communication compared the viscosity of bitumen, an ultra heavy crude, to peanut butter. Bitumen definitely looks, feels and behaves like asphalt but it sure as hell doesn't taste like peanut butter.
In fact bitumen has yet to appear on the parliamentary cafeteria menu for a reason. The first Canadian politician to spread raw bitumen on his toast will loose his or her teeth if not a few internal organs. The tarry stuff contains sharp sand particles as abrasive as diamonds.
Another audacious PR message compared reclaiming a 40-metre-deep hole as big as the state of Delaware (the mine-able portion of the project) to farming. "I grew up on a farm," says one serious looking worker. "I know what I means to have the land restored."
Well, when mining becomes farming (and much oil-based agriculture has become such), civilizations just die. The fact that Alberta taxpayers now shoulder $15-billion worth of outstanding reclamation liabilities for the world's wealthiest companies doesn't appear in the message either.
Another snappy ad says that 80 per cent of the water used by the tar sands is recycled. That's true. But it doesn't mention that recycling this water concentrates pollutants such as salts and chlorides that foul processing machinery and that, well, make it harder to reclaim the landscape. Half truths sell better than whole truths.
But my favorite compared the consistency of 6 billion barrels of mining waste (that's enough toxic material to stretch to the moon and back 15 times) to yoghurt. Bitumen slurry, which smells like swamp gas, contains many inedible things: cyanide, bitumen, toluene, clay, benzene, mercury, hydrogen sulfide, polycyclic aromatic hydrocarbons and naphthenic acids. But, sadly, yoghurt is not among the ingredients.
An empire of web sites
Now the problem with these ads, aside from lamely trying to associate an earth-destroying mining complex with a hellish carbon footprint to feel-good items like peanut butter, farming and yoghurt, is their total ineptness, says Hoggan.
For starters all the ads omit the obvious. If Total, Statoil and other companies can call bitumen an extreme, difficult and nasty resource, then why are Big Oil and Ottawa still talking about ethical peanut butter? "These ads only reinforce in the mind of the public that the industry doesn't care," says Hoggan.
Hoggan also thinks industry's astroturfing is mighty counterproductive too. Take a look at AlbertaIsEnergy.Ca, a fake grassroots website seemingly funded by "bakers, mechanics, sales people, store owners" and the like.
But the Saudi-like oil promotion site is really bankrolled by CAPP, the Canadian Energy Pipeline Association and some of the most powerful organizations in the province. Another key funder is Alberta Enterprise Group, the propaganda and lobbying arm of Alberta's notoriously corrupt Progressive Conservative Party. (It has ruled the province for 40 years.)
The proliferation of these "Clean Bitumen" websites is extraordinary. They include the fore-mentioned Alberta Enterprise Group, which tells Americans that the industry has "top-notch environmental performance"; the Canada's Oil Sands, another CAPP initiative; the ever-eager In Situ Oil Sands Alliance which says the world demands "affordable and responsible energy" and the Oil Sands Developers Group, which promises that technology will clean everything up.
A tangle of uncritical websites that promotes a rosy view of industry, however, won't harvest any blooms for a development that annually coughs up 5 million tonnes of petroleum coke on the landscape, says Hoggan. Denying the real environment record or obfuscating climate change issues doesn't achieve anything except employing more PR flacks, says the communicator.
(Take note reader: According to The Economist, spin doctors now outnumber journalists six to one. So for every lowly reporter out there trying to find the truth or just get by with mediocrity [yes, we are a declining trade], they must compete against the energy of six flacks or spin doctors trying to peddle half-truths, business-as-usual popsicles or outrageous lies. This media imbalance is just as unprecedented and unsustainable as digging up two tonnes of sand to make the world's most expensive barrel of oil.)
It's not PR, it's policy
Outside the corrupt corridors of energy PR, a few industry leaders have admitted the truth. Clive Mather, former CEO of Shell Canada, said last year that "We have not done a good job in the oil sands, either in environmental performance or in communication. And we've got a big problem. It's not life-threatening, but it could be."
The evidence solidly supports Mather. In 2010, the Royal Society of Canada, no green group, concluded that "the environmental regulatory capacity of Alberta and Canadian governments does not appear to have kept pace with the rapid growth of the oil sands industry" and that environmental assessments were sloppy. In 2011, the Alberta Water Monitoring Data Review Committee and Environment Canada bluntly reported that "the current monitoring system did not deliver data of sufficient quantity or quality to detect or quantify the effects of oil sands development."
There's more. The Oil Sands Research and Information Network (OSRIN), a group funded by Alberta Environment no less, warned last year that industry might lose its social license to operate without substantive reforms. Without addressing environmental issues as varied as groundwater contamination, aboriginal health, reclamation, mining waste and acid rain, Canada and the oil sands industry will find it increasingly difficult "to operate, access markets and access capital to invest in oil sands," warned OSRIN.
The group added that "improvements in the current monitoring and reporting system are urgently required." But you won't find that in a CAPP advertisement.
Not surprisingly Hoggan thinks Mather, ORSIN and other critics understand the importance of deeds not words. "If industry wants to be taken seriously, it needs to work first on its performance."
In addition it needs to step out of Alberta's petro state group-think and breathe some real oxygen. "There is a value to stepping out of friendly circles and looking at these issues from a different perspective," adds Hoggan, a Calgary native.
In his book Do the Right Thing, the well-known communicator lay down the basic rules for securing a good reputation:
• Do the Right Thing
• Be seen to be Doing the Right Thing
• Don't Get #1 and #2 Mixed Up

But Ottawa, Edmonton and CAPP have got number 1 and number 2 hopelessly confused, says Hoggan. "They reversed everything." Until they get the order right and focus on performance, such a national climate change program that actually lowers emissions or an oil sands monitoring program that really measures industry contaminants, then the project will remain in a grand global black hole of its own making.
"Any strategy that says the environmental impact of the tar sands is not a problem and that the public are misinformed and that the critics are all wrong will just fail and make the problem worse," explains Hoggan.
He recalls that pulp mill companies in Howe Sound in the 1980s behaved pretty much like tar sands firms. They denied, dismissed and deflected criticism about dioxins and furans and other toxic pollution. They even tried to minimize the problem. But their PR campaign failed and "they were stuck with a $5-billion clean-up bill."
Ruining Canada's reputation
The perverse desire to look clean without cleaning up or to sound right without doing right is probably an inherited trait in the oil patch.
John D. Rockefeller set the tone back in the late 19th century when he built Standard Oil. Rockefeller, an inaccessible and cold character, swallowed his competitors with unscrupulous business practices and much secrecy notes Daniel Yergin in The Prize, a big book on oil. Rockefeller's motto, which petro states and companies like BP still take to heart, was "expose as little surface as possible."
Moreover the oligarch never answered critics and truly believed "it's not the business of the public to change our private contracts."
That approach nearly ruined Standard Oil. And industry's and Ottawa's PR campaigns for the tar sands may well ruin Canada's international reputation too.
CLIP AND SEND THIS TO-DO LIST
Canadians interested in doing the right thing in the oil sands can clip the following to-do list. Send it to your MP, your favorite oil executive, or even CAPP. Tell them to stop the bullshit and do the right thing.
Critical Oil Sands Performance Issues Requiring Immediate Action
☐ slow down (you can't be responsible or improve performance by speeding up)
☐ an aquatic monitoring program for the Lower Athabasca River Basin run by Canadian government scientists that uses robust sampling design, consistent methodological techniques and standardized reporting
☐ an acid rain monitoring program for Alberta, Saskatchewan and Manitoba jointly run by the governments of Alberta, Saskatchewan, Manitoba, First Nations, cottagers and the federal government.
☐ comprehensive baseline monitoring for groundwater and surface water for north-eastern Alberta and north-western Saskatchewan
☐ mapping of all critical aquifers in three oil sands deposits along with effective regional groundwater monitoring by Environment Canada
☐ mandatory reporting of naphthenic acids, a key oil sands pollutant, to the National Pollutant Release Inventory
☐ placement of naphthenic acids on the Petroleum Sector Stream Approach Substances List
☐ human health study for the community of Fort Chip (given conclusive evidence for contamination of the Athabasca River with heavy metals, bitumen and cancer-causing polycyclic aromatic hydrocarbons [PAHs])
☐ annual GHG emission trend reporting on a project-by-project basis in the oil sands by Environment Canada
☐ an immediate and comprehensive cumulative ecological study on projected bitumen production of 3 to 6-million barrels a day and its impact air, water, regional ecosystems and human health.
☐ risk assessments for technological and natural disasters in oil sands
☐ a study on the socio-economic impact of the project that details risks and public liabilities as recommended by the Canadian parliament in 2007
☐ a central repository of regional environmental, community health, and infrastructure data that provides effective public access.