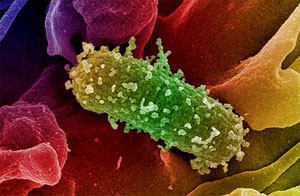 The other day I took a break from blogging about the wave of E. coli cases in Germany. For almost two weeks, I'd been tracking a mysterious outbreak of "enterohemorrhagic E. coli," or EHEC. It's a disease caused by a strain of bacteria that normally live in our guts in their billions without making any trouble.
This strain, however, was worse than alarming. Over 2,000 people had fallen ill within a matter of days. Apart from bloody diarrhea and vomiting, many of them had moved on to hemolytic uremic syndrome -- the destruction of red blood cells and then of their kidneys, often with severe neurological problems.
I'd been covering EHEC since receiving an email from a German who reads my H5N1 blog. That was early in the morning of May 24, and by noon I was tracking an outbreak that seemed like no other I've followed.
But when I took my break, it was to read a book about the Phoenix Mars lander project of 2008, whose author interviewed the project's chief engineer. What the engineer said was about the bureaucracy of NASA, but it could easily describe every public-health crisis I've been blogging about since 2005.
"I see how people work," the engineer had said. "It generally goes like this: selfless dedication from the technicians, and gutless decision-making from the top. Those who make gutless decisions don't understand risk. They are only afraid of embarrassment. They don't have the courage of character to understand and explain."
Well, the penny dropped. He could have been talking about the botching of the Hurricane Katrina relief effort, bird flu in Indonesia, swine flu around the world, Haiti's earthquake and cholera outbreak, and Japan's earthquake and tsunami.
Protecting their egos
In all those cases, the technicians were concerned with doing some good. Their bosses were concerned with protecting their egos and asses.
In Haiti, cholera broke out shortly after Nepalese peacekeepers arrived last fall. Kathmandu had seen a cholera outbreak in September, and it's clear that at least one of the Nepalese soldiers was shitting Cholera vibrio while stationed in his barracks. Through a leaky septic tank, his shit got into the local water system, and since then over 300,000 Haitians have fallen ill. Over 5,000 have died.
The UN first denied the obvious and then commissioned a report on the causes of the outbreak. That report admitted that the strain of cholera was from south Asia, but never quite named the Nepalese. That would have been embarrassing.
Meanwhile, Haiti's own public health ministry pretended to tally the cases and deaths. But it's always been two or three weeks late, probably undercounts the real toll, and it offers no analysis. The minister, an invisible man named Alex Larsen, says nothing about cholera or any other health issue. His ministry isn't paying its cholera-treatment workers on time.
Even the World Health Organization doesn't say much about an outbreak that makes it look bad. It says even less about the ongoing cholera next door in the Dominican Republic, where the doctors and the ministry of public health are battling about who's to blame. Meanwhile community teams are going through the slums and finding plenty of cholera cases.
Japan: So sorry
After the March 11 earthquake and tsunami, Tokyo seemed to run a pretty good relief effort. Quake drills doubtless saved thousands of lives. But the Tokyo Electric Power Company, which runs the Fukushima nuclear power plant, was clearly unprepared for a disaster on this scale.
While its workers splashed through radioactive water in the ruined reactor buildings, absorbing serious doses, TEPCO executives spent their time apologizing on TV, with deep bows, for the trouble they'd caused. So did the current prime minister, Naoto Kan. The bowing and apologies have been going on for over two months. So have the radiation overdoses.
The International Atomic Energy Agency was running daily updates on the disaster, as it should have. But now they're intermittent. Fukushima makes it look bad too.
Now it's Germany's turn. Hospitals in northern Germany have been swamped with patients made half-insane by this nasty strain of E. coli. The German government, after asking the patients to fill out questionnaires, first blamed the outbreak on Spanish cucumbers.
Losing 200 million euros a week
That instantly cost Spain's agriculture industry 200 million euros a week, not to mention collateral damage to Dutch and other European farmers: Russia has banned all vegetable imports from all EU countries until further notice.
Bizarrely, a Spanish woman contracted EHEC just before running in the Hamburg Marathon. Halfway through, she began to feel sick, and then really sick. She still managed to come in fourth, her legs covered with blood, and she's been in hospital ever since.
The German health agencies soon found cucumbers blameless, but Berlin continued to warn against cukes, tomatoes, and lettuce. The Robert Koch Institute, roughly equivalent to the Public Health Agency of Canada, issued short, uninformative announcements while the German media whipped up hysteria.
On the first weekend in June, researchers found that the likely source is a single organic farm in Lower Saxony, whose bean sprouts ended up in many salads in Lübeck, Hamburg, and elsewhere. By then, the European Council was calling for urgent meetings at which Germany would have a lot of explaining to do.
Since EHEC began in mid-May, a lot of European doctors and nurses have been working flat out, cleaning up their patients and losing at least 22 of them. Hundreds of other victims are likely to survive with lifelong disabilities.
The next health catastrophe: Bureaucratic embarrassment
But the senior bureaucrats and politicians, like their counterparts in Japan, Haiti, and the UN, have been working flat out to save themselves from embarrassment. They spin the problem to blame someone else, they ignore awkward evidence, and they say as little as possible.
In other words, your government's fear of embarrassment may be hazardous to your health, and that seems as likely for us in Canada as for other "advanced" nations.
We have no reason to suppose that our federal and provincial governments will be transparent and honest when the next health disaster hits us. After our experience with H1N1 in 2009, we have every reason to suppose that the B.C. Centre for Disease Control will tell us to wash our hands a lot and not to worry.
This culture of immunity has been entrenched for decades. No doubt many healthcare experts understand how unsanitary it is. They remember Ignaz Semmelweiss, who warned his medical colleagues that they were killing mothers in childbirth with their dirty hands and blood-crusted aprons. Those colleagues laughed at him, and went on killing their patients. Semmelweiss died insane.
Until we demand more honesty from our managers, we will go on losing people -- not just to cholera or EHEC or radiation poisoning, but to our managers' fear of embarrassment.