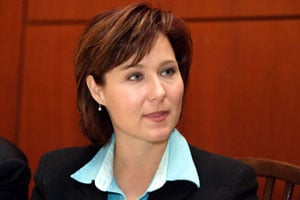 "Dear Mark and Christy, I thank you very much for having hosted me in your beautiful home. It was a beginning of a long journey in which we will accomplish a lot for Canada together." -- Stephane Dion, former federal Liberal leader, 2006
New Premier Christy Clark says she is all about bringing "change" to the BC Liberal government of ex-premier Gordon Campbell.
But when she says change, what does she mean? Particularly given that the key staffers in charge of bringing that change include...
A former weapons industry lobbyist connected to two controversial Ontario mayors and Stephen Harper's Conservatives;
An ex-private liquor stores lobbyist;
And a long-time federal Liberal Party activist with ties to MP Bob Rae's leadership campaign.
The Grit connection should be no surprise. Indeed, there is a sense Clark is painting the town of Victoria red -- federal Liberal red that is.
The "Christy" in the letter from former Liberal leader Stephane Dion quoted above is, of course, B.C.'s new premier -- a long-time federal Liberal whose estranged husband Mark Marissen was the mastermind behind Dion's surprise federal Liberal leadership victory in 2006, as well as the losing 2008 federal election campaign co-chair.
Marissen was also prominent as Paul Martin's top B.C. lieutenant in the bitter takeover of the federal Liberal Party that pushed Prime Minister Jean Chretien out of office.
The former Grit campaigners
Clark's roots in the national Liberal Party go back beyond 1993, when she worked in Ottawa for federal Transportation Minister Doug Young.
And those roots show in the premier's office today. Her Chief of Staff Mike McDonald is a veteran federal Liberal organizer who worked on MP Bob Rae's leadership campaign in 2006.
Clark's deputy chief of staff Kim Haakstad served as Liberal Party of Canada-BC executive director and 2006 federal election campaign director.
As of Aug. 2010, Haakstad was scheduled to be Election Readiness Co-Chair in the next federal election and is still currently listed as LPC-BC party secretary.
Their links to Railgate case
Both McDonald and Haakstad have connections with the still simmering B.C. Legislature raid case.
Clark has rejected calls for a public inquiry into events surrounding the political corruption trial of former BC Liberal ministerial aides David Basi and Bob Virk, which suddenly ended with surprise guilty pleas in Oct. 2010 and defence lawyers for the pair receiving $6 million in legal fees.
In B.C. Supreme Court pre-trial hearings in 2007, defence lawyers alleged that Basi reported to McDonald -- then BC Liberal caucus communications director -- about political dirty tricks such as paying phoney callers to support government MLAs on talk radio shows.
The allegations were never proven nor tested in court and Campbell always declined to comment on them, even though Basi never faced charges in connection with the actions.
Haakstad has different connections to the Basi-Virk case.
In 2005-2006 as Liberal Party of Canada-BC executive director, she reported to then-LPC-BC president Jamie Elmhirst, co-owner of the lobbying firm Pilothouse Public Affairs that was searched by RCMP in Dec. 2003 in conjunction with its search of the B.C. Legislature.
Elmhirst's business partners Erik Bornmann and Brian Kieran both turned Crown witnesses and were to testify against Basi and Virk.
Bornmann and Kieran provided money and benefits to Basi and Virk in exchange for obtaining confidential government information before the $1 billion sale of B.C. Rail. Pilothouse was retained by losing bidder OmniTRAX.
Elmhirst was subpoenaed to testify but never charged with any crime, nor was OmniTRAX.
Haakstad also served as a provincial liquor industry lobbyist as executive director of the Alliance of Beverage Licensees of B.C., representing the interests of private liquor stores.
Haakstad had previously worked for Clark as her ministerial assistant when Clark was deputy premier, education minister and children and family development minister.
The gun lobbyist
The exception to the rule of federal Liberal links is Clark's new principal secretary Dimitri Pantazopoulos, the former pollster for the federal Conservatives and their predecessors, the Canadian Alliance and the Reform Party, who ran a voter identification phone room in Vancouver for Clark's campaign.
But Pantazopoulos comes with some considerable controversy.
Until Oct. 2010, Pantazopoulos was a registered federal lobbyist for the Canadian Association of Defence and Security Industries [CADSI] -- the umbrella organization for makers of guns, bombs, armoured vehicles, fighter aircraft and other military equipment.
In a lobbying activity report filed with the Office of the Commissioner of Lobbying of Canada, Pantazopoulos states his job was to:
"Convince the federal government to develop and implement a defence industrial policy for Canada and an implementing strategy.
"Modernizing Canada's defence procurement process including improved Industrial Regional Benefits and measures that would promote greater participation by Canadian industry in meeting the needs of the Canadian Forces.
"To improve the Industrial and Regional Benefits program so that Canada leverages defence procurements to maximum economic, trade and industrial value in key capability areas of economic and national security priority," Pantazopoulos wrote.
On its own website, the Canadian Association of Defence and Security Industries says it "is the voice for the Canadian defence and security industries. The Association exists to strengthen the relationship and dialogue between government and our industries and to maximize the contribution the members can make to national defence and security."
"As the primary advocate for the defence and security industries, CADSI represents the interests of industry to governments, politicians, the media, special interest groups, opinion leaders and the public."
The pollster also drew unwanted attention when 24 Hours newspaper exclusively reported last month that a telephone interviewer working on the Clark campaign for Pantazopoulos' Ottawa-based Praxicus Public Strategies said he was terminated after complaining about the $9 an hour he was being paid -- less than the $10.25 an hour Ontario minimum wage.
Rich MacMillan said a supervisor told phoners that workplace changes were coming because "Dimitri our boss needs to feed his family" -- referring to Pantazopoulos, who hired MacMillan by email in December.
"Yeah, is Dimitri trying to feed them on $9 an hour?" MacMillan asked the supervisor in response.
But in an email, Pantazopoulos strongly rejected MacMillan's claims.
"Nobody has been terminated from this office for reasons related to disputes related to salary levels," Pantazopoulos wrote, adding that, "All decisions related to staffing are at the SOLE discretion of Praxicus and not the Christy Clark campaign."
Pantazopoulos was also the pollster for new right-wing Toronto Mayor Rob Ford, who defeated ex-Ontario Liberal deputy premier George Smitherman in the October 2010 election and is now moving to privatize garbage collection and other city services. "And Pantazopoulos also polled for defeated right-wing Ottawa Mayor Larry O'Brien in the same election. O'Brien was acquitted of influence-peddling charges in a high-profile case in 2009.*
The message managers
This all may make communications more challenging than expected for two former media members now working as Clark's press secretary, ex-CTV television reporter Chris Olsen and assistant press secretary Rebecca Scott, an ex-CKNW Bill Good Show talk radio producer.
Ex-lobbyists for guns and liquor, legal issues and federal Liberal connections galore -- and they all work out of the premier's office.
Clark told BC Liberals that "change begins tonight" when she won the leadership contest Feb. 26.
The shape of that change is becoming clearer.
*Story updated at 12:55 p.m. on March 22, 2011.