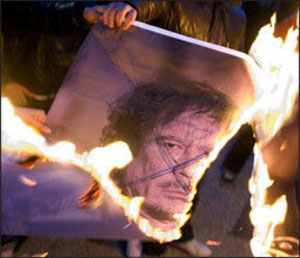 The United Nations was rocked by a geopolitical earthquake on Thursday, the long-term consequences of which might rival that of the recent, real earthquake in Japan.
The UN Security Council passed a resolution authorizing nation-states to enforce a no-fly zone over Libya and "take all necessary measures... to protect civilians and civilian populated areas under threat of attack."
The mandate thus extends to strikes on Libyan forces on the ground, including tanks, artillery and rocket systems, as well as at sea: for instance, if Libyan warships began bombarding Benghazi.
Arguably, the resolution also permits air strikes directed at Muammar Gaddafi personally.
There are three reasons why "Resolution 1973" is of seismic proportions.
First, the resolution is aimed at the protection of human rights. The resolution is not -- repeat not -- about access to oil and gas. Since 2003, when Gaddafi forswore his nuclear weapons program, he has been supplying copious amounts of oil and gas to Western countries.
Nor has Gaddafi posed any threat to other countries during that period.
Instead, the threat Gaddafi poses is to the citizens of his own country. Last month, he used war planes and mercenaries to brutally suppress peaceful protests. As the members of the Security Council met in New York, his forces were advancing on the rebel-held city of Benghazi, population one million. In a TV broadcast, Gaddafi told the residents to lay down their arms; otherwise, he warned, his troops would come that night and "find you in your closets; we will have no mercy and no pity."
Memories of Security Council inaction during the Rwanda and Darfur genocides clearly played a role in the debate, as did the failure of no-fly zones in Bosnia and Iraq in the 1990s. This time, the UN would neither wait nor constrain allied warplanes from striking targets on the ground. The only limitation written into the resolution is the explicit exclusion of "a foreign occupation force of any form on any part of Libyan territory."
This is not Kosovo, where NATO countries intervened without UN authorization. Nor is it Iraq, where George W. Bush and Tony Blair lied about the presence of WMD and obtained a Security Council resolution that provided temporary legal cover -- until their bad faith became clear. Resolution 1973 is the resolution that should have been adopted in 2004 to prevent the genocide in Dafur.
Second, Arab League support. Resolution 1973 is also important because it refers explicitly to "the decision of the Council of the League of Arab States of 12 March 2011 to call for the imposition of a no-fly zone on Libyan military aviation, and to establish safe areas in places exposed to shelling as a precautionary measure that allows the protection of the Libyan people and foreign nationals residing in the Libyan Arab Jamahiriya."
The fact that the resolution was requested by Arab countries made it politically impossible for China and Russia to cast their vetoes, notwithstanding their otherwise staunch opposition to any resolution favoring human rights over sovereignty.
Think about this for a moment: The Arab League, whose members include some of the most repressive regimes on Earth, has just pressured China and Russia into allowing military action against a sovereign state in order to protect its citizens.
Aircraft from several Arab countries are expected to play a role in the no-fly zone, along with planes from France, Britain, Canada, and the United States.
The news could not come at a better time for pro-democracy protestors across North Africa and Middle East. Saudi Arabia recently sent troops into Bahrain, where they have been slaughtering people in the streets. In Yemen, dozens of protestors have died at the hands of the police and military. Hopes for a real democracy in Egypt hang on a thread while the military government weighs its interests against internal and external pressures.
Now, having supported the UN resolution, Arab governments have to live with its consequences. The human rights of pro-democracy protestors have been elevated above the rights of sovereign governments. They have tied their own hands, and those of other countries also. In the development of international human rights, Resolution 1973 could be as important as the Pinochet Case.
Third, a fresh position by the U.S. None of this would have happened without a sharp turn in U.S. foreign policy. From the moment he turned against Hosni Mubarak, Barack Obama has abandoned the pursuit of Middle East stability in favor of huge risks and uncertain rewards of rapid political change. At times he has hesitated, caught up in debates between an intensely conservative Pentagon and an increasingly bold Department of State. But we are well beyond the point of no return in this, a foreign policy gamble on par with Nixon's visit to China, or Bush's invasion of Iraq.
So far, so good. Within hours of the adoption of Resolution 1973, Libyan foreign minister Moussa Koussa announced an "immediate ceasefire and the stoppage of all military operations." It remains to be seen whether the promise is real, or just another ploy by an increasingly desperate and discredited dictator.
But some things now seem certain: Qaddafi has lost, human rights have won, the United Nations is back, and autocratic rulers everywhere -- from Saudi Arabia to Zimbabwe to Burma and Beijing -- sleep uncomfortably in their beds.