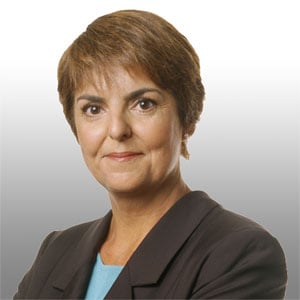 "Power is not revealed by striking hard or often, but by striking true." -- Honore de Balzac, 1799-1850
BC New Democratic Party leader Carole James wanted to look tough after Cariboo North NDP MLA North Bob Simpson mildly criticized one of her speeches in public.
So James personally threw him out of the NDP caucus.
But instead of succeeding, James has made it tough on herself by creating the biggest leadership crisis since she took over the party in 2003.
And it's far from over.
Some NDP MLAs are very unhappy Simpson was removed in what is perceived as an arbitrary and undemocratic way, while a dangerously dwindling number of NDP members have been given another strong reason to sit on their wallets or even leave the party.
Firing Simpson without even a caucus vote has prompted former NDP MLAs like Corky Evans, Tom Perry and Helmut Giesbrecht and other party voices to openly criticize James' leadership.
Worse still for James, the big question over her leadership isn't -- as some pundits wrongly interpret -- whether she is moving the party too much to the right, it's whether after losing the last two elections James can still win the next one.
A winner in the making?
With the unpopular Premier Gordon Campbell overwhelmingly expected to disappear well in advance of the 2013 election, and the Harmonized Sales Tax issue likely to be resolved long before then, James could face a new BC Liberal leader not handcuffed to the hated HST.
Despite the BC Liberals losing half their support over the HST, the budget scandal and other government actions, the NDP haven't capitalized on voter discontent.
Polls show the NDP with between the same 42 per cent it got in the 2009 election and 48 per cent, while the BC Liberals have dropped from the 46 per cent received in the 2009 election down to between 25 per cent and 33 per cent today.
The major beneficiaries of the BC Liberal crisis have been the Green Party at 12 per cent to 13 per cent versus the eight per cent they had in the election, and the Conservatives at seven per cent to 11 per cent, instead of the two per cent of voters they attracted in 2009, albeit with far less than a full slate of candidates.
Those numbers fueled Simpson's criticism of James, but it had remained internal -- until he was removed from caucus, allowing him to go public.
And those comments on her leadership are pointed.
"I think the path we're on is a path of losing the next election," Simpson told media last week. "It's a real question to ask, why are we not capturing the moment? Carole James, after seven years of leadership, is sitting with fully two-thirds of British Columbians polled saying we don't know her or we don't think she can be premier."
"Time is running short for us to address the major and complex issues which confront us and this small planet we live on," Simpson added in a statement after expulsion. "We need to spend much more energy finding ways to address these issues than we do simply finding ways to bring down the sitting government in order to gain power by default and without a mandate for change."
Tough, but wise?
"I find it troubling there was no process before I was convicted and removed from caucus by the leader," Simpson said of his ouster. "I guess I was mistaken in my belief that the NDP was a progressive organization which valued free speech and honest critique as a means to create a better society for everyone."
All in all, James quick decision to get tough on Simpson has been a disastrous strategy.
Those who defend James' action claim that Simpson was continually badmouthing the leader, was not a "team player" and wasn't "constructive."
Whether true or not -- so what? Simpson's only public criticism of James was so minor and in such an obscure place that ignoring it was the obvious best option.
A stronger punishment would have been to remove Simpson's legislative critic duties for aboriginal relations -- not really fitting the alleged "crime," but at least avoiding totally overreacting.
And dealing with dissent is a key part of being leader.
All Simpson said -- on a Williams Lake community website -- was that James "had little concrete to offer" in her speech to the Union of B.C. Municipalities, and that while her discussion of revenue sharing was positive, "the lack of specifics was a disappointment to delegates."
But that still caused James to issue this statement: "Through his public comments today, Mr. Simpson has made it clear that he would rather criticize our work than contribute to it. He has made it clear that he does not want to be part of our team."
Huh?
Dissenting MLAs: crime and punishment
James also implied that there may be no room in the BC NDP for former BC Liberals like Simpson, who both ran unsuccessfully for a party nomination in 1996 and was that party's constituency president but was soon disillusioned by Campbell's leadership. Simpson became Cariboo North's NDP MLA in 2005 and was re-elected in 2009.
"He's clearly unhappy. And let's remember Bob was clearly unhappy with the Liberal Party when he belonged to them. He quit the Liberal Party, joined the New Democrats," James told host Vaughn Palmer of Shaw Cable's Voice of B.C. last Thursday. "He's unhappy with us now as New Democrats. I hope Bob finds a place that's happy." When it comes to finding your happy place as a dissenter, James should look across the B.C. legislature floor, where several BC Liberal MLAs have actually opposed their own government without such dire consequences.
Blair Lekstrom voted against parts of the BC Liberals draconian labour legislation that ripped up the union contracts of hospital and other health care workers -- and was later ruled illegal by the Supreme Court of Canada.
Lekstrom not only didn't get tossed out of caucus, he was later promoted into cabinet by Campbell. (He only left cabinet and caucus after constituents rebelled against the imposition of the HST.)
Previous to that, the late BC Liberal MLA Val Anderson regularly and publicly disagreed with his party's positions on social assistance issues but never faced expulsion.
Federally, NDP leader Jack Layton has been pilloried for refusing to insist his members of parliament vote against killing the long gun registry, despite the overwhelming majority of party members, as well as Layton himself, being in favour of keeping it.
But no one, including critics like me, suggested that dissident NDP MPs be thrown out of the caucus, even though they voted with the Conservatives in the unsuccessful effort.
November 2011 reckoning
Unfortunately Simpson isn't the first NDP MLA to be exiled from caucus for disagreeing with the leader.
Maple Ridge-Pitt Meadows MLA Michael Sather was shown the door when he voted against the Tsawwassen First Nation treaty in the B.C. legislature, solely on the basis that it removed 207 hectares of farmland from the Agricultural Land Reserve.
Despite the creation of the ALR being one of the NDP's proudest achievements under former premier Dave Barrett's government, James saw it as intolerable dissent and refused to at least allow MLAs a free vote on the treaty. Sather's no vote ended up with him out of caucus for several months, though he was eventually allowed back in.
Regardless of examples of tolerating dissent or not, Carole James will face a membership day of reckoning when party delegates at the Nov. 2011 NDP convention vote on whether or not to hold a leadership review.
That is, unless NDP provincial council members support a call next month from Simpson's Cariboo North riding to change that gathering into a full-fledged leadership convention.
Moe's double standard?
Lastly, James and her colleagues who support expelling Simpson might want to consider the most relevant of all examples -- the behavior of NDP MLAs tolerated in past caucuses.
Did the leader of the day throw out of caucus an NDP MLA who was suspended by the Law Society of B.C. from practicing law for 18 months and fined $2,000 for misconduct in handling the affairs of a client? No.
Was an NDP MLA ejected from caucus for allegations of being "overly aggressive" in lobbying the provincial Motor Carrier Commission in favour of friend's limousine license application? No.
Was an NDP MLA tossed out after racking up 21 driving demerit points for excessive speeding, despite being minister responsible for the Insurance Corporation of B.C.? No.
And these publicly reported offenses were all committed by just one MLA, not three.
That former MLA's name? Current B.C. NDP president Moe Sihota, the guy supporting Carole James' expulsion of Bob Simpson from the caucus.
To put it mildly, that's a little rich.
The smart thing now would be for James to restore Simpson as a caucus member and try to resolve but accept differences of opinion.
But the smarter thing would have been to not throw Simpson out in the first place.