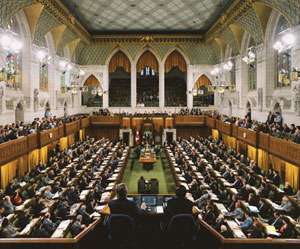 When you read this, I will be in London trying to survive their coalition government, which, given a misstated word by the Deputy Minister Nick Clegg, means a minority government and democracy as we know it is doomed! Big Ben will no longer toll the time, rather a funereal, unending, muffled gong will remind the people of the perils ahead.
Now, of course I'm being silly, but if you had just arrived on earth in a spaceship, you would be forgiven if, upon reading our Canadian newspapers, you decided that the anarchic nature of our national government meant you should lock yourself inside your home before being caught up in masses, soon to take to the street demanding "Majority Government or Death."
What's happening in Canada -- and the mainstream media can't live with this -- is bugger-all. How can national political writers survive when great debates are not filling the chamber at the top of the hill?
It has never occurred to the doomsayers of our Fourth Estate to ask two questions:
What we do we want Parliament to do that it isn't doing because there is a "hung" Parliament?
And why do we put up with this lousy system?
You may ask: Isn't there a strong case for the proposition that when governments do nothing, it's like a doctors' strike where everyone's health improves?
It's been said, for just one example, that Parliament could debate the government decision to abolish the "long form" of the census. What, no one seems to ask, bluddy difference would that make? There's scarcely a member of the media or one of the chattering classes that hasn't set his/her hair on fire on this majestic of all majestic issues in the land. Surely no one seriously suggests that the Opposition would table a non confidence motion on this trivial decision!
Which government would you choose?
I'm not the only Cassandra abroad in the land. The eminent constitutional expert Dr. Edward (Ted) McWhinney, when an MP, raised, until he was blue in the face, the question of why don't we look at changing our system. For his pains he was brushed off as a tiresome common scold to be patted on the head and sent off on some useless task to keep his idle hands from doing the devil's work.
Let's start from scratch here. Supposing all 34 million of us, having no government, were given this choice.
1. A government which elects members to its parliament, from which group a cabinet and prime minister are selected who are subject to approval of that same parliament. (This is what we now have.)
We're advised that this is a very efficient form of government because the prime minister, having the majority to support him, can do as he damned well pleases. The ordinary members of his caucus are a talk shop that he seldom graces with his presence and who for a number of reasons won't rise against him no matter what.
Backbenchers know that if they get out of line they will be thrown out of caucus and, because the prime minister must sign their nomination papers for them to run for the party again, must run as independents. They also know that it's the prime minister who sends them to warm islands for useless conferences in the middle of the Ottawa winter and decides what, if any, good things will happen in their constituencies.
Napoleon once said that "every soldier carries a marshal's baton in his pack" just as every backbench government MP covets a cabinet job, or at worst, a parliamentary secretaryship.
Cabinet ministers do what they're told because as quickly as the prime minister can make a minister, he can unmake him.
This choice means, we're told, steady government, untroubled by unpleasantness from backbenchers. It's a government where the minister of finance doesn't have to ask parliament for money; he simply tells them what the amount is that they will vote for no matter what they feel about it. There is never any need for a backbencher to actually think and worry about the consequences of what is the PM's decision.
Or, 2. Contrast that with an unruly parliament where MPs can do and say what they please. Under this system the prime minister must be very thoughtful and consult with his party as well as other parties to determine policy. He doesn't have to resign if he loses a vote unless it's a money bill, a motion of non confidence or a vote declared to be a "confidence" one, which means he can try ideas without losing his job if parliament doesn't like it. It also means that on big issues, MPs must actually make a judgment.
When the minister of finance tables his budget for "supply" as they call it, he must ask for that money and actually have approval of the House freely given.
There are, of course, political realities. The MPs in the largest party will still want to please the leader and they don't want an election any sooner than necessary. BUT, they know that if they don't represent the views of their ridings, or have a damned good reason to vote otherwise, that they're goners.
To underscore the sloppiness of this option, one must go back to 1993 when the Jean Chretien Liberals won a handsome majority, in good part because they promised to repeal the Goods and Services Act (GST). One Liberal MP, elected on this promise was flabbergasted to see that in the first budget the GST was still there. Mindful of his campaign promise, he voted against the budget and was immediately ejected from (all of whom had also promised to abolish the GST) thrown out of the Liberal Party and denied the right to run as a Liberal in the next election. Interestingly, he won as independent, but in the election after that the Liberals fired all guns and he was defeated.
The big weakness of this option is that it gives the MP, in fact, the power he is promised but doesn't get under Option Number One.
The supporters of Option Number One rely upon public ignorance or indifference, or both.
Programmed from an early age
All of us are raised on the beauties of Option Number One with nary a discouraging word. As one school teacher told me, "We couldn't teach that the system becomes an elected dictatorship because that would make them cynical"! Imagine, kids in school learn a bare-faced lie because the truth could cause disillusionment! The thought that properly educated children might grow up as reformers never seems to cross the teachers' minds.
The supporters of Option Number One are the insiders and those who, having got elected, don't want change that might hurt their re-election chances.
The supporters of Option Number One don't mention the fact that most of the world's democracies live with and are governed by Option Number Two.
Canada's national motto is "Peace, Order and Good Government."
I guess two out of three ain't all that bad -- unless you're determined to live under a democratic system.