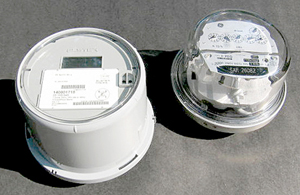 The wheels are spinning in high gear selling us the dumbest single scheme the Premier's Office has come up with so far for BC Hydro. They want us to buy a billion-dollar plan to hang hi-tech meters on every home in the province. All by itself, this would add about 8.3 per cent to every household's electricity bill, even taking account of off-setting savings like meter-reading.
There is no doubt that these gadgets, which basically add a computer and a communication system to electricity meters, can do lots of things that the simple, cheap, reliable meters we have today can't do.
The important question, however, is whether those new features (like animal-noise reminders to turn off the lights) are worth the gigantic price tag.
Putting the load on families
The main function of a "smart meter" is to track how much power you use minute-by-minute through the day, and relay this information to BC Hydro. This enables different prices depending on the time of consumption. Electricity used during peak times (weekday mornings and evenings) would cost more than off-peak -- say, in the middle of the night.
The point of this is to encourage us to shift our energy-use from peak times, when the system is under the heaviest demand, to the slack times. That sounds sensible unless you try to apply it to most people's real lives.
There is a reason why we use more power during peak times. Take a typical family with working parents and school-age kids. Most of their energy-intensive activities occur in the rush to get everybody up, dressed, fed, and out the door, and later when they all converge at home late in the afternoon for dinner, homework, baths and bed. All of that activity would attract a high on-peak price. Energy-heavy household chores, like laundry, can only be done during those two slices of the day... that is, unless someone wants to set the alarm to get up at midnight to run the clothes dryer.
There is only so much that family can do, with all the will in the world, to shift their energy patterns.
Security concerns
Hydro claims that smart meters will prevent electricity theft. They have pulled from the air a guesstimate that some $30 million a year is stolen by grow-ops, using cables to bypass the existing meters, but with no evidence to support this figure.
The biggest problem with this is that smart meters would make it easier, not harder, to steal electricity.
Tests in the U.S have shown that smart metering systems are relatively easy to hack. Assuming that organized crime has access to computer expertise, we would hand them a simple way to steal electricity without detection. The White House has raised concerns about the potential for someone with a grudge against the U.S. to use a smart meter as a point of entry to the national power grid, and has identified this as threat to national security.
Smoothing, but not much saving
There is another big problem with smart metering as an energy conservation strategy. Smart meters and "time-of-use" rates don't really do much to reduce how much energy we use, especially once the novelty factor wears off. Their main impact is to shift what time we use energy. If our typical family went to the trouble of running the clothes dryer at midnight (saving perhaps a couple of pennies on their energy bill), they would still use the same amount of power to dry the same load of clothes.
Smart meters' contribution is to smooth out our daily consumption pattern a bit. That helps relieve our need for "capacity" rather than energy. To apply a metaphor, capacity is the horsepower of the system, not the amount of gas it burns.
Capacity comes in huge, expensive, lumpy investments, like new transmission lines or huge hydro dams. Smoothing out the daily consumption pattern a little has a negligible impact. We're talking about postponing the need for a major transmission line by a few weeks or months, perhaps, if smart meters perform as perfectly as their proponents claim.
Will smart meters really pay for themselves?
Hydro claims that smart meters will pay for themselves in system savings. If this were so, why did the government need to pass legislation to shield them from open public scrutiny? Taking away the Utilities Commission's power to study the cost effectiveness of this billion-dollar investment means that Hydro customers will never have an opportunity to test the inflated promises. Instead, all we have is a "trust me."
As in most gee-whiz solutions, the costs are real. The benefits are theoretical. All that we know for sure is that there will be one huge winner from this scheme -- whichever corporate giant gets to sell us these costly gadgets.
Here's the big question that nobody is asking: if we have a billion dollars to invest in energy conservation, is this the first place we'd spend it?
Here's one example of a better place: for the same money we could provide comprehensive $20,000 energy-efficiency retrofits for free to 50,000 low-income homes -- and save enormous amounts of electricity while improving people's health and well-being.