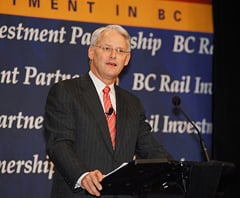 "Absurd." That was the response last week from Martyn Brown, B.C. Premier Gordon Campbell's long-serving chief of staff, to a question from defense attorney Kevin McCullough at the high-profile Basi-Virk, BC Rail corruption trial now underway in Vancouver.
Campbell's party was defeated at the polls in 1996 with a pledge to sell BC Rail, then was victorious in 2001 with the opposite promise, to "not sell or privatize" the publicly-owned railway.
Last week various news-media reported (see here and here), that McCullough had alleged that the BC Liberal government, after winning power, deliberately set out to portray B.C.'s oldest Crown corporation as a financially distressed, money losing enterprise so as to make its subsequent sale palatable to the public.
Gordon Campbell's BC Liberal government, McCullough charged, "was trying to drive the company into the ground so that it could support a broken election promise."
Absurd?
Myth of a money-losing BC Rail
As Tyee readers know well (see table at bottom of story here), BC Rail had "operating profits" -- that is, its operating revenues were greater than its operating expenses -- in each and every year between 1978 and 2000, the year before Gordon Campbell and his BC Liberals won election to government.
The Crown corporation also had a net profit -- or, net income -- in 18 of the 21 years between 1980 and 2000. And in each of the three years where BC Rail had a net loss, the losses were due to "special charges."
In 1989, the Crown corporation wrote-off its investment -- then pegged at $80.6 million -- in the failed Dease Lake extension. That was the line into north-west British Columbia, initiated by Social Credit premier, W.A.C. Bennett, and abandoned in 1977 (by his Socred successor, Bill Bennett) before it was completed.
Another write-down in the corporation's assets -- this time to the tune of $616.6 million -- was made in 1999, following abandonment of the Tumbler Ridge extension when the coalmines in north-east B.C. were being closed. That line, launched by the younger Bennett, opened in 1983.
Neither write-down required or signified an actual cash expenditure, as the expenses incurred to build those two lines had been made years earlier. The term "write-off" simply means that those two assets no longer had any value, and so were removed from the company's balance sheet.
Finally, another special charge of $13 million was recorded in 2000 when the Crown corporation opted to pre-pay environmental expenses that it expected to incur over the next decade (until 2010).
In all three instances, the special charges transformed an operating profit into a year-end loss.
The trend was clear, however. For the last two decades of the 20th century, BC Rail was a financial viable and profitable Crown corporation. And because of that profitability, the company during the 1980s and 1990s was able to deliver $137.7 million in dividends to the provincial treasury in Victoria.
'It would make no sense': Brown
Here, as reported by The Globe & Mail, is part of the exchange between McCullough-Brown:
Mr. McCullough also said BC Rail made a profit in 2001 and accused the government of adopting a "failure strategy" for the railway, which was designed to make it unprofitable, in order to soften the public to the idea of a sale.

"No. I think that's absurd," replied Mr. Brown. "It would make no sense... the government does not get elected to cost the taxpayers money."

He said anyone selling a business would want to make it profitable, to get the best price.

"Unless you were trying to drive the business into the ground," to erode public resistance to a sale, said Mr. McCullough.
Are McCullough's allegations correct? Did Gordon Campbell and the BC Liberals really seek to erode public resistance to the privatization of BC Rail by trying to "drive the business into the ground"?
The truth is somewhat more subtle. To start, it's true that the Campbell government -- and its hand-picked board of directors -- made decisions that resulted in the sale or abandonment of many of the Crown corporation's operations, thereby drastically slashing revenues.
Plus, under the BC Liberals, BC Rail's management and board introduced a series of special charges, restructuring costs and write-downs that altered operating profits into net losses.
The biggest contribution of the premier and his MLAs was to drastically distort and misrepresent BC Rail's financial health, and so convince many British Columbians -- including nearly everyone in the legislative press gallery -- that the Crown corporation was an unaffordable burden on provincial taxpayers.
Much of that disinformation campaign is found in Hansard, the official report of debates in the British Columbia Legislature.
Plusses and minuses
The first time BC Rail was discussed in the House, following the general election that put the BC Liberals into government was on Aug. 9, 2001.
"BC Rail last year had an unexpected and severe decline in the coal and forestry sector," said Judith Reid, the newly-appointed Minister of Transportation, during her budget-estimates debate. "That, combined with increased fuel costs, adversely affected B.C. Rail Group's revenues and operating results."
While it's true that BC Rail's forestry and coal shipments suffered in 2000, but company's annual report clearly notes that losses were offset by "gains made from increases in sulphur, grain and othe bulk products." In fact, the company's year-over-year revenues increased by $16.6 million in 2000, to a record $495.7 million.
Reid added: "Continued shortfalls in revenue from the forestry sector and a decrease in the container business at the company's marine operations mean the company is only projected to break even this year [2001]."
She ended on a positive note: "However, new coal and oriented strand board projects in northern British Columbia are expected to improve the company's financial position in the future."
How to manufacture red ink
Six months later, on March 7, 2002, during the premier's office spending-estimates debate, the Crown corporation again got a brief mention.
"BC Rail, like other Crown corporations, is subject to a core review," Campbell replied under questioning by New Democratic Party MLA, Joy MacPhail. "A new board was appointed for BC Rail, and we asked them to tell us how BC Rail could be a major economic engine in the province. They will come back with their recommendations to the core review and deregulation task force."
He finished with an optimistic flourish: "We believe that BC Rail can be a major contributor to a strong and vital resource economy in the province. I'm sure they will come back with recommendations on how they may do that."
BC Rail ended its 2001 fiscal year with revenues dropping to $447.2 million. Yet operating costs were similarly pared back, to $418.6 million, and so the company recorded an operating profit of $28.6 million.
But then came interest charges of $35.5 million, leaving a deficit of $6.9 million.
On top of that, however, was piled an interesting -- and questionable -- "special charge" for "restructuring," whereby the railway wrote down certain un-named assets to the tune of $36.4 million, and then added a whopping $63.6 million for "accrued future expenditures." (Both items, which totaled an even $100 million, were non-cash transactions.)
Like magic, a relatively tiny shortfall of $6.9 million had been transformed into a gargantuan deficit of $106.9 million.
'We have no more money'
A change in the BC Liberals' attitude appeared in the fall of 2002, with a miscellaneous statutes bill that contained a one-sentence provision allowing BC Rail to abandon passenger-rail service statutorily required since 1912.
Reid, the transportation minister, now claimed that BC Rail's passenger operations were losing "approximately $10 million a year," and added: "The cars that operate the service require refurbishment or replacement at a cost of approximately $30 million."
The government, she further declared, "just doesn't have that money available. B.C. Rail doesn't have that money available to invest in services that are losing money."
She was joined by a chorus of back-bench BC Liberals. "We have no more money," chirped Walt Cobb, MLA for Cariboo South and a former Williams Lake mayor. "Part of the reason is that in 1996 the previous government took $10 million from BC Rail. In 1997 they took $4 million. In 1998 they took $40 million. That's a total of $54 million."
Cobb was correct to an extent; his figures were part of the stream of dividends a profitable BC Rail sent to the provincial treasury in the 1980s and 1990s. But the claim that profits sent to Victoria prevented the rail company from upgrading its fleet of passenger cars was, and is, ludicrous on its face.
Dave Chutter, MLA for Yale-Lillooet, attempted to buttress Reid's claim that passenger-rail was a money-loser, but his figures were much different than those from the minister. "The Cariboo Prospector [BC Rail's passenger service] has lost $4 million in each of the last three years," he exclaimed. "It has had a cumulative loss over the past five years of $21.66 million and has incurred an operating loss in every year since 1964."
(Those numbers are nowhere to be found in any of the company's annual reports.)
By the end of 2002, BC Rail's revenues had fallen to just $313.3 million, largely due to the discontinuation of numerous operations, such as the Whistler Northwind luxury tour train, the Pacific Starlight Dinner Train and the Cariboo Prospector passenger service. The company also sold assets and operations (Casco Terminals and Canadian Stevedoring) in the Marine Division, and quit Intermodal Trailer on Flatcar services.
Still, continuing operations showed an operating profit of $71.3 million -- a 103 per cent increase over the previous year.
That was wiped-out, however, by the decision to record a $140.2 million charge for "discontinued operations," which transformed the operating profit into a net loss of $84.2 million.
Campbell's unbelievable assertion
The BC Liberal disinformation campaign got seriously underway in February 2003, when Campbell appeared on province-wide television to make the unfounded assertion that BC Rail had cost provincial taxpayers a billion dollars in subsidies.
Days later, on February 25, when Reid rose in the legislature to participate in the budget debate, she reiterated the premier's unbelievable assertion. "BC Rail has cost taxpayers more than a billion dollars over the past 15 years," she sputtered.
The BC Liberal message-track went slightly off-the-rails at the beginning of April, when Pat Bell, then a back-bench MLA from Prince George North, engaged Reid in the House during her budget estimates. "I just wanted to say briefly that I have had some wonderful reports on the improvements of service by BC Rail, particularly in the last five or six months," he said.
"I've had a number of unsolicited phone calls from different shippers saying that things are actually going very well, and they're pleased with the progress that BC Rail has made."
Campbell got things going in the right direction the next day, April 2, resuming his campaign of distortion. "The facts on BC Rail are clear," he declared. "Over the last 15 years the taxpayers have subsidized BC Rail to the tune of $1 billion. The fact is that customers are leaving BC Rail."
Both of those assertions -- that BC Rail needed subsidies from provincial taxpayers, and that railway customers were abandoning the service -- were at odds with previous declarations by his own backbenchers.
Remember, a year earlier Walt Cobb had bemoaned the fact that BC Rail, instead of receiving subsidies, actually had paid sizeable dividends in the 1990s to the provincial treasury. And just one day prior to Campbell speaking to the House, Bell had stated that "different shippers" had telephoned him, not to say they were quitting BC Rail, but with compliments on the railway's improved operations.
'Who's telling the truth here?'
Yet the BC Liberals remained mute as Campbell continued his mischaracterization of BC Rail. Instead, it was New Democrat Joy MacPhail who confronted the premier with evidence of the railway's profitability.
"We learned from a memo obtained by the opposition that things are going so well for BC Rail that big bonuses are being handed out," she said during question period.
"The memo of this past month tells management: 'The 2002 net operating income for bonus purposes came in at an impressive $76.8 million.' Again, to the premier, why are bonuses being paid to BC Rail management for exemplary financial performance at a company the premier wants to privatize because he says it's a money-loser? Who's telling the truth here?"
Campbell responded by repeating his false claim that "BC Rail has been subsidized by the taxpayer of British Columbia to the tune of a billion dollars over the last three years."
(Note that earlier he had alleged that BC Rail's billion-dollar subsidy occurred over a 15-year period; now it was in just three years.)
Funny numbers, false explanations
Barely six weeks later, on May 13, 2003, Campbell declared that his government intended to privatize BC Rail. And six months after that, on November 25, it was announced that CN Rail would take-over the provincial Crown corporation's operations and rolling-stock.
Confronted by MacPhail in the legislature on November 26, Campbell offered a little more precision to his false claims of taxpayer hand-outs. Whereas earlier he had pegged those alleged subsidies at one billion dollars, he now claimed that "this province has had to write off $860 million over the last 15 years."
So, "subsidies" now were "write-offs," and their value had fallen from "a billion dollars" to the lower figure. But where did that $860 million come from?
BC Rail's write-off of the Dease Lake extension in 1989 came to $80.6 million, and the Tumbler Ridge write-off in 1999 was $616.6, for a total of $697.2 million. Was Campbell adding the special-charge for $13.0 million (the prepayment of environmental remediation) in 2000? If so, the total would be just $710.2 million.
Did he also include the $100 million special charge for restructuring in 2001? And maybe the $140.2 million lost from discontinued operations in 2002? If so, the "write-offs" would have totaled $914.4 million. What was the correct number? And, besides, did it matter?
Blaming the 'socialists'
In late November and early December, during second-reading debate on legislation to privatize BC Rail, BC Liberal cabinet ministers and backbenchers fell over themselves to denigrate the publicly-owned railway and distort the non-cash write-offs.
Shirley Bond declared that $857 million was the amount British Columbians "have paid to write down the debts of BC Rail over the past 15 years." Brian Kerr put the write-offs at $836 million. John Les said that "the $860 million worth of BC Rail debt that was written off will be paid for by our grandchildren for a long, long time to come."
Val Roddick went in a slightly different direction, blaming "these socialists" (the NDP) for write-downs of $800 million. Rick Thorpe tried to top her, saying, "It was those folks that sit over there who ran up debt of $860 million that had to be written off." (Recall that it was the Social Credit governments of W.A.C. and Bill Bennett that actually directed BC Rail to expend monies constructing the Dease Lake and Tumbler Ridge extensions in the early 1970s and early 1980s.)
The award for dumbest comment of all went to Rich Coleman, who somehow thought it would be neat to combine the Crown corporation's write-offs of $850 million with the company's debt of $500 million. "In my math, that's $1.3 billion in debt -- money that's got to come out of the pockets of B.C. taxpayers."
Sheeesh.
A rhetorical trainwreck
The bill to privatize BC Rail received royal assent on Dec. 2, 2003. Twenty-six days later, on December 28, police conducted a raid on the legislature, and specifically the office of David Basi, assistant to Finance Minister Gary Collins.
Currently, Basi and Bob Virk, a former assistant to Judith Reid, are on trial in B.C. Supreme Court on charges that include breach of trust and fraud in relation to the Campbell government's sale of BC Rail to CN.
It's unlikely the trial will determine if, as defence counsel McCullough has stated, Gordon Campbell and his BC Liberals deliberately attempted to drive BC Rail "into the ground" after breaking an election promise.
But as Hansard clearly shows, the evidence is that's exactly what the Campbell Liberals rhetorically attempted to do in the legislature.
As Martyn Brown said last week, it was absurd.