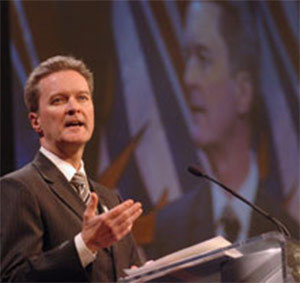 "The Initiative challenge is clear -- can HST opponents get organized enough in every single riding to obtain the magic 10 per cent of legitimate voter signatures? I say we can!" -- Bill Tieleman in The Tyee and 24 Hours, August 18, 2009
B.C. Liberal Finance Minister Colin Hansen is really mad at me.
But that's okay -- the rest of the province is furious with him for trying to impose the Harmonized Sales Tax on us!
Hansen went after me in the Legislature and on CKNW AM 980 last week, saying that with the Fight HST campaign, former premier Bill Vander Zalm and I were "misleading" people about what goods and services the HST's extra 7 per cent will apply to.
But I think the real reason is because I first suggested in this column last summer that a citizens' initiative was the best way to fight the HST -- an idea that has now caught on like wildfire.
Who's misleading?
Besides, who misled whom? This is the finance minister who never told voters before the 2009 election he would bring in an HST to transfer $2 billion a year in taxes from big business onto the backs of consumers. And whose party told the restaurant and development industry in writing it would not introduce an HST?
This finance minister claimed B.C. had a $495 million deficit before the election -- but a $2.8 billion deficit afterwards!
This finance minister said he hadn't considered the HST before the election -- but whose officials, according to documents obtained by Canadian Press through a Freedom of Information request, called the federal government about the HST just three days after the May 12 election!
And this same finance minister's government website has this "comprehensive" list of what the HST would apply to:
"Taxable -- Most goods and services are taxable, which means that HST is charged on the supply of those items. Examples: cars, clothing, furniture, haircuts."
Wow, four examples!
Small mistakes, big battle
I am so sorry that Fight HST -- a grassroots volunteer group without the vast resource of the government -- actually tried to tell British Columbians about the very long list of goods and services they'll have to pay an extra 7 per cent on as of July 1 and made a few small errors.
Fight HST has now pulled the entire page off the website and has challenged Hansen to produce an actual list of everything that will be subject to the HST -- from restaurant food to funeral services to airline tickets to gym memberships and on and on.
But Hansen won't do that, because the Fight HST Initiative has already gained the support of angry B.C. voters, with a new Angus Reid Public Opinion poll showing 81 per cent of respondents want to sign the petition.
It also says the B.C. Liberals have plummeted to just 29 per cent support, with the NDP at 47 per cent, Greens at 14 per cent and B.C. Conservatives at 5 per cent.
That poll also shows that a majority believe the B.C. Liberals are arrogant -- 64 per cent -- and dishonest -- 52 per cent.
Hansen and Premier Gordon Campbell should do the right thing -- withdraw the HST. But don't count on it.
How to join the fight
Meanwhile, please keep signing the petition by checking the Fight HST website regularly for new signing locations and be patient -- the demand is overwhelming.
And join my NO BC HST Facebook group, which now has over 133,000 members, for more information and debate!