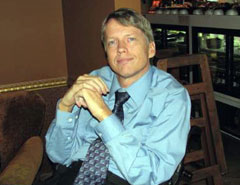 I like the fact that people underestimate me. You know, they pat me on the head and then I rip their throat out. --- Sam Sullivan
Is it remotely possible that Sam Sullivan, the most discredited Vancouver mayor in recent memory, someone rejected to run again in 2008 by his own party -- could be Canada's next Governor-General?
The Toronto Star thinks Sullivan is a front runner.
If so, heaven help us! Stephen Harper help us! Please don't replace the elegant and effective Michaëlle Jean with Sam Sullivan!
Sullivan was the most hapless mayor this city has seen in a long time -- and we've had some real doozies.
But to recap -- Sullivan was such damaged goods that by the end of his only term as mayor Non-Partisan Association members nominated then-councilor Peter Ladner to replace him as their 2008 election candidate.
Ladner launched his campaign to unseat Sullivan by saying: "Overall I feel the mayor has lost the confidence of voters...When I'm part of a team and I see the ship headed for the rocks, I feel an obligation to change course."
The NPA agreed and dispatched Sullivan.
So would the prime minister really appoint as Canada's head of state and commander-in-chief someone who couldn't even maintain the backing of his own party members and expect him to hold this country's confidence?
Then there's Sullivan's, shall we say, "colourful" record in office.
Helping a drug addict buy crack and bring it back to Sullivan's van to smoke so the then-city councillor could learn from the experience.
Allowing a four-month Vancouver civic workers strike to go on when every other municipality in the Lower Mainland easily settled their negotiations, leading it to be called "Sam's Strike."
Sullivan even said during the strike that resolving a dispute that took thousands of workers off the job and paralysed city operations was not his "top priority" as mayor!
To be fair, Sullivan has done some admirable work with disability issues -- which has won him the Order of Canada -- and is one reason why, along with being a westerner and having Conservative links, he may be considered. But even there controversies abound.
The Tyee discovered that five directors on the board of a non-profit society Sullivan formed didn't even know they had donated over $5,000 to the NPA.
The Nanitch Policy Society -- not a charity -- also funded some of Sullivan's efforts to defeat the ward system in a 2004 city referendum.
Sullivan refused to speak to The Tyee's Monte Paulsen at the time -- but two full years later penned a long "clarification" that does not refute the central points.
As to why Sullivan hadn't responded to interview requests or cleared up the controversy in two years, he wrote: "Hey, I was the mayor and I was busy."
All told -- and there are many more unanswered questions, such as who funded Sullivan's personal political war chest -- the one-term mayor is not the candidate Canadians want to see as governor-general.
He wasn't even the candidate his own party wanted to return as mayor.
Where can I sign the citizens inititiative petition started by Bill Vander Zalm against the Harmonized Sales Tax?
It's the biggest question I get -- so check www.FightHST.com for locations. Or come to St. James Community Centre at 3214 West 10th in Vancouver on Wednesday, April 14 at 7:30 p.m. to hear me and Surrey-Green Timbers MLA Sue Hammell on the HST and sign there.