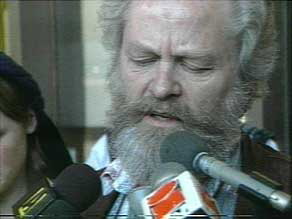 The police drama now unfolding in the rich natural gas fields of British Columbia has as much to say about the provocative nature of Wiebo Ludwig as it does about the corrupt state of the nation's extreme resource development. It also offers a perverse Canadian window into the state's overwrought preoccupation with terrorism, where underwear bombers and pipeline saboteurs seemingly erase civility faster than a Paris Hilton video. 
For nearly a year now, 250 members of the RCMP and the Integrated National Security Enforcement Teams (INSET) have been searching for the author or authors of six highly calculated yet minor bombings targeted solely against gas facilities owned by Encana, the continent's largest gas producer. Analysts of the industry called the bombings "a nuisance" and Encana proudly kept on drilling.  
Nevertheless, frustrated teams of red-faced policemen now have interrogated hundreds of rural Canadians as far afield as Rosebud and Vulcan, Alberta. They've barged into homes demanding DNA samples and fingerprints. In restaurants and coffee huts they've publicly accused businessmen and Cree living near Dawson Creek and Tomslake of being "domestic terrorists."
Any family that has expressed concern about the pace or regulation of industrial development has received more than two police visits. With visions of Encana's million-dollar reward dancing in their heads, industry snitches have informed on citizens -- in Tim Hortons no less. But by treating rural citizens like Taliban suspects, authorities have demonstrated a profound ignorance of the basic tenets of counter-insurgency: you can't catch a fish by unsettling the entire sea.  
King gas
This desperate investigation, in turn, reflects the political value of natural gas in British Columbia's economy. The province no longer runs on trees, but on natural gas dollars generated by unconventional shale gas plays that consume huge amounts of energy and water. In 2008 the highly subsidized industry accounted for 10 per cent of the province's revenue and exports. 
The boom has industrialized rural communities with relentless traffic, noise, and sour gas pollution in the form of hydrogen sulfide (H2S) -- a potent neurotoxin as deadly as cyanide. Just one rotten breathe can kill workers, livestock and birds. Sour gas wells not only lower property values but have generated bitter controversy throughout Alberta and British Columbia, including in Fort MacMurray where hourly H2S exceedences (438 last year alone) threaten the health of local workers.
In one five-year period, B.C.'s gas industry recorded 73 sour gas releases and as many as 24 incidents involving oil patch workers. Last November one EnCana sour gas release created a cloud 150 feet high. It killed several cattle and a horse. It also forced the evacuation of 15 rural residents from their homes. Unlike the bombings, this public security threat didn't make national headlines. 
The jocular saboteurs appear to be as brazen as a Monty Python skit. They want EnCana to cease operations and "install green energy" in the next five years. They say "the whole point" of the six minor and fully controlled explosions was "to let you know that you're indeed vulnerable."
Meeting the Olympic timetable 
Last September Wiebo Ludwig, the forceful Christian fundamentalist who waged war against industry more than a decade ago, wrote an open letter to the bombers. Ludwig hinted that he knew EnCana's attackers and shared their rage. But he suggested (wink, wink) that they give peace another chance. 
In a pre-emptive strike to spare the Olympics any unsightly controversies before the international media, the RCMP then fingered the notorious 68-year-old grandfather as their man last week but failed produce enough evidence for an extortion charge. The force then went on a grand fishing expedition on his farm.  
And what does this say about the rule of law in Canada? To generate revenue to pay for an international event, an urban-based government will install deadly sour gas wells near rural schools. When regulators become facilitators, bombers create violence which, in turn, only begets silence. Under Olympic deadlines and in the name of "public security" a sullied federal police will treat fellow Canadians like Afghan detainees. In this bizarre story a convicted felon and sarcastic preacher becomes a convenient fall guy for all sorts of bad behavior. 
All in all it remains an ugly spectacle of uncommon corruption and uncivil conduct befitting a third world nation.