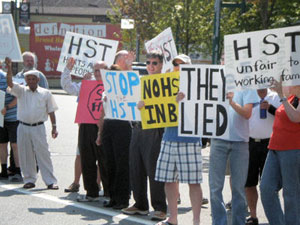 "I'll decide in my own sweet time." -- Federal Liberal leader Michael Ignatieff on whether his MPs will vote against Harmonized Sales Tax legislation
The best and fastest way to kill the Harmonized Sales Tax in both British Columbia and Ontario will happen as early as Wednesday in Parliament.
That's because Conservative Prime Minister Stephen Harper is scheduled to introduce legislation shortly to implement the hated new tax, leading to a vote that could take place this week.
So that's why I'm urging all readers who oppose the HST to not take their own sweet time but instead drop everything to join a brand new Facebook protest group I created on Sunday called "Defeat the HST in Parliament."
Go to www.facebook.com and search for it -- or go to links at my "No BC HST" Facebook group -- BC's largest at over 129,000 -- and join hundreds who have already signed up.
And then immediately contact your MP to tell them to vote down the 12 per cent HST that the B.C. Liberal government of Gordon Campbell wants to impose July 1, 2010.
Harper has already declared two important things about the legislation. First, that it will not be a confidence vote, so the government will not be defeated and an election called if the HST does not pass.
Second, Harper also says his party will not reintroduce HST legislation if it is defeated in Parliament -- meaning the HST is dead.
That's why it's critically important for the public, who polls show overwhelmingly oppose the HST, to tell their elected representatives to vote it into oblivion.
All three opposition parties needed
Conservative MPs are all expected to support the HST, so it will take the three opposition parties voting together to defeat the tax, which would add 7 per cent to a wide range of goods and services in B.C. and 8 per cent in Ontario on top of the current 5 per cent GST.
And all the new revenue would go to tax input credits for big business, not to public services.
Ignatieff previously called the HST the "Harper Sales Tax" and B.C. Liberal MPs like Ujjal Dosanjh have said they oppose it. Last week, Liberal MP Bob Rae was at least honest about that when asked for his party's position: "I'm not waffling. I'm skating." But just this morning Ignatieff announced that his party will support the HST and demand his Members of Parliament vote in favour of Conservative government legislation to impose the Harmonized Sales Tax in Ontario and BC. "We will support the legislation in Parliament," Ignatieff told reporters after an emergency caucus meeting about the HST. "Our party for 15 years has supported sales tax harmonization."*
The Bloc Quebecois first opposed and then said it would "probably" support the HST legislation. But no doubt the separatist party wants Harper to write a multi-billion dollar cheque to Quebec, which harmonized its tax in 1992, as the price for its votes. That should not be tolerated.
The federal New Democrats have repeatedly stated they will vote against the HST.
Labour and First Nations opposition to HST
Meanwhile in this province, two more powerful groups have stated their opposition to the HST -- the B.C. Federation of Labour and the Union of B.C. Indian Chiefs.
B.C. Fed president Jim Sinclair said last week in convention that: "We must reject in the strongest possible terms the HST. This tax is a disaster for everything we believe in. Our slogan is simple: No HST."
And Sinclair says the B.C. Fed may back efforts begun by former premier Bill Vander Zalm and supported by NDP leader Carole James to force an Initiative vote to oppose the HST.
"We must seriously consider mobilizing in 85 ridings to send this government a province-wide message: we do not want the HST," Sinclair told over 900 delegates on Nov. 23 in an almost unreported story.
And Sinclair said that: "As we meet today, a team of community activists and labour activists in Kamloops are organizing a petition drive to get 8,000 signatures demanding the Liberal MLAs vote against the HST and call a referendum."
Sinclair made clear the Federation was not "anti-tax," but said the HST will mean "more profits for the wealthiest and more pain for the poorest. No one penny of the money collected will go to services -- it is all going to corporations."
'They are brushing us off'
And UBCIC Grand Chief Stewart Phillip says in an equally unreported news release: "This tax will further marginalize and add hardship to First Nations families and communities while increasing the coffers of industry and government."
"First Nations families on and off-reserve already experience high poverty rates and will no doubt be greatly impacted by the proposed HST," Stewart said Nov. 26. "The UBCIC will work with like-minded organizations here in B.C., and will reach out to First Nation organizations such as the Union of Ontario Indians and the Assembly of First Nations."
Chief Keith Matthew, Simpcw First Nation and a member of the UBCIC's HST Committee added that the B.C. Liberal government was not consulting with aboriginal groups.
"They are brushing us off. First Nations strongly believe there is a need to have discussions based on prior and informed consent when the actions of government infringe on our Aboriginal and Treaty Rights," Matthew said.
"Taxation is one of those rights under Section 87 of the Indian Act. Any action that impacts these rights has to be discussed with our elected representatives prior to enacting this legislation. The honour of the Crown is at stake," he said.
So whether or not the HST is defeated in Parliament, recent events show that opposition is rapidly growing -- long before the regressive tax is close to being implemented.
*Story updated with new information at 11:30 a.m., Dec. 1, 2009.