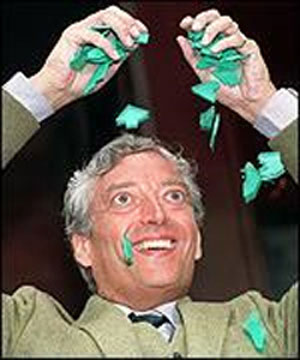 News flash! Climate change is not only a fraud and a hoax, but it is a sinister conspiracy of the "left" to create an unelected eco-dictatorship that spans the globe. Millions of the world's poorest will die, and civilization as we know it will perish unless we stop this plot before it is too late.
That remarkable message was delivered this week by the flamboyantly pompous Lord Christopher Walter, the Third Viscount Monckton of Brenchley, at a lunch time talk hosted by the Fraser Institute, and sponsored by the so-called "Friends" of Science.
I have long followed the media coverage of high-profile climate change deniers such as Lord Monckton and was guiltily anticipating seeing the performance in person. I was also hoping that by 2009 such fringe views were finally dropping out of the media and being seen as more hilarious than serious.
Not so. A startling poll was released this year showing that more Americans were skeptical of climate science now than at any time in the last eleven years. It is also reflected in Canada's continuing pathetic record on climate change -- an issue that has become political plutonium in a once proudly progressive nation.
Spinning us to our doom
At the very time that the normally staid scientific community is becoming increasingly frantic about what they know about climate change, the general public seems to be more misinformed and confused than ever before. Since political will flows directly from public opinion, this is not merely a curiosity, it is a catastrophe.
Quite simply, we are losing the battle for the future of planet because scientists and environmentalists are failing to win the messaging war. Watching Lord Monckton hold forth before a friendly crowd of more than 200, I realized more clearly how soundly the truth is seemingly being pummeled by a motley collection of audacious charlatans.
Let's start by pointing out that Lord Monckton is not a "lord" at all if by his title you assumed he is a member of the British Parliament's House of Lords. In fact, he received no votes in 2007 House of Lords Conservative Hereditary Peers' byelection. Then again, very little of what he said was true.
Calling reputable scientists 'liars'
Much of his talk ironically was devoted to labeling a legion of reputable scientists as "liars," a term he threw around with reckless generosity, apparently not remotely concerned with either liability or nuance.
"If the threat is real, why do those who advocate the global warming scare need to lie about it again and again and again?" asked Monckton.
He ran through a series of slides which in succession accused Al Gore, the IPCC, the scientific community and several prominent researchers of being liars, fraudsters and, worst of all: "bed-wetters."
Among his high profile targets:
Sir John Houghton, co-chair of the Intergovernmental Panel on Climate Change (IPCC), lead author of three IPCC assessments, and a "liar."
Dr. Stephen Schneider, author of over 450 peer-reviewed scientific papers, mostly related to climate science. According to Monckton: both a liar and "bed-wetter."
Former U.S. Vice President Al Gore is, declared Monckton, a liar about sea level rise, the hockey stick graph, polar bears, Mt. Kilimanjaro, and apparently almost everything else in his film.
"They're testing us all the time with new lies to see whether we simply swallow them or not. And if we swallow them, they go onto the next one," Monckton taunted.
Monckton's claims prove worthless
It is interesting to take a closer look at some of the bold claims Monckton makes to the chuckling crowd about the "sheer depth and elaboration with which these lies are told."
For instance, he disparages Gore for the "polar bear lie" in An Inconvenient Truth, in which Gore claims that "a scientific study shows for the first time they're finding polar bears that are drowned swimming long distances up to 60 miles to find the ice."
Like a TV detective solving the crime, Monckton announces: "Here is study that he was referring to, Monnett and Gleason, 2006 and it does show four dead polar bears. And why did they die? Does it say anything in the paper about global warming? No, not a word. . ."
I took the trouble to look up that paper, and here is what the authors say verbatim: "We speculate that mortalities due to offshore swimming during late-ice (or mild ice) years may be an important and unaccounted source of natural mortality given energetic demands placed on individual bears engaged in long-distance swimming. We further suggest that drowning-related deaths of polar bears may increase in the future if the observed trend of regression of pack ice and/or longer open water periods continues."
Monckton went on to brag that he had "checked a bit further to find out whether in fact the sea ice extent in the Beaufort Sea. . . has diminished for the last thirty years and. . . in fact it has increased very slightly if anything. . . So there was no basis whatsoever for Gore's lie."
True? Not quite, according to this image from the Nation Snow and Ice Data Center.
An article in Nature published just last week said: "Arctic sea ice has declined slightly less dramatically this year than in the past couple of years. But the seasonal minimum, reached this week, is still the third-lowest on record since satellite radar measurements began in 1979, reinforcing a marked 30-year downward trend in summertime ice extent."
You get the idea. People like Monckton don't have to tell the truth, the public just has to keep listening to them. A decent deceit, told with wit and conviction, seemingly trumps the truth most days in the arena of public opinion.
Fraserite feeding frenzy
After 90 minutes, Monckton intimated the real reason that global warming lies were being shoved down our collective throats by the "left." He claimed to have in his briefcase a copy of the draft Copenhagen agreement that may be signed this December that will result in nothing less than a world government of unelected eco-bureaucrats, a green global dictatorship that will happen "unless you stop them."
It was an impressive performance and the friendly crowd ate it up. I am sure many of the fired-up faithful responded with fat cheques to the Fraser Institute, The Friends of Science and Stephen Harper. Monckton took no verbal questions from the floor and was whisked away for pre-arranged media interviews by the slick staffers at the Fraser Institute.
Admittedly, some of the local press coverage of the event was scathing, but it did leave me wondering about how effectively the so-called agents of truth are fairing in comparison.
Fight back with facts, or lose
Later that day, I went to an eco-gathering of earnest and well-meaning people attending a climate film premier. Aside from the obvious political whiplash, I was most struck by the pervasive petty infighting within the room. Many people seemed fixated more on nitpicking their allies than outwardly raging at the smiling shysters winning the messaging war.
Likewise, the scientific community seems to ignore the likes of Monckton, leaving the field wide open for him to say whatever he wants, and boldly claim that no one wants to debate him because they are scared of him. It is like watching your big brother in high school get his ass kicked by a nine-year-old.
If we can't even get beyond our sanctimony to dialogue effectively within peer group, what hope do we have to effectively reach out to those we have less in common with? Unless the "left" can realize quickly that the real battle for public opinion is being waged, and lost, outside our own small political bubble, I fear the planet is in big trouble.