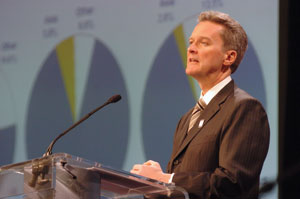 "One man's expenditure is another man's income."
So wrote John Maynard Keynes in May 1932. The world was in the depths of the Great Depression. Millions of people had lost their jobs and were unemployed, thousands of businesses had shuttered their doors, and governments in every jurisdiction were slashing expenditures, vainly attempting to balance their budgets.
Astutely, Keynes -- an English economist (who last year was named one of Time magazine's 100 Most Important People of the 20th Century) -- observed that the downturn had exposed "the disharmony of general and particular interest."
That is, while countless families and companies found it in their own "particular interest" to slash spending -- and often they had no choice in the matter -- the inevitable result of such action on the wider scale was a severe decline in overall economic activity, and considerable harm to society's "general interest."
"An individual may be forced by his private circumstances to curtail his normal expenditure, and no one can blame him," Keynes wrote. "But let no one suppose that he is performing a public duty in behaving in such a way."
It seems perverse but it is true: society as a whole may suffer when individuals and businesses make common-sense decisions regarding their own personal or company finances.
Keynes is common sense nowadays
Yet, Keynes saw a way out of the economic morass in which the world found itself in the 1930s. It required the public-sector -- governments -- to borrow and spend vast sums of money to offset the private sector's reduced outlays. After all, governments borrowed and spent freely in times of war; why not do the same in peace time to combat an economic collapse?
Largely ignored by politicians 77 years ago -- the Great Depression came to an end only with massive government borrowing to finance the Second World War -- Keynes's economic nostrums became received wisdom in the post-war period among economists, policy-makers and office-holders.
Indeed, the phrase, "We're all Keynesians now," has been attributed to both Milton Friedman (in 1965) and Richard Nixon (in 1971), neither of whom could be described as a fan of 'big government.'
And last year, as the global recession of 2008 provided an economic shock described by many as the worst since the Great Depression, the International Monetary Fund recommended that countries should provide fiscal stimulus equal to two percent of domestic GDP.
Most industrialized nations have done so, including Canada, where the federal government's most recent budget unveiled deficits of $33.7 billion and $29.8 billion in 2009/10 and 2010/11 respectively, to help the country avoid the worst effects of the global downturn.
Those budgetary shortfalls, explained Stephen Harper's Conservative government, represented "a strong consensus among Canadians that the Government must deliver a potent economic stimulus to encourage growth and restore confidence in our economy."
A lot to defend
And so, with Keynes in mind, let us turn to British Columbia, and the revised 2009/10 budget introduced today by B.C. Liberal finance minister Colin Hansen.
The lead-up to the budget saw a series of news leaks that were disquieting, to say the least. Funding for public libraries has been dramatically cut, and regional literacy coordinators terminated.
The Premier's Excellence Awards, which each year provided about $240,000 in scholarship funds to deserving high school students, have been abolished. So, too, has the Livesmart BC energy conservation program.
And B.C.'s six health authorities, facing shortfalls of about $360 million in provincial funding, have responded by slashing a variety of services. The Fraser Health Authority, for one, will eliminate as many as 9,000 elective surgeries.
How would Hansen, who just two years ago voted to give himself and other legislators a massive pay hike -- and who, personally, got a 27 percent raise of over $33,000 annually -- defend slashing government expenditures in a time of economic recession?
Killing incomes
"Cutting funding is never easy," the finance minister said today, "but... we can never afford to do everything we want."
Of course. As a consequence, discretionary grants to organizations and agencies doing a variety of work in B.C. communities, already chopped by $58 million in last February's budget, were further whacked today by another $296 million. And professional services to the government, which endured a $177 million reduction six months ago, lost a further $48 million.
All told, Hansen's September update shows that administrative and discretionary expenditures will be $650 million lower this year, compared to the preceding fiscal period.
And that's not all. Where in February Hansen sought to find a total of $1.87 billion in 'savings' over a three-year period (between the current fiscal year and 2011/12), he now wants to slash an additional $1.5 billion in the same areas over the same time-frame.
The new, improved three-year total of spending reductions to grants and administration: $3.367 billion.
To be sure, some of those "savings" already have been re-allocated toward unexpected cost pressures, such as forest-fire fighting and "sustaining social services." But, still, the net reduction in expenditure is expected to total over $2 billion in just three years.
As Keynes said, one man's expenditure -- in this case, Hansen's (actually, the government's) -- is another man's income. And with those expenditures dramatically slashed, how many incomes in community literacy programs, public libraries, health care or any number of areas that rely on provincial funding, have been lost?
Jobless numbers almost doubled
Interestingly, the reams of fiscal and budgetary materials released today failed to acknowledge the growing number of British Columbians who have lost their jobs in recent months. But according to B.C. Stats, from July 2008 to July 2009, the ranks of the unemployed nearly doubled, growing from 119,000 to an even 200,000.
And while the rate of job losses has slowed slightly in recent weeks, even the Campbell government expects unemployment to continue to rise, up to 8.3 percent of the total labour force in 2010.
It's somewhat surprising, therefore, that Hansen today said he intends to add to the unemployment rolls by downsizing the public service. According to his fiscal plan, where the number of FTEs (full-time equivalent employees) currently stands at 31,874, by 2011/12 it will have been trimmed by more than a thousand positions, to 30,791.
Of course, those numbers do not include the hundreds, and probably thousands, of workers across the public-sector who already have lost, or soon will lose, their jobs as a result of cuts to provincial grant programs.
Squeezing more money out of the public
And that's not all. In addition to cutting expenditures and putting people out of work, the Campbell government's revised fiscal plan for 2009/10 outlines several measures by which Victoria will squeeze ever more money out of beleaguered British Columbians.
Beginning next January, Medical Service Plan premiums will be boosted by six percent annually, so as to provide Victoria with an extra $300-400 million over the next three years.
The new Harmonized Sales Tax will have an admittedly deleterious impact on B.C. consumers, but, strangely, the government —- which boasts that businesses will 'save' at least $1.9 billion annually —- does not know (or refuses to disclose) either the annual cost to the average British Columbian, or the yearly aggregate cost to all of us.
However, today's fiscal plan (on page 98) openly admits that the HST, which comes into effect on July 1, 2010, "will likely cause a slight increase in the inflation rate in the second half of 2010 and the first half of 2011."
The HST, in other words, will spark an immediate rise in consumer prices.
Finally, B.C.'s Crown corporations are taking an ever-increasing amount of money out of provincial residents' pockets. (Remember, under GAAP —- generally accepted accounting principles -— Crown corp profits flow directly to Victoria's bottom-line and help the government to 'balance' its books.)
ICBC, which last year had a profit of $512 million, this year will have net income totalling $407 million. BC Hydro's profits are expected to climb from $366 million to $452 over the same two-year period. And the BC Lottery Corporation is expected to contribute $1.1 billion-plus annually to the provincial treasury.
Some praiseworthy policies
To be fair, Hansen's latest fiscal plan also contains praise-worthy measures to boost the provincial economy. One is an increase in the personal income tax credit (at a cost to Victoria of $173 million in a full-fiscal year), and another is a hike in the small business corporate income tax rate threshold (at a full-year cost of $20 million).
Plus, capital spending on infrastructure is booming: Victoria's expenditures in the current fiscal period, originally pegged at $6.9 billion in February, have been hiked to $7.4 billion. (Although, under GAAP, just a fraction of capital outlays are counted toward the annual budgetary surplus or deficit.)
But this only contributes to the mystifying nature of Hansen's fiscal update. The Campbell government clearly understands that fiscal and economic stimulus is a good and necessary thing during the current economic downturn. And, yet, the BC Liberals also appear to have a perverse obsession about cutting government spending -— no matter the cost to British Columbia's "general interest."
Moreover, it's not as if British Columbia's public-spending is out of control. Indeed, from 1991/92 to 2007/08, Victoria's annual outlays as a percentage of gross domestic product have fallen from 20.9 percent to just 15.9 percent.
(And far from being a "fiscal tsunami" that threatens to overwhelm all other provincial spending, health expenditures have remained relatively constant over the past three decades.)
In a word, today's fiscal plan is bizarre, as the government (metaphorically speaking) seems to be jamming down its feet on both the brake-pedal and the accelerator —- simultaneously.
Hansen a 'deadhead'?
"I predict," wrote Lord Keynes in 1932, "that the only way out [of the economic depression] is for us to discover some object which is admitted even by the deadheads to be a legitimate excuse for largely increasing the expenditure of someone on something!"
He added: "The voices which -- in such a conjuncture -- tell us that the path of escape is to be found in strict economy and in refraining, wherever possible, from utilizing the world's potential production are the voices of fools and madmen."
Are the BC Liberals 'deadheads,' 'fools' or 'madmen'? Keynes' words seem harsh, but how else to explain the Campbell government's spending cuts at the depth of an economic downturn?
Sooner or later, British Columbia will exit the current recession, but who knows how much faster the recovery would have occurred had Gordon Campbell and Colin Hansen acknowledged the simple wisdom of Keynes's observation three-quarters of a century ago: One man's expenditure, indeed, is another man's income.