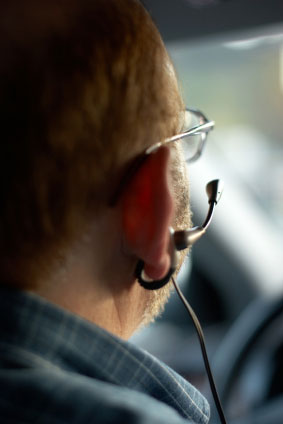 "Cell phones are a distraction. But so is coffee, screaming children, adults quarrelling, and reading the newspaper. Are you going to ban them as well?" -- Former Canada Safety Council President Emile Thérien
Has the B.C. Liberal government gone completely mad?
Has the summer heat melted their marbles?
Because Premier Gordon Campbell and crew seem to have lost their senses.
First it was the outrageously unfair Harmonized Sales Tax suddenly announced last month without consultation and after the B.C. Liberals expressly rejected the idea of putting a new 7 per cent tax on most goods and services currently exempt from the Provincial Sales Tax.
And a hearty thanks to 24 hours readers, Tyee readers and others who have already joined my Facebook protest group NO BC HST -- more than 19,000 people signed up in less than six days! More on the HST in future columns.
Then on the Friday afternoon of a long weekend the government announced it was cancelling the program that has loaned nearly $700 million to leaky condo owners, helping them pay billions in repairs and saving them from losing their homes. Housing Minister Rich Coleman gave anyone who still needed a loan a generous two hours to apply or forget it.
Bigger worries for cops
But there's something else that's got me steamed up. Solicitor General Kash Heed is considering banning cell phone use in our cars.
B.C.'s Top Cop is worried using a cell phone in your vehicle is too dangerous and should be outlawed -- and he's given us until only August 7 to tell him what we think.
Here's my response. Get your hands off my hands-free car cell phone!
In case you haven't noticed, Kash, there's a bloody gang war going on, sex trade workers are being murdered, drunk drivers and street racers are killing people, and your priority is to take away my cell phone?
Wake up! We don't need more laws telling us what to do -- we have more than enough already!
If I crash my car because I was distracted by my cell phone -- and I always use my hands-free car kit -- then charge me with existing laws -- driving with undue care and attention or dangerous driving.
But no, Kash may make it a crime to use your cell phone when driving. Like that law will be obeyed. Seen any bicyclists without helmets lately? Ha.
The true risks
So here's an idea, Kash. While you're at it, why not ban all these in our cars: drivers arguing with their partners; screaming kids; drinking hot coffee; dogs; transporting Little League teams; playing AC/DC's Highway To Hell at maximum volume; smoking a cigar -- ban anything that could possibly distract a driver!
Kash, take a look at the University of North Carolina Highway Safety Research study that analysed five years of highway accident data.
It discovered that "the most frequently reported sources of distraction for drivers involved in tow-away accidents were outside persons, objects or events (29.4 per cent), followed by adjusting the radio, CD or cassette (11.4 per cent), and then by other occupants in the vehicle (10.9 per cent). Using a cell phone ranked far down their list with a frequency of 1.5 per cent."
The truth is, Kash, that life is unsafe -- and what's worse, it always results in death!
And if living a long life is your big concern, you should also ban being fat, drinking anything but light beer, not exercising daily, eating red meat, watching too much TV and putting cream and sugar in your coffee! No more double-doubles, British Columbia!
But until then, keep your hands off my hand-free cell phone!
Common sense, please
I agree that drivers should use either a hands-free car kit or a Bluetooth headset if they want to drive and talk on a cell phone. I agree that texting while driving is a dangerous activity. I agree that restrictions on new drivers should include using cell phones while on the road.
And there are definitely times when any use of a cell phone while driving is just too distracting.
But can we really just legislate compulsory common sense? I think not.
Fortunately, until Friday you can tell Kash what to do right here.