Early last month on the northern tip of Vancouver Island, George Burroughs checked his phone, looking to see if he would be able to get his 32-foot boat in the water. With winter storms brewing, accurate weather information would be critical for marine travel.
In the winter months, a combination of high winds and choppy seas makes for treacherous travel in the Queen Charlotte Sound, which runs from northern Vancouver Island to Haida Gwaii.
Since there are no islands to shelter boats or planes, this stretch of ocean is particularly vulnerable to strong winds — which have sometimes reached up to 130 km/h.
For years though, unreliable weather tracking stations have added an extra layer of difficulty for travel in the region.
Burroughs knows the waters off the northern coast of Vancouver Island can be unpredictable. The 66-year-old has lived in Port Hardy for his whole life.
His dad was a fisher, and he was one for years, too. But in 2007, he started Cape Scott Water Taxi, a year-round boat service that provides transportation to tourists in the summer and industry workers — road builders, engineers, loggers — in the winter on the central coast.
While Prince Rupert and Bella Coola are accessible via car, other communities on the central coast can be tricky to reach. Workers and tourists travelling to remote spots like Rivers Inlet or Klemtu — communities nestled in between inlets and narrow coastal mountains — must charter a flight, take a connector ferry through BC Ferries, or find a private water taxi service.
The lack of travel options places greater emphasis on operators of private companies, like Burroughs, to provide safe travel to workers on the central coast.
Last month, after seeing a warning on the Government of Canada's website that winds in the area would be in excess of 45 knots (roughly 83 km/h), Burroughs made the decision to stay off the water.
However, when the wind is milder, he relies on weather stations to tell him whether it's safe to travel for the day.
"It's the borderline days [when] we really need to fine-tune that information [on the weather]," Burroughs said, explaining that it's easier to make a safety call on extreme weather days than on days when it feels like things could go either way. "On the days when I'm uncertain, I would have more certainty if I had more information."
In 2014, Burroughs first sounded the alarm about a faulty offshore weather buoy in Queen Charlotte Sound.
While the issue was resolved, Burroughs says that now there are two faulty land-based weather tracking systems outside of Port Hardy. The stations, located on Herbert Island and Sartine Island (which is off the coast of Cape Scott Provincial Park), have been down for prolonged periods of time.
"Herbert Island is roughly 10 miles from Port Hardy in the middle of the Queen Charlotte Strait. It's the only automated station, basically on the water, in front of Port Hardy," Burroughs said.
Weather stations are made up of sensors and tools that measure atmospheric conditions including wind speed, visibility and air pressure. In remote communities, such as ones along the central coast, stations are more spread out. If one goes down, it can leave significant gaps in weather knowledge for mariners like Burroughs who rely on the information to ensure safe travels.
In total, there are 11 offshore weather stations in B.C. and more on land — mainly concentrated on the south coast. They are managed by Environment and Climate Change Canada.
A weather station on Herbert Island, which has been out of commission since September, normally provides updates on the weather off the coast of Port Hardy.
Another weather station on Sartine Island, which is 33 kilometres west of Cape Scott and about 100 kilometres west of Port Hardy, predicts what weather is coming.
It has been down since 2019.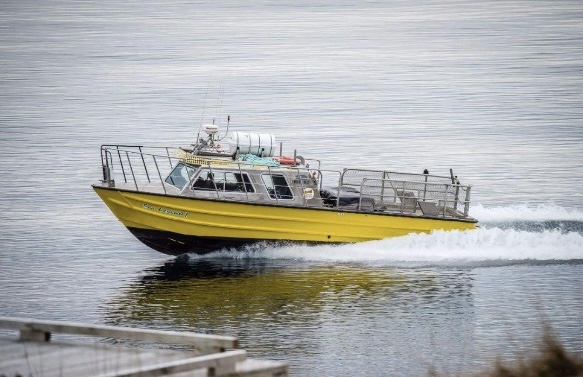 On a day when six weather stations didn't report, three died
Offshore and land weather stations play two distinct roles.
Offshore buoys alert mariners about the state of the water, particularly the height of the waves, barometric pressure and what storm systems may be on the horizon. Land stations, meanwhile, provide hourly updates on the current state of the weather.
"The Queen Charlotte Sound is the longest open, unprotected stretch of water on the west coast," Burroughs said. "So we rely on those offshore buoys… [and] the automated weather stations."
Before trips, Burroughs always consults government websites for forecasts. But in recent years, he has also used Windy.com, a website that tracks wind and weather conditions across the world. However, its forecasts are not as in-depth as the government stations.
"It's very general, compared to Sartine Island when it's working," Burroughs said.
Burroughs isn't the only one sounding the alarm about the unreliable weather stations on B.C.'s central coast.
Joel Eilertsen, owner of Air Cab, a Coal Harbour-based float plane company, has been advocating with the federal government to fix downed weather stations including Sartine Island for years.
Weather conditions play a major factor in Eilertsen's ability to transport industry workers to remote corners of the central coast and assist in emergency situations. Depending on the time of year, Eilertsen will have two to four flights per day that transports up to 25 passengers.
In November, one of Air Cab's float planes crashed in Strachan Bay, which is on the mainland about 50 kilometres outside of Port Hardy. The crash claimed the lives of three people who were flying to Port Hardy from a logging company in the central coast.
In a statement, Rachel Blaney, NDP MP for the North Island and Powell River, called out the minister of transport and the minister of environment and climate change for answers on why weather tracking was an issue in the region.
With winds reaching between 15 and 20 knots (about 30 km/h), Eilertsen said that there were six weather stations not reporting on the day of the crash. One faulty station was on a buoy, East Dellwood, while the remaining five were on land: Estevan Point, Herbert Island, Sartine Island, Bella Bella Airport and Cape St. James.
In an emailed response to The Tyee, Environment and Climate Change Canada declined to comment on the incident as it's part of an ongoing investigation by the Transportation Safety Board.
The Transportation Safety Board, an independent agency that investigates safety deficiencies in air, marine, pipeline and rail sectors, also declined to speak on their investigation.
Transport Canada, a federal agency that oversees transportation policies and programs, had this to say about the crash: "The Transportation Safety Board is still investigating the Nov. 23, 2022, float plane crash. The TSB may or may not have recommendations or findings regarding the crash once the investigation is completed. Transport Canada would then investigate and decide whether to take action based on its findings."
'It's a matter of getting the fine details'
The weather in B.C. is infamously hard to predict. Winds from the west, called westerlies, blow off the Pacific Ocean and control the weather that comes to B.C.
Typically, weather data is collected through stations and satellites and then put into models that predict the weather. In the middle of the continent, for comparison, there are a plethora of land stations and airplanes that criss-cross past one another and provide their own weather information.
Throughout the Pacific Ocean, however, there aren't as many weather stations, satellites or airplane traffic giving researchers the information they need to make accurate predictions.
The ocean is vast and the offshore weather buoys that do collect data are few and far between, says Rosie Howard, an associate director at the department of Earth, Ocean and Atmospheric Sciences at the University of British Columbia.
"When we don't know if there's data missing in certain areas, then basically the initial guess of our models is not accurate," Howard said. "That can lead to big errors down the line."
For two years after high school, David Atkinson went to flight school in Sault Ste. Marie, Ontario. Atkinson, now the chair of the University of Victoria's geography department, says weather is a crucial factor in the flight planning process.
While the size of an aircraft will determine the impact of the weather, pilots rely on weather observations such as cloud type and cloud cover to have a safe flight.
"You'll sit down and say, 'Where am I going? What's my route?' You start mapping that out and then you say, 'What's the weather? What are the stations along the route?'" Atkinson said.
He agrees that the dearth of weather observations in the Pacific Ocean make it more difficult to predict weather patterns in B.C. To make matters more confusing, the province's topography can alter the weather between many communities.
Since Port Hardy is located on the east side of Vancouver Island, Atkinson estimates that it would get less precipitation and cloud cover than a place like Strachan Bay, which is on the mainland.
But without more weather stations, it's hard to know if assumptions like those are always correct.
"The models will get the big storms," Atkinson said. "But it's a matter of getting the fine details correct in the models, such as what's the difference between Port Hardy and a place like Strachan Bay — the model might not be as accurate at the very tiny detail."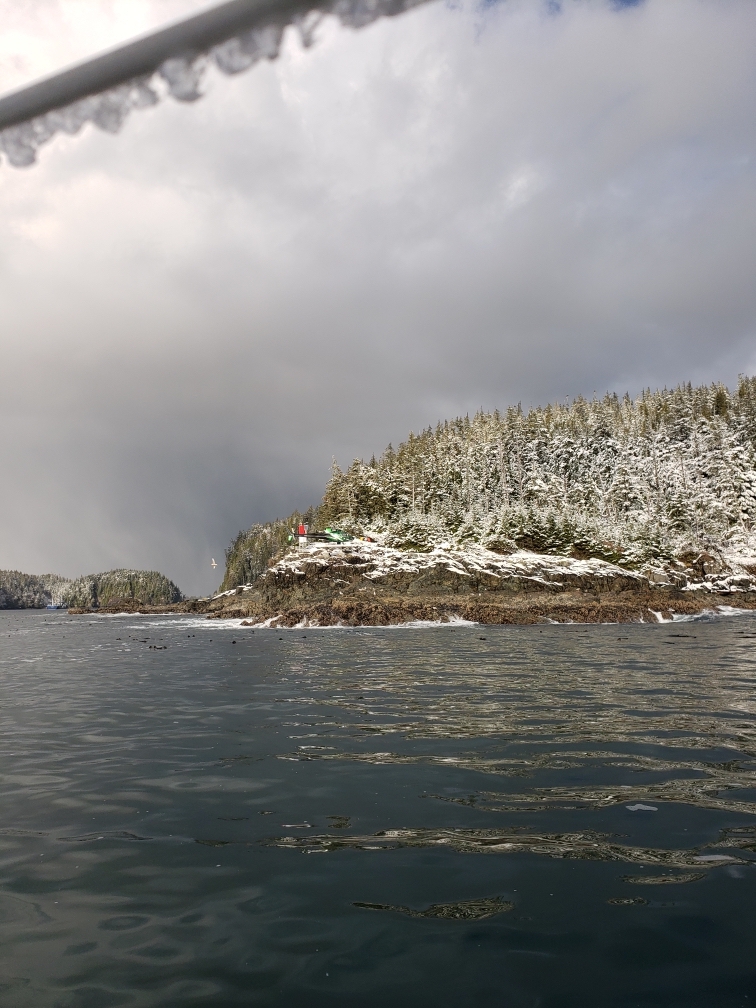 Relying on webcams
With a lack of live data, air and sea travellers are forced to rely on webcams from private companies — including Hakai and the Knight Inlet Lodge in Black Creek — to gauge the weather forecast.
Larry Langford, owner of Vancouver Island Air, told The Tyee in an email that weather webcams play a major role in their travel planning. Based in Campbell River, Vancouver Island Air offers service from Bella Bella to Victoria and Vancouver.
Over 20 years ago, Vancouver Island Air set up their own weather cameras in Tyee Spit and Strathcona Park on the Island, and on Knight Inlet on the mainland.
Langford is an advocate for more to be installed in the region.
"We encourage all our customers to install webcams at their locations, providing up-to-the-minute conditions," Lanford said. "There is substantially more weather information available today than when I first started flying the coast 50 years ago."
While Burroughs agrees that webcams have been a huge boon, he says that pilots and boaters shouldn't have to rely on private companies to set up webcams.
He would like cameras installed on places along the Queen Charlotte Sound where there are already land weather stations in place.
"Our government should be putting real-time weather data, not only on Herbert Island, but possibly Pine Island, Egg Island, Cape Caution," he said. "That, I believe, is a must."
Filling the coastal data gap
Since 2017, a Victoria-based marine technology company has been working to address Canada's coastal data gap.
Scott Beatty, founder and CEO of MarineLabs, and his team manufacture devices that attach to existing offshore navigational aids and provide live weather data.
MarineLabs currently has 35 devices deployed in the Atlantic and Pacific Oceans.
"It provides real-time directional wind and wave data," Beatty said. "We're talking updates every 15 minutes. It tells the wind direction, speed, air temperature, and then wave direction, size and period."
With Canada's coastline extending over 243,000 kilometres, Beatty said there aren't enough offshore buoys to track weather on the coast across the entire country. If a buoy or land station goes down in a remote area, it heightens the risk for travellers.
"It leaves a big void and then there is some more gambling that has to happen," Beatty said. "Potentially, whoever's making the operational decision might be relying on a publicly available model that is not necessarily valid."
Moving forward, Beatty has ambitions to have over 100 devices in the ocean within a year. While they have one attached to a buoy near Prince Rupert, he is also looking to expand their presence on northern Vancouver Island.
"There's a lot of interest in data both on the west and east coast of the North Island," Beatty said.
Back at UBC, Howard is a proponent of gaining more data on the Pacific Ocean. However, her research team is supported by funding for specific projects that ultimately limit their capacity to conduct more ocean research.
To overcome the data gap, they use reports from weather stations in the mountains to predict what conditions may be coming.
"This is a process called bias correction. Using statistics, we can understand patterns in errors and why they're occurring based on [factors like] differences in terrain height."
Anyone home?
Following the November 2021 floods in the Fraser Valley, the provincial government reached out to local communities and Indigenous groups to help remove debris along major river systems.
The system created jobs for nearly 500 people, and George Burroughs believes that a similar initiative could restore the downed stations in Port Hardy.
"Why can't we do that with these automated weather stations on the coast?" he asked.
On a calm day, he says, a helicopter or water taxi could install the technology and get the automated weather stations up and running with the help of a local electrician.
"[We've] got good electricians and good tech people in all of these coastal communities," he said. "For Herbert Island to be down for the last three months, an automated station, is absolutely ridiculous."
But the University of Victoria's David Atkinson isn't sure that solution would work.
Having taught at the University of Alaska Fairbanks for six years before moving to UVic, he worked closely with weather service teams in the U.S. and Canada. If the government's weather stations are similar to the ones he saw while in Alaska, Atkinson said it would take a lot of training to fix.
"As part of my weather course [at UVic], we teach students just the tip of the iceberg about how to use those systems," he said. "But a group like Environment Canada, they would have an entire course of study for their techs."
In the meantime, Burroughs is pleased with the maintenance on the offshore buoys since he first raised the issue of faulty weather stations in 2014. Now he wants the stations on Herbert and Sartine Island to be fixed as soon as possible.
While Windy.com and weather webcams are helpful sources of information, the land stations give him a complete picture of the weather that makes him feel comfortable on the water.
"If we're unsure of the weather, based on the information we see, we just stay at the dock," Burroughs said.
"If I'm not sure if I can make it home or to the destination at least, I don't untie the boat."
Although Air Cab's Joel Eilertsen is confident in his pilot's knowledge of the area, he said it can feel like you're flying blind if you don't know the weather conditions. As many communities on the central coast are already hard to access, he hesitates to call trips off due to the weather or if there's a lack of information.
"If a pilot can't make it back home, they'll stay at their destination, like a logging camp," Eilertsen said. "[But], customers have to get home, husbands have to get back from camp."
In December, Eilertsen was told by ECCC that they have attempted to fix the station on Sartine Island four times since April 2021. However, each trip was disrupted by poor weather. Similarly on Herbert Island, unsafe winter weather conditions are also preventing crews from accessing the station.
ECCC crews are hoping to reach and fix the stations in early 2023.
But Eilertsen believes the stations could have been fixed sooner, especially Herbert Island. Given its proximity to Port Hardy, and the unseasonably warm weather that gripped most of the province during the fall, he finds it hard to find an excuse.
"We also had three months of absolutely perfect weather," Eilertsen said.
"Every week, the coast guard goes to the Pine Island and Scarlett Point [lighthouses], and they're only five miles away from Herbert Island."