Unlike other seniors, Ms. Pang didn't get her first dose of a COVID-19 vaccine in the spring. A native Cantonese speaker, she was nervous about placing the call to book an appointment and having to speak English.
Just a few days ago, her brother heard of volunteers in Vancouver offering to help seniors book their vaccines in Cantonese, Mandarin and Vietnamese.
"As soon as he gave me their number, I made the call," said Pang. To her relief, a Cantonese-speaking volunteer picked up and helped her make an appointment for a special clinic at Strathcona Community Centre this week. (Interviews with vaccine recipients were conducted in Cantonese and translated.)
The volunteer told her that there would be multilingual assistance at the vaccination site too.
"We seniors need this," said Pang. "Even if we have family who can translate for us, what if they're not free to go to the appointment with us?"
Pang was one of hundreds of seniors who used the clinic at Strathcona, an inner city Vancouver neighbourhood located next to Chinatown. During the busiest times, a long line of seniors stretched down the block, with some people clutching their BC Services Cards or leaning on wheeled walkers for support. At tables set up outside the community centre, young volunteers armed with clipboards worked to get everyone registered, answering questions in the three Asian languages prominent in the area.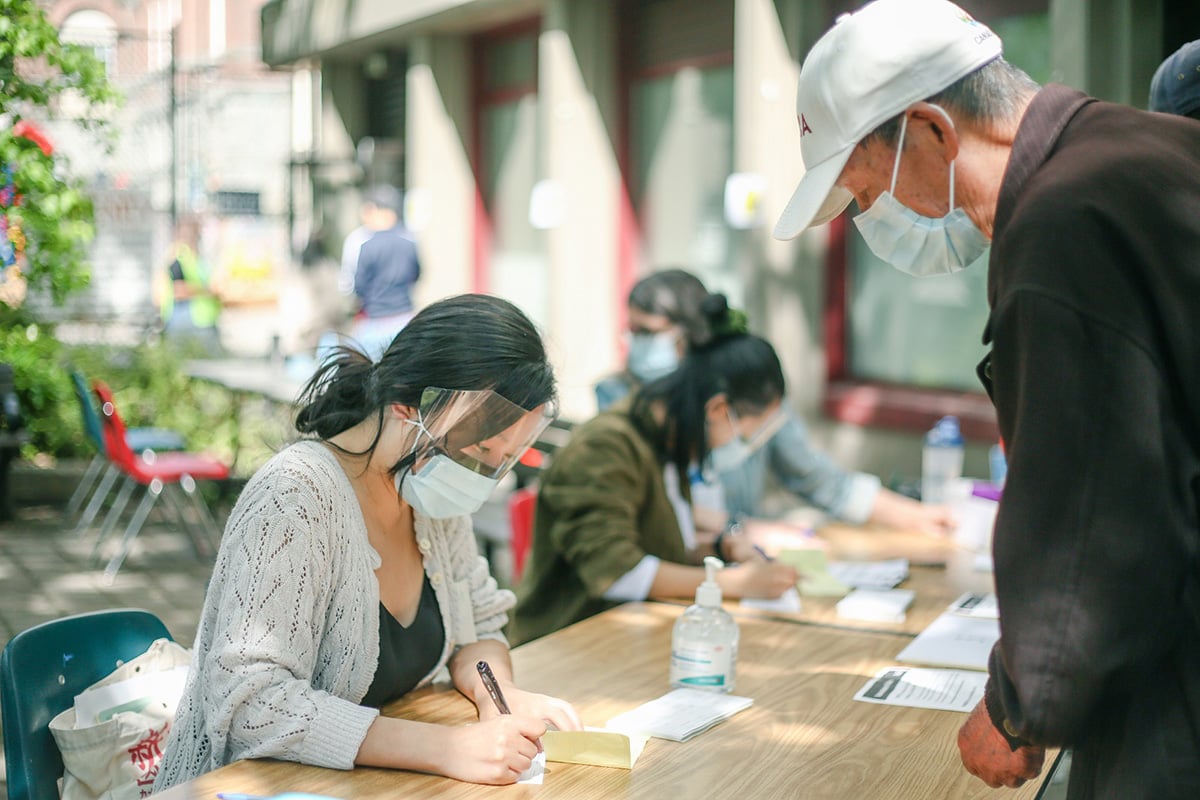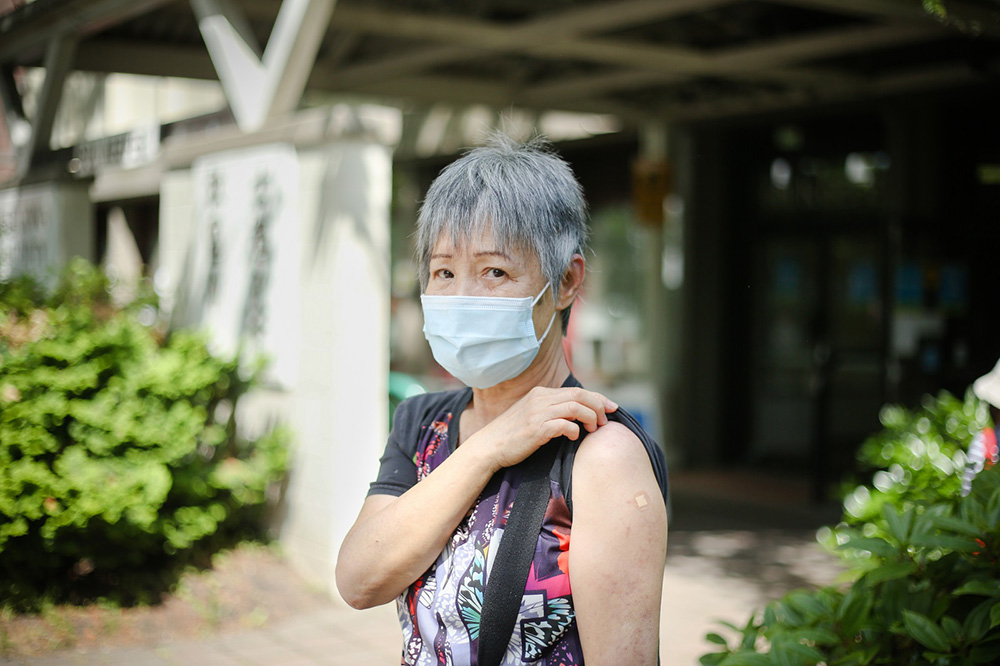 When the province first opened its vaccine booking line, the welcome message was only in English. Options for other languages have since been included, but there may not be translators at vaccination sites themselves.
The special neighbourhood clinics fill a gap that wouldn't have been addressed otherwise, vaccinating over 1,300 people for COVID-19, say Chinatown advocacy groups.
The clinics have only been possible because a team of community groups, often led by younger people, have pushed Vancouver Coastal Health to offer the clinics and have then volunteered to help staff the clinics with Cantonese, Mandarin and Vietnamese-language speakers.
The volunteers have even gone so far as to put their own phone numbers on posters, so when seniors call to sign up for the vaccine clinics they're sure to be able to speak directly to someone who speaks the language they understand best.
Without the effort, many people would not have been vaccinated, the groups say.
"I don't think we'd have these clinics," said Rachel Lau, programs manager of the Yarrow Intergenerational Society for Justice. "If they don't have the language support, they just won't go."
The groups are grateful for the health authority's response, but say they still have to push for each new clinic to open. Nick Yung with the SRO Collaborative said the groups are now advocating for a clinic in July to make sure that people who got their first dose in May will get their second shot.
Chinatown is home to many low-income seniors who live in a diversity of housing: co-ops, care homes, single-room occupancy buildings and apartments run by non-profits like churches or benevolent societies. The clinics have been set up to cater to neighbourhood residents — although some people, like Ms. Pang, who lives in Burnaby, have come from other parts of Metro Vancouver.
The local health area that includes the Downtown Eastside, Chinatown and Strathcona has the lowest vaccination rate in Vancouver at 67 per cent. Mount Pleasant, Fairview and Kitsilano are the highest at 83 per cent. This applies to people 12 and over with at least one dose.
Six Chinatown advocacy groups have been working together and with Vancouver Coastal Health since March, when advocates noticed there were problems with Chinese seniors being able to access the first vaccine clinics that were offered in the Downtown Eastside. There was "an extreme lack" of translated information and staff or volunteers who could help Cantonese, Mandarin and Vietnamese-speaking seniors, advocate Michael Tan previously told The Tyee, and frail seniors also faced a long wait in rainy, cold weather.
Since then, the Vancouver Chinatown Legacy Stewardship Group, Yarrow Intergenerational Society for Justice, the SRO Collaborative, the Vancouver Second Mile Society, Bảo Vệ Collective and Hua Foundation have been working with Vancouver Coastal Health to set up clinics that are accessible for seniors who need language support.
The health authority brings the vaccines and staff to administer the shots, while the community groups do all the legwork in advance. That includes going door-to-door in some buildings, translating information and making signs to post in residences and businesses, and then letting VCH staff know how many people they anticipate will come to each clinic.
It took some trial and error for Mimi Nguyen's group, Bảo Vệ Collective, to figure out how to reach out to the city's Vietnamese-speaking population. The collective started by advertising on a local Vietnamese radio show that broadcasts on Saturday morning and then targeted local businesses that serve the community as a way to reach people.
"We recognized there was a gap in our community, that people weren't able to register for vaccines just because they didn't know how to do it online," Nguyen said.
Among the cheery seniors at the clinic excited to get vaccinated was Yung Chi Ming, who lives in Chau Luen Tower a block from the community centre. "I just walked over to get my second dose," he said in Cantonese. "It's nice that it's so convenient. Hopefully the pandemic will be over soon — I miss going out for dim sum to see family and friends."
There was also David and Lily Wong, who live in the nearby Lions Manor. Like Pang, a Cantonese-speaking support worker helped them make their vaccine appointment. They received their first dose at the nearby Carnegie Community Centre at Main and Hastings, where translation was also available.
"It really means a lot to have this language help," said Lily in Cantonese. "We didn't even have to fill out a form, it was all done for us. All we had to do was line up!"
"Our health is in their hands, so having that translation is crucial, especially for this neighbourhood," said David. "Hopefully we can do more hiking soon. We used to go every week."
The SRO Collaborative went door-to-door to talk to residents about getting vaccinated, and Yung believes that many residents would not have gotten vaccinated without that face-to-face effort. "A lot of the tenants live in survival mode," Yung said.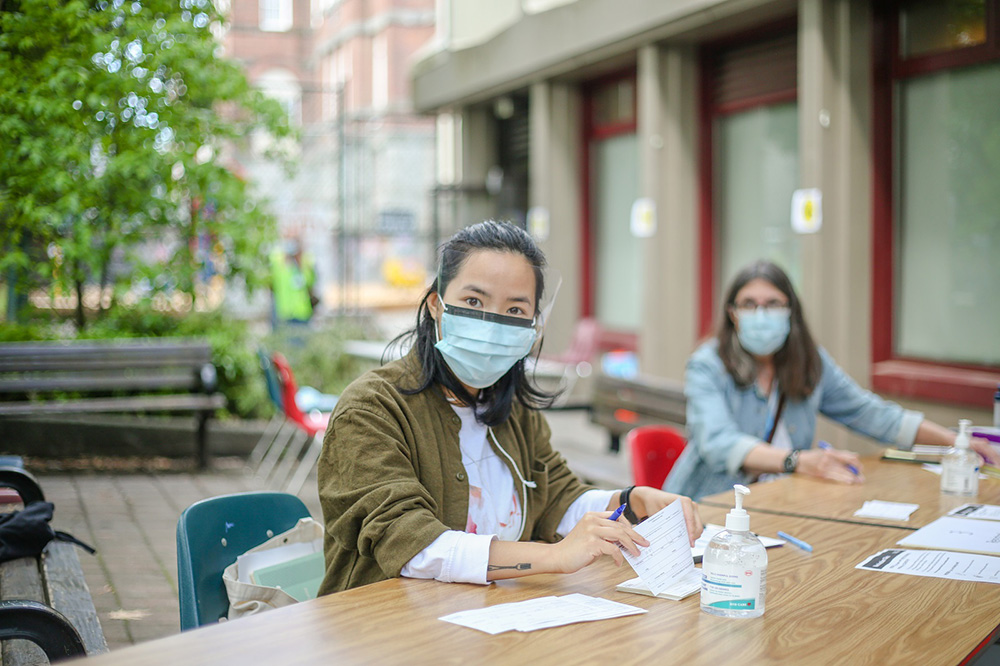 In the future, Lau said health providers need to understand that offering language services is key to making health care accessible — and requiring people to go online to register or navigate a telephone system also creates barriers.
"Everything from the actual information about the vaccine to the registration process to the actual clinics itself, it needs language support the whole way through," Lau said.