In early March, as the global pandemic firmed its grip on North America, bouldering deep in California's Buttermilk County seemed like a good place for Canadian rock climber Aiden Nickel and his friends to be.
"The attitude I had originally was, well, these big cities are obviously in danger. But being in the middle of the desert is the safest place for us," Nickel says.
Nickel structures his life around climbing. He works half the year in Victoria, B.C., and hits the road for the rest. He and his friends had arrived in the climber's mecca of Bishop, California, in early March. Yet as the month progressed and headlines grew increasingly dire, Nickel started to get nervous. He waffled on staying put or trying to get further off grid. But Bishop was packed full of recreationists all being told the same thing: get out. 
"That was the beginning of all the panic buying," Nickel says. "All the rice, all the toilet paper, all the pasta — everything's gone."
On March 19 — the same day California Gov. Gavin Newsom issued an executive order for residents to stay at home — Nickel and his friends decided to leave.
"We didn't want to be seen as the people who were bringing the disease to Bishop," Nickel says. "There are just such limited resources there. We have B.C. plates and we were worried that people would see us as outsiders who were endangering them all."
Over the past month, millions in the United States and Canada have been told to not leave their homes, save for a few exceptions. But how do you go home when you've chosen not to have one?
For those like Nickel who've adopted a nomadic life — a hallmark of outdoor adventurers who chase powder or sun, hopping from campground to park in their truck, bus or van — their lifestyle is opposed to what public health officials are ordering.
Bishop is just one of many rural, recreation-driven communities with limited health care begging visitors to leave. Moab, Utah, led the charge on March 17 by closing all overnight and short-term lodgings, including dispersed camping on public land — a favourite of those living on the road.
Across the country, communities began to close their gates. Most developed campsites across the western U.S. are now closed, as are national parks and many state park overnight camping and shower facilities. In B.C., all camping is suspended until at least the end of April, while Recreation Sites and Trails BC announced on March 25 that they were temporarily closing recreational facilities and campgrounds. 
The 21-hour drive back to Canada was stressful. Nickel sanitized his hands and used Lysol wipes at every gas station, nervous of bringing the virus back with him through several states. Now he's back in Calgary, Alberta, with his parents. He's disappointed he had to cut his time on the road short, but he's thankful to have a place to be. 
"It could be better, because I could still be in Bishop," Nickel says. "It could also be worse, because I could be homeless."

For Canadians and Americans on both sides, fears that the border would close — and uncertainty whether they'd be able to get in to their respective countries — stoked those living on the road to hustle home.
Antoine Gagne and his girlfriend Isabelle Richard were travelling near Oaxaca, Mexico, when talk of closing borders began. They hauled it back to B.C., driving 4,500 kilometres in eight days.
"Every day it seemed like something new was closing," Gagne says. "It was really hard to get the right information."
The couple, who've lived in their van for two and a half years, moved into an apartment in Squamish for a month or two to "let the crisis pass."
Rufio West is also hunkered down in Squamish, dealing with similar challenges but on shakier ground. West was on day 13 of the requested isolation period for travellers coming back to Canada — he was with Nickel in Bishop, but left early because of a minor injury — when he developed mild symptoms of a potential COVID-19 infection. So he extended his quarantine and hasn't left his van.
"I haven't showered or washed my hands in running water in over two weeks," West says. "It's not the greatest, but I've done worse just being in the middle of nowhere before."
Then the B.C. government closed the provincial park near Stawamus Chief Mountain and with it the parking lot where West was staying. It was the last free location close to town.
"Individually, we were at a bit of a loss, trying to figure out our own situations," says West of he and the other campers in the area. "Within the past week we've started posing questions to each other about what happens if someone gets sick in their vehicle, what happens about this, what happens about that."
As a co-director of Vehicle Residents of Squamish, West advocates on behalf of outdoor enthusiasts who live in their vehicles. The group successfully lobbied the district to reopen some public bathrooms and community centre shower facilities, with enforced distancing practices.
"It's quite significant," West says. "[The district] recognized that some people living in their vehicles are especially vulnerable at this time. They have limited sanitation resources when this is a situation that requires higher levels of sanitation."
Border migrations happened in the other direction, too. Matthew Tufts is from the States, but lives in his camper full time and spends the majority of the winter in B.C., generally between the Kootenays and the Bulkley Valley. He decided holing up with friends in Whitefish, Montana, was better than staying in Canada, where he lived a weekly dance of visiting trailheads interspersed with trips to gas stations, coffee shops, public bathrooms and aquatic centres with showers.
"While thinking I'm living quite independently, I'm actually reliant on far more public places than the person with a home who fulfills a lot of those little daily tasks and activities from their residence," Tufts says.
"It sounds idyllic to weather this storm in rural locales and on the road, as if mobile living makes you immune to the issues currently plaguing most of society," Tufts says. "But in reality, living on the road isn't in the best interest of the greater population.... Just because you live in a van and have the freedom to travel anywhere doesn't make it morally justifiable or even responsible to gallivant around the country while everyone is locked in their homes."
Tufts, for one, just wants everyone to find a place and stay put.
But not everyone living a nomadic life has friends or family to turn to.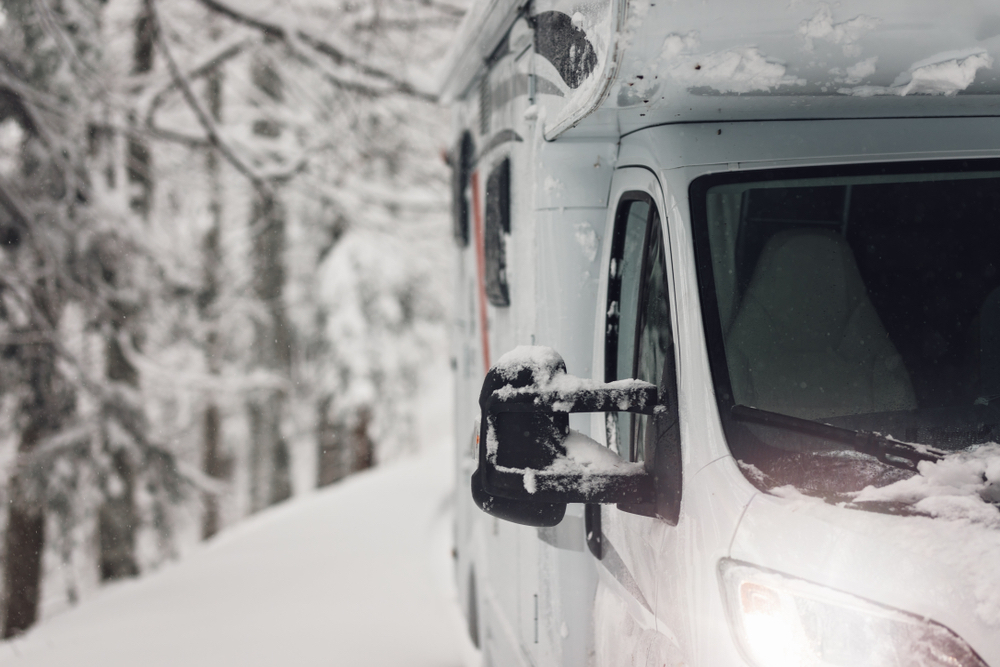 In February, skier Devin Randolph was caught in an avalanche. He escaped with a broken femur. He'd been living in his vehicle this winter and he knew that needed to change.
"Sleeping in my car became impossible for every reason," Randolph says.
Recovering from surgery, he could no longer work as a lift operator at the Solitude Mountain Resort in Utah. But two days after he arrived at the Winter Park Resort in Colorado, banking on a desk job that promised a place to live, the ski hill shut down and closed its employee housing because of COVID-19. 
"Throughout my recovery it's been chaos," Randolph says. "Some of us don't have a stationary home. We bounce around. We have a seasonal gig and then we have another seasonal gig."
A kind stranger has since taken him in. Randolph can thank a spreadsheet for his new home away from home in Eugene, Oregon.
Megan Kantor, an elopement and wedding photographer who runs her business and lives full time on the road in an Airstream trailer, was in Moab, Utah, when public lands began to close. Though Kantor says she was lucky enough to have a place to go in Colorado, she knew of other friends without a place to stay. So she and her friend, fellow photographer Abbi Hearne, started an online spreadsheet to match hosts with nomads in need of a place to park.
"The spreadsheet was just the quickest and the easiest way to get [the information] out there as soon as possible," Kantor says. "We thought, let's share this. I'm sure there are other van life people who need a place to go."
The list caught fire on social media. Within a few days, more than 100 people added their names, contact information, and details about the spots they had available. Entries span from Ontario and Vermont to Texas and New Mexico, with many clustered in the Pacific Northwest.
"It had a lot bigger response than I thought," Kantor says. "I remember when I posted it, getting the first person on there was really exciting. And then pretty quickly after that it exploded. It's been really cool to see people getting linked up, to see it actually working and people finding a safe place to go."
Randolph's host, Jo Magliocco, used to live in a pop-up camper, and relates to his predicament. Magliocco usually rents office space in the same apartment complex she lives in, but with everyone working from home, it's vacant.
"I travelled last year and I knew it would've been rough if we had been in that situation," Magliocco says. "We literally have an empty apartment. I'm paying rent on this — it's going to waste."
Many hosts on the matching list say they're offering their space for similar reasons: they lived on the road at one point or have family who did.
In Sunriver, Oregon, a faded butter-yellow school bus named Lucky is parked in the driveway of Aileen Gardner. A green hammock hangs between two trees. Alyssa Bean and Dan Mini, the bus's owners, have been on the road for a year. They were in Nevada, but started to get uneasy as it became harder to find ready sources of clean water. Their childhood homes in Massachusetts were far away but Gardner, through the list, offered up her lot.
"I definitely feel like we had a responsibility to take care of the people who are currently living on the road," she says. "The van life community is honestly half the reason why people do van life. We take care of each other."