[Editor's note: This article is part of a Tyee partnership with Victoria-based Hakai Magazine, which is publishing stories about COVID-19 in these pages during the pandemic.]
As the COVID-19 pandemic expands; countries, provinces, and cities are urgently assessing their available medical resources, trying to predict if it will be enough, and ramping up and reallocating whatever resources they can. British Columbia has cancelled elective surgeries to free up hospital beds, set aside the Vancouver Convention Centre for medical use, and is training doctors to cope with an influx of patients — while hoping that influx never happens.
On March 27, Health Minister Adrian Dix presented the numbers for British Columbia as they stood that day (though the situation is changing fast). His numbers hammer home the importance of social distancing to reduce the transmission of the virus. If transmission is slowed, then the province's resources may be sufficient; if the virus explodes, those resources will be tapped out.
The models we have mapped in this article are based on conservative numbers: they only include intensive care unit beds at the 17 main hospitals in B.C. that will likely be handling COVID-19 cases, for example, and don't include ventilators that are currently on order or are being used in ambulances. They also assume a relatively high percentage of people who get the disease will need to be hospitalized. But they paint a reasonable picture of what might lie ahead.
Some notes, which apply to all four maps:
Total acute beds : Total acute medical and surgical inpatient beds.
ICU beds: Intensive care unit beds at 17 primary COVID-19 hospitals only; numbers provided by provincial Critical Care Working Group on March 23, 2020.
Ventilators: Inventory for adults at large hospitals. These figures do not include spaces capable of providing ventilator care, transport, neonatal or other non-critical care ventilators. When all available ventilators are included, B.C. has more than 1,200. An additional 120 ventilators have been ordered since this inventory was completed on March 5, 2020. An additional 57 are being loaned or refurbished.
Model assumptions: 13.8 per cent of COVID-19 patients will require non-critical hospitalization; 4.7 per cent will require critical care (these pessimistic numbers are higher than the actual figures thus far in B.C.). Patients stay 10 to 12 days in hospital on average. Of those receiving critical care, 80 per cent will require ventilation. The northern Italy scenario presented here is based on hospitalizations; the peak of that epidemic remains unknown.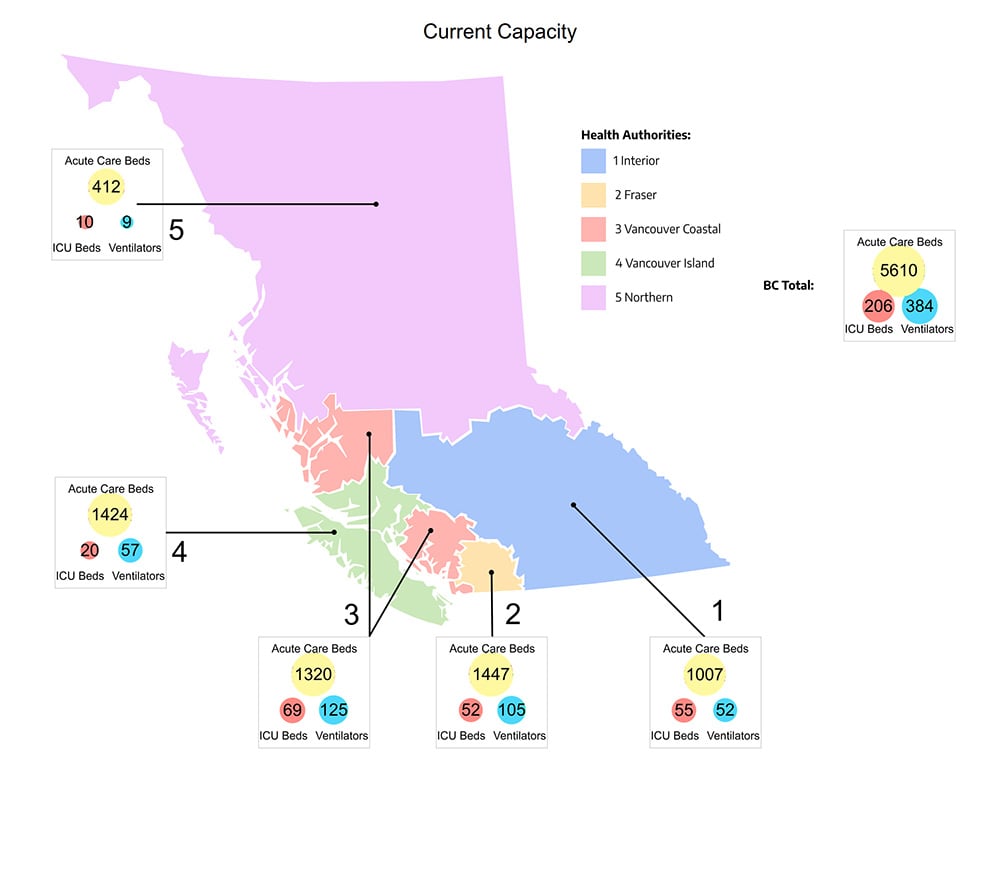 B.C. is divided into five different geographic health authorities, each with its own population, demographics and special needs. Vancouver Island, for example, has an older population. Other regions have a greater percentage of First Nations, or high-population urban centres like Vancouver. So the regions have different amounts of resources (see above map); some will run out more quickly than others.
The provincial government so far concludes that if B.C. experiences the same sort of epidemic as South Korea (see map below) with a relatively quick and strict lockdown preventing people from spreading the virus, then there will be enough ICU beds and ventilators to treat everyone.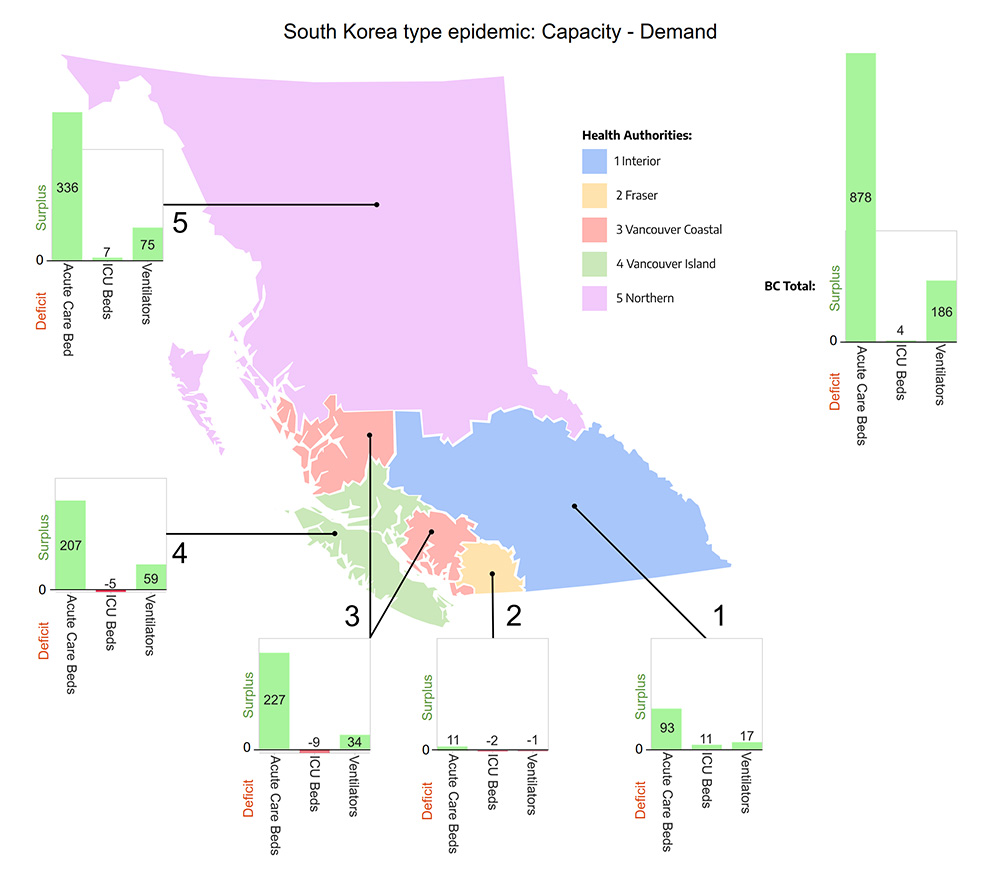 A similar scenario applies if B.C.'s experience reflects that of China's Hubei province (see map below), which implemented a relatively quick and strict lockdown preventing people from spreading the virus.
However, patients will have to be shuttled around to different hospitals to spread the cases out; beds for less intensive care, so-called high acuity units may have to be called upon for more critical care; and creative strategies like "doubling up" ventilator units to work on two patients at once might be needed.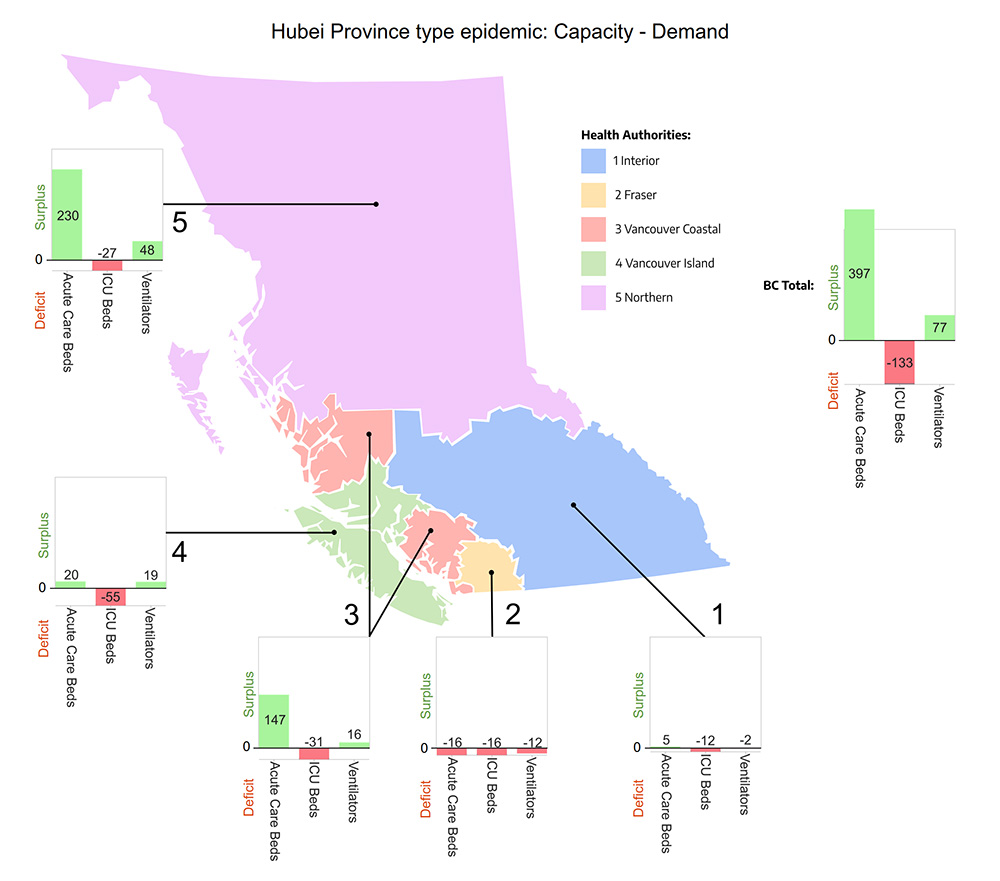 Canada is starting out from a relatively middle-of-the-road position on these medical resources when compared to other nations. A 2015 review of Canadian critical care resources found that Canada had more ICU beds per capita than the United Kingdom, but far fewer than the United States, Germany and Belgium. In that assessment, British Columbia ranked near the bottom of all the provinces in terms of ICU beds and ventilators per capita.
Overall, the numbers for everything in B.C. are relatively small. Our province has a total population of 5 million people: as of April 1 we have had more than 1,000 confirmed cases of COVID-19 (though many suspected cases aren't being tested) and 25 deaths.
In Italy, by contrast, the country's population of 60 million has more than 110,000 confirmed cases and has seen more than 13,000 deaths. Even the worst-case scenarios presented by Dix see hospital overloads of ICU beds in B.C. on the order of hundreds, not thousands — although that's based on a scenario that has yet to play out, and it could get worse, in theory.
If COVID-19 spins out of control in B.C., as is happening in northern Italy, with an explosive growth in cases, then the province will fall short on everything, from acute care hospital beds to ventilators (see map below).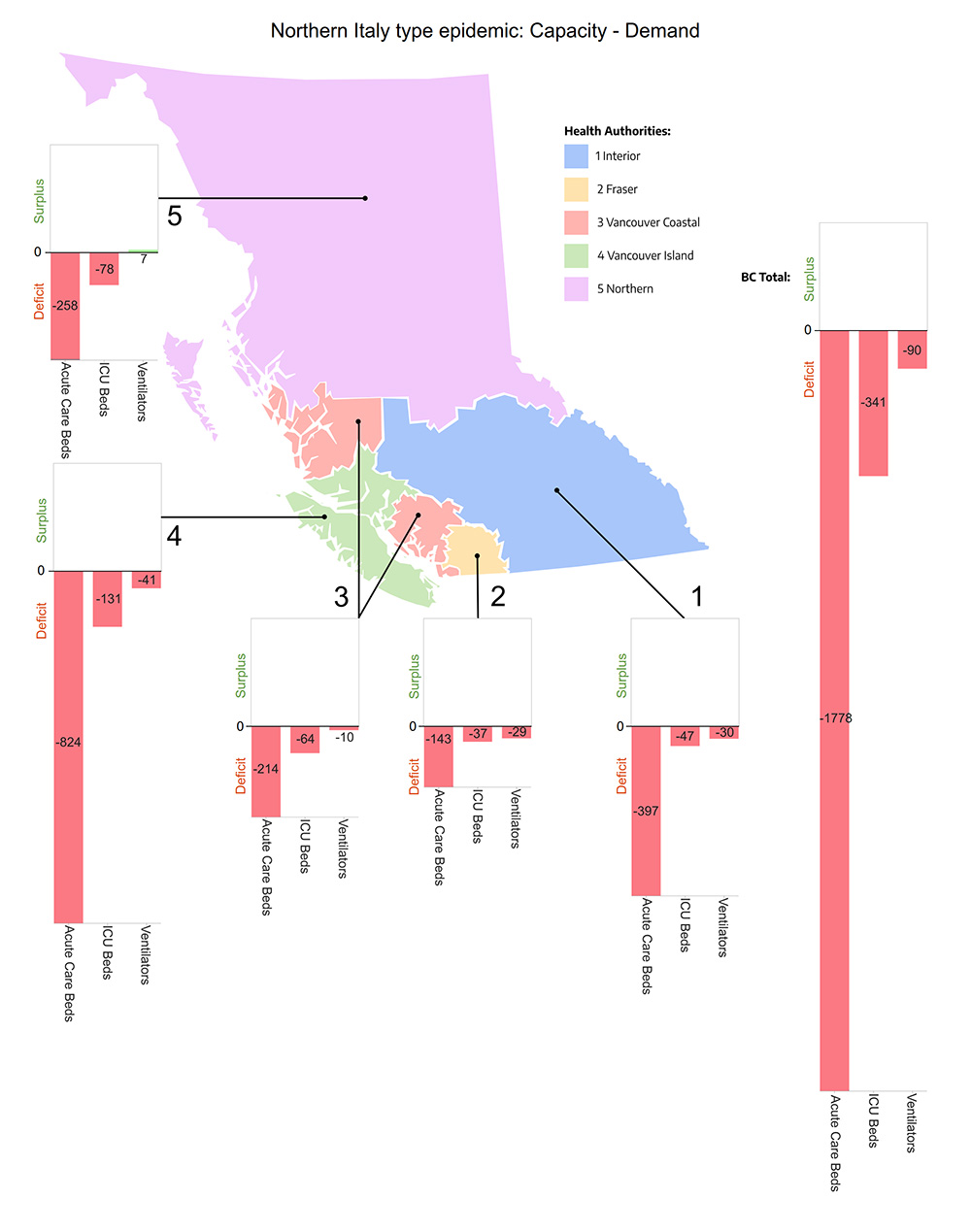 British Columbia, like all jurisdictions, has ordered more ventilators and is doing all it can to increase supplies in case they are needed. "There is no question we will need more masks, testing kits and ventilators," said Prime Minister Justin Trudeau on March 31 in a press briefing announcing deals with several companies to step up production of these resources for Canada. How many more we need will depend on people's actions over the coming days and weeks to help stop the virus's spread.