Catherine Gauthier got sick of hearing Prime Minister Justin Trudeau's federal government make bold promises on climate change while investing in oilsands projects such as the Kinder Morgan pipeline that crank up Canada's greenhouse gas emissions.
Last week, the 29-year-old climate activist from Quebec helped file a lawsuit against the federal government.
"Rather than creating a fast [low-carbon] transition, the Canadian government is going the opposite way by buying a pipeline," Gauthier told The Tyee. "What we understand from this action is the Canadian government has decided to protect the oil industry rather than the future of children and younger generations. So that's really frustrating."
Gauthier is executive director of Environnement Jeunesse, an environmental youth group based in Montreal. Last Monday, her group teamed up with the law firm Trudel Johnston & Lespérance and applied to the Superior Court of Quebec to bring a class action lawsuit on behalf of all Quebec residents under the age of 35.
The lawsuit "alleges that the Canadian government is infringing on a generation's fundamental rights." This is in part because leaders like Trudeau are failing to meet the climate targets Canada agreed to at the Paris climate change talks. A recent UN report, for example, singled out Canada for being nowhere close to its goal of 385 million tonnes of carbon dioxide equivalent per year — in 2016, its emissions were nearly double that.
"If the government continues in this direction, people under 35 will suffer the severe consequences of climate change," Environnement Jeunesse argues.
Gauthier has been involved in the fight against climate change most of her adult life. She participated in the 2009 climate talks in Copenhagen, where she spoke to negotiators from around the world. It terrifies her that she could see devastating climatic changes in her lifetime, especially after the Intergovernmental Panel on Climate Change warned this fall that we only have a dozen or so years to avoid catastrophic damage.
"In 2030, I will be personally 41," Gauthier said. "So I'm really scared about the impacts of climate change I could be experiencing."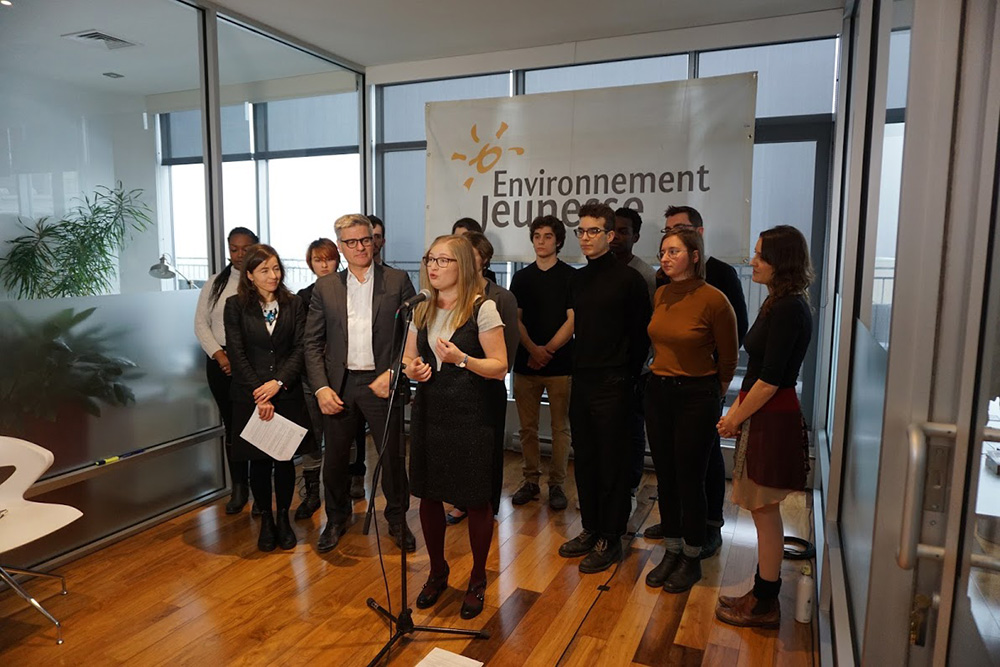 Others involved in the lawsuit share her fears. "Maybe I'll have one or two kids. What will their future be?" asked David Morin, a 20-year-old student and vice-president at Environnement Jeunesse. "Delaying action will only make the consequences of climate change worse for me, my children, for all young people and future generations. It's fundamentally unjust."
Bernadette Veilleux-Trinh, a 17-year-old student working with the environmental group, argued "it's time for my government to take responsibility and stop violating the rights of young people."
Legal experts contacted by The Tyee said that the odds are undoubtedly stacked against the lawsuit succeeding — or even making it to court. "It's an uphill battle," said Martin Olszynski, an associate law professor at the University of Calgary who studies environmental and energy cases.
The plaintiffs effectively have to convince the courts that the federal government not acting quickly enough on climate change is a violation of the Canadian Charter of Rights and Freedoms, in that it impedes the rights of young people in Quebec to enjoy a safe and stable future. This is not traditionally how the Charter has been interpreted legally.
"The exact prospects of a strict victory are maybe not all that great," Olszynski said.
But a legal victory forcing the Canadian government to take more aggressive measures on cutting emissions is not completely out of the question. In 2015, the District Court of the Hague ruled that the Dutch government must increase its ambition on climate change following litigation brought on behalf of 886 citizens.
The Urgenda case, as it was known, "made climate change a major political and social issue in the Netherlands and transformed domestic climate change policy. It inspired climate change cases in Belgium, New Zealand, Ireland, the U.K., Switzerland and the U.S.," according to a trial summary.
And in the U.S., teens suing the federal government for inaction on climate change have, against the odds, cleared one legal hurdle after another. Though the Donald Trump administration has several times challenged the litigation, preparations continue for it to be heard in the United States Supreme Court.
"In some ways Canada is long overdue for a legal challenge of this type," said Andrew Gage, a staff lawyer with the Vancouver-based group West Coast Environmental Law. "There is definitely a growing trend for that."
Both Gage and Olszynski argue that the case now being brought forward in Quebec can be impactful even if it doesn't achieve legal victory. "What these cases do is correctly frame climate change as protecting people here and now," Gage argued. "There's been too much of a trend to assume that climate change is somehow in the future but no one's really been affected yet, even as we see wildfires and floods."
"Just filing this case is in a sense a victory," Olszynski said. "They're really looking to push the discussion [around climate impacts] in as many venues as possible, not just in politics but in the courts of the country."
Gauthier wants to remind people that the climate promises made by political leaders have real-life consequences for people of her generation — and for all Canadians. At the Paris climate talks, Trudeau said that his government would turn Canada into a climate leader after years of inaction from the previous Conservative government of Stephen Harper. "Canada is back my friends," Trudeau said at the time.
In the years since then Canada's oil and gas emissions have continued to go up and up, making it more difficult to achieve the reductions needed to ensure a safe future for millennials like Gauthier. "We might have seen publicly or in terms of communication a leadership role from the government," she said. "But in terms of emissions reductions, there has been no difference."