It was only the second day in May when I visited Simone McIsaac on her farm, and already the tips of her ears were peeling from sunburn. We were an hour's drive north of Whistler in the Pemberton Valley, a region known historically for its seed potatoes. McIsaac, sporting a pink-and-grey baseball cap and black rubber boots, led me down the many rows of recently sown beds, from where brassicas, onions and garlic would soon emerge.
Along with her farming partner Sarah McMillan, McIsaac owns and leases the three-and-a-half acres that comprise their organic, mixed-vegetable farm, Rootdown. Together, they are challenging the idea of what a farmer looks like in British Columbia, countering the Old MacDonald stereotype with one that is younger and female.
McIsaac, 40, is petite — no more than five-foot-three — but strong, with muscular arms. She grew up in rural Ontario, and moved out to B.C. after she fell in love with the West Coast as a teenager. After finishing her degree in biology at the University of Victoria, she eschewed the usual tracks of academia and research, working instead in outdoor education.
Like McIsaac, McMillan, 42, is sinewy, albeit taller. Hailing from the suburbs of Sydney, Australia, she made her way to Canada where she studied nutrition. As she learned about healthy and sustainable food systems, she grew increasingly curious about farming as a profession.
McIsaac and McMillan met in 2008 when they both enrolled in the first year of the University of British Columbia's Farm Practicum. There, under the guidance of seasoned farmers, they became immersed in organic vegetable production. Though they had talked about one day farming together, they didn't make it a reality until 2012, when McIsaac became co-owner of Rootdown, the farm McMillan had started a few years previously with her partner at the time.
Across Canada, women like McIsaac and McMillan increasingly make up a greater share of the nation's farmers. This is most true in British Columbia, where in 2016 women comprised nearly 38 per cent of the agricultural workforce, up from 36.5 per cent in 2011. (Nationally, women accounted for just 29 per cent of farmers in 2016.)
But though they make up a larger proportion of agriculturalists, female farmers still face barriers unique to their gender.
Kimi Hendess, who co-owns Sweet Digz Farm in Richmond, said other growers in her area — "the old boys" — don't consider her or her partner, Kareno Hawbolt, to be farmers. "Partly we're women," Hendess, 43, said. "We're younger women. We don't fit the demographic. And we don't have a tractor."
Hendess said she encountered the same skepticism — and sexism — when she worked as a carpenter. In that field, people couldn't believe that a woman could be a tradesperson. "The fact that we're queer, we're already disrupting people's assumptions," she added. "We're disrupting the norms."
Agricultural supply stores, McIsaac said, often have the mentality of a "boys' club."
"If I go into a place with my husband, and it's farming-related, they think he's the farmer," she said. "They'll directly talk to him even though I'm the one asking the questions. I've had that happen frequently."
McMillan agreed, adding that most people probably assume she's "the farm wife sent on an errand to pick up said equipment."
Odd looks, they said, are commonplace for them.
Farming as a mother
McMillan gave birth to her first child in January. She's had to take a step back from the farm, a change that's been difficult since she lives on site.
"I feel like right now I'm just not doing a lot, but I do sit inside a lot feeding or entertaining, looking at all the things I want to do or need to do or need to get to, watching the weeds grow and knowing that I'll very slowly get to it," she said with resignation. "It's a huge lesson in learning to let go."
As we talked, McMillan's three-month-old daughter, Hannah, bounced on her knee. Many of the women I spoke with were mothers — some to newborn infants, others to school-aged children. McIsaac, whose own daughter, Marisol, is three, said there have been distinct positives with raising a child on the farm.
"[Marisol] can take a carrot and whip it out of the ground and eat it," said McIsaac. Her daughter is connected to healthy food in a tangible way — a rarity for children her age. During the growing season, McIsaac can look after her daughter on the farm, an arrangement that's made feasible by employing staff, allowing her to take on a more hands-off, managerial role. In the winter, when the farm grows quiet, she can care for her daughter full-time.
"There are so many incredible benefits to it, and because I don't know any other way to be a mother than to be a mother and a farmer — I'm sure it has its own unique challenges," said McIsaac. Despite the relative ease she feels in her position, she imagines parenting would be easier if her husband, a schoolteacher, farmed as well.
A week after my visit to Rootdown, I met Katie Robinson and her husband, Josh Baker, at their livestock farm in Maple Ridge. We sat around the kitchen table as Baker held their six-month-old daughter, Hazel. A week earlier, he had started his four-month parental leave from his job as an environmental chemist. When he goes back to work, Robinson will have to care for her daughter, and the farm, full time.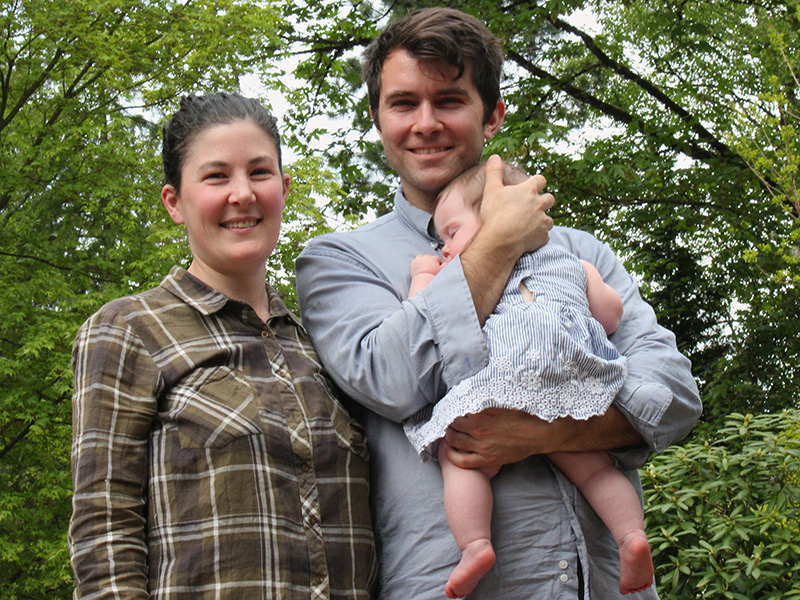 "For me to be primary caregiver to Hazel and doing this is — I mean I knew it was going to be like this when I started farming," she said, laughing, "but it's harder to envision what it's going to be like." There's a limit to how much work she can do while taking care of an infant. In the years to come, she said she doesn't know what the balance between farming and childrearing will look like.
"I hope that I can do physical work with her around to some capacity, but I don't know how much," Robinson, 32, said. "And Josh is obviously able to help, but he's at work Monday to Friday."
"I think realistically until she's in school... we might just continue to grow really slowly over the next few years," she added.
Encouraging the next generation of farmers
Sarah Lang, 35, is undeniably busy. She's the mother of four children, ranging from ages six to 19, and the owner of Salish Nursery, where she grows edible and medicinal plants for her community in Tsawwassen. She said her nascent business, which she founded a few years ago, wouldn't be possible without the support of her family and the Tsawwassen First Nation. (Her spouse is a member.)
"Balancing family and this — it's super important to have a supportive husband, who's willing to cook dinners once in a while, pick up kids. My dad has been a huge help with babysitting so that I can come out here and work late days and stuff," she said. "TFN is super helpful in that they have free day care, free after-school care, youth centre, teen centre that our kids can go to."
"So, I do have a lot of things in my favour when it comes to help," she acknowledged.
Since starting her nursery, Lang has made it a point to help the younger generation learn where food comes from, including her children.
She's invited the TFN youth centre to tour the Tsawwassen Farm School where she works and is planning to host her daughter's kindergarten class at the nursery. She says it's her goal to introduce kids to vegetables they've never seen before and send them home with seedlings of their own. Lang also recently signed her 15-year-old son up for Delta School District's Farm Roots Mini School, a program where students in grades 10 through 12 take classes every other day out on a farm. She thinks the program will be good for her son, who's not big on school.
McIsaac doesn't have any expectations that her daughter will go into farming and, statistically, she probably won't.
But she is helping to get younger women into agriculture by training them on her farm.
Currently, Rootdown employs four full-time staff members, three of whom are women.
"When we get job applications, for every male we have 15 female applicants," McIsaac said. "It's crazy."
McIsaac and McMillan have come a long way since their apprenticeship at the UBC Farm. Now, 10 years later, they are forging ahead with a new crop of female farmers in tow.
"I think we've employed some strong, independent, awesome, skilled, competent women. Hopefully, for some of them who are keen to do it, we've given them the confidence to go and start their own farms," McIsaac said.
On Thursday: Why B.C. farmers are an endangered species.