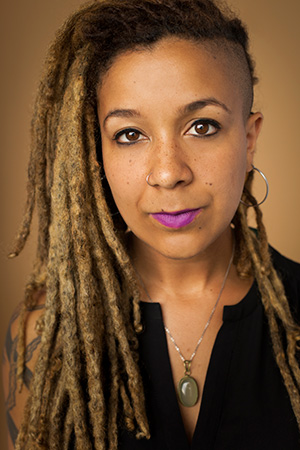 Policing Black Lives
Robyn Maynard
Fernwood Publishing (2017)
It's very easy to look at the rise in anti-Black racism and white supremacy in the United States and think, "Thank goodness we live in multicultural Canada."
That's because we don't know the history of anti-Black racism in Canada, says Robyn Maynard, a Black feminist author currently promoting her book on the subject, Policing Black Lives: State Violence in Canada from Slavery to the Present, which was released last October.
And the truth is much harder to bear than our benevolent fiction. Take carding, for example, the controversial tactic infamously adopted by the Toronto Police department where young Black men have been systemically targeted by police demanding their identification, at a rate 3.4 times greater than the overall population.
"It's often represented as recent, as if it's something that's come across the border like U.S. stop and frisk," said Maynard. "But we don't realize since the era of slavery and the heightened surveillance of free and enslaved Black populations... the racial profiling is something that has a long standing Canadian history."
Yes, Canadians had slaves. But even today our agricultural system still heavily relies on migrant Black labourers who have few rights and even less pay. Next to Indigenous people, Black communities in Canada have some of the highest rates of child protection apprehensions, incarceration and abuse and harassment at the hands of police.
The Tyee caught up with the Montreal-based Maynard last week to talk about her book's portrayal of the erasure of Black Canadian history, the double burdens of racism and sexism felt by Black women and gender non-conforming individuals, and what comes after drawing back the curtain on Canada's racist reality.
The Tyee: In the introduction to your book you name 32 academics and writers who have already written about the Black experience in Canada. Why did you feel the need to write Policing Black Lives?
Robyn Maynard: Often people talk about the realities of Black Canadians as if there is not enough information, as if somehow we couldn't or shouldn't know the history of slavery because that story hasn't been told. It was important for me to point to the fact that so many Black writers have actually been doing really important work that has in many ways been pushed to the sides and remained unseen by the broader public.
But the reason I wanted to write this particular book was thinking about this moment that we're in right now of increasingly vocal and visible Black resistance and activism, including the Black Lives Matter movement, I really wanted to give a lot of visibility to some of the major claims of injustice, whether that's in the criminal justice system, the immigration system, the child welfare system, in schooling, and not only demonstrate the contemporary conditions, but to really give a long standing historical perspective to show how we got to here.
Do you think it's straight up racism as the reason Canadians don't know these things? Or are there other factors at play?
I think there's a very distinct way of creating the Canadian national identity that's always very much been historically couched in these ideas of benevolence, later on multiculturalism, that depends on the absence of discrimination. So I think this creation of the idea of what Canada is supposed to be as a country and what Canadians are supposed to be, there's been a reliance on erasing many kinds of oppression, and in particular the longstanding history of anti-Black racism in this country.
You don't have stats on the number of slaves or slave owners in Canada. Is that data missing?
No, there's some data that shows the numbers of enslaved Black populations. But something that historian Harvey Amani Whitfield has pointed out is that particularly in the Maritime provinces, there's misleading ways that often Black people would be categorized as servants when many of them were in fact actually enslaved. So that makes it that it's not possible to completely categorize. There's been some work, including that of Marcel Trudel and a few others who have numeritized it.
Canada didn't have the same economic reliance [on slavery] as the American South. But sometimes people use that example to say that slavery was less brutal just because it was less widely relied on.
What did you learn in the process of researching and writing this book?
I learned so much. To bring it back to how many brilliant Canadian authors and researchers have, in the context of erasure, done such incredible work to very lovingly ensure that certain stories wouldn't be forgotten. For example, the work that Makeda Silvera did to actually do these oral histories of Black women who had experienced racism, sexism, sexual assault within the context of the Caribbean Domestic Workers Scheme in the '60s and '70s.
Some of that knowledge production was something that was really difficult and hard for me to go through. But it was also really beautiful to learn about so many Black histories of resistance that I hadn't known about, as well.
Who is this book for?
I think I wrote it firstly to be in conversation with the really great movement work and Black resistance struggle that we're seeing today. But it's also something that I wanted to be accessible to people that were in high school, to the broader Canadian public. I wanted to make this a book that anyone who had any interest in either the history or the present realities of Black people living in Canada would be able to find what they were looking for here.
You make a distinction in the book between anti-Blackness and racism. Could you expand on that?
I guess what I wanted to draw on was the distinct realities in the ways that Black people have been uniquely targeted. Particularly in Canada you have a sort of collapsing of most people of colour into this idea of visible minority, and what that does is often hide the very unique realities surrounding the way that Black people have been, like Indigenous people, really specifically targeted with criminalization. It also hides those histories, including the history of segregated schooling, that has really uniquely impacted Black communities and also led Black communities to be subject to all kinds of harms like suspensions, over discipline and expulsions today.
While racism overall helps us to understand the broader ways that people born with what's considered white skin and white features do have certain kinds of generational privileges, at the same time we need to look at the realities that affect different kinds of racialized communities differently.
Both the federal NDP and Liberal parties are talking about possible decriminalization of all drugs in Canada. How would that impact the disproportionate negative impacts of the War on Drugs on Black communities?
The War on Drugs has historically been a really important part of both justifying police oppression of Black communities and Black incarceration. So for example almost half of Black women behind bars are there for non-violent drug offences. I think it's extremely important, that decriminalization of drugs will have positive impacts for the Black community.
Michelle Alexander actually talks about this in The New Jim Crow where she says that if you complete these kinds of reforms through a colour-blind lens, one that does not actually integrate anti-racism more broadly, we're unlikely to see challenged some of the more overarching issues.
It's a very important step, decriminalization, but I don't think it would be enough to just overturn centuries-long practices of the heightened surveillance and punishment of Black communities.
I have heard from both a harm reduction point of view, but also a race point of view, that legalization would be better than decriminalization. Do you have an opinion on that?
I've actually heard the opposite for the most part. I'm thinking about the way that we're talking about legalization, for example, of marijuana, it's not actually decriminalized, it's highly controlled. So what that means is that there are still very significant penalties for some other aspects of cannabis, which Akwasi Owusu-Bempah has pointed out is likely to still have ongoing disproportionate impacts on Black youth and Black communities in particular. And if you look to the statistics of legalization in communities in the United States you see a similar reality, which is that although overall prosecutions decreased broadly, the overrepresentation of Black communities is ongoing.
Do you mean people who have too many plants at home or who are still selling through the Black market?
Exactly, yeah.
How much responsibility should "regular Canadians" feel for state violence against Black people?
I think everybody really needs to feel a responsibility for things that are done by the state, because those are public institutions: this is public money, this is being done in the name of the public. It's regular Canadians that are paying into it without actually actively combatting these issues, allowing in many ways [state violence] to take place. There's a responsibility that lies on everyone to actually become involved in trying to stop these kinds of ongoing racial discrimination.
You mention the Black Lives Matter movement changed your life. Can you talk about that?
The idea that Black teenagers can't hang out in the park without being stopped by the police, it's Black communities that are disproportionately losing their kids to child welfare — as much as I've been an activist for a long time and recognize these things as an injustice, it seemed like it was going to be unceasing. And suddenly seeing this massive global resistance movement that's saying, "No, we're going to fight to create a world in which Black lives do matter," was something that was incredibly inspiring for me and so many people in my generation.
Also something about the movement that's really powerful and moving is the visible leadership taken up by Black women, Black gender non-conforming people, Black trans people. That is something that has historically been less represented in the Black resistance movement, represents a really important step in terms of Black organizing and really also seeing the successes. The fact that right now major political parties are having to acknowledge the existence of anti-Black racism largely comes as a result of the massive mobilization of Black communities in Canada, particularly led by Black Lives Matter in Toronto.
What have you learned on your book tour about Canadians' knowledge of Black oppression in Canada?
In this moment there are many people who are very curious and open to learning about this issue. But what it's also made me realize is... just how successful our education and media have been in terms of this erasure of Black people's experiences. The level of surprise to a lot of the facets of Black Canadian history, of realities today made me realize how needed not only my own book is but really all of the other Black writing that has come out.
In the book you capitalize Black but not white. Why?
All race is of course socially constructed, but whiteness in particular has been something that has historically evolved: Italians and Irish people weren't originally considered white. A group of people who are racialized white who then receive the privileges of whiteness is something that has historically been subjected to change.
I think capitalizing Black is also something that just recognizes the unique realities of those people of African descent who have been racialized Black due to not only skin colour but phenotype, facial features, who have been, because of being recognized as Black, subject to really unique kinds of violence and harm, not only in Canada but across the world.
What needs to happen next?
We really need to see some major changes towards the way that we conceive even of racial justice. Not only small-scale reforms in the criminal justice system, but really a broader transformation that really begs us to ask the question what really is the role of policing and prisons? Do we really agree as a society that this is the appropriate way to deal with things like economic inequality, mental illness? Can we actually envision a future in which we don't actually think the police are an appropriate response to poor and racialized communities and the security that they need? We need to envision a radically different society that is so much less founded on different kinds of punishment, and one where Black lives do matter.